23 Dec

Furnish Your Life, an Interview with Janine Wang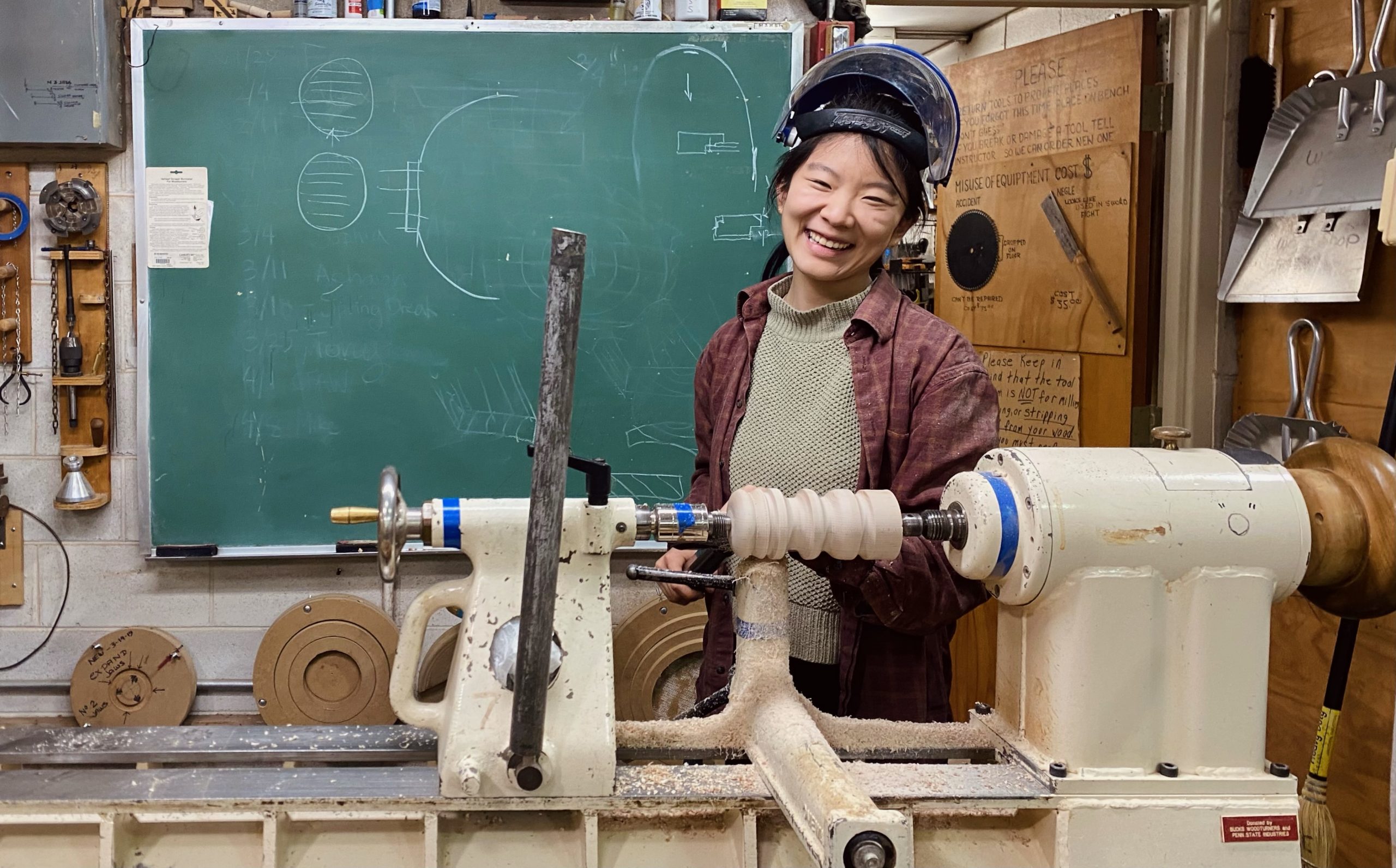 Janine Wang is returning to the Folk School in June to teach back-to-back Woodturning classes. Read our interview to learn about what inspires her work and explore the connections between furniture and behavior. Happy reading!
BW: Tell us a bit about you and your background in woodwork. How did you get started?
JW: I entered woodworking through architecture. I had decided to pursue an architecture degree in my home city, New York, but that was not the right choice. It brought out the worst in me. In fact, I did so poorly that I was suspended from school for the better part of a year.
During that time I worked three entry-level jobs to figure out what to do–one in a local architecture firm, one in an artist and gift boutique, and one in a woodshop with artist and furniture designer Takeshi Miyakawa. It fixed me. Even after that year was over, Takeshi kept the door to his woodshop open, and I kept going back as I finished out my architecture degree, completing some school assignments there, watching the way Takeshi worked through projects and with other people, and occasionally actually being helpful in the shop. He was generous, capable, and confident in a way that his skills and knowledge really allowed him to be.
BW: On your website, you mention how furniture is a direct interface with the world, and that good furniture creates positive behavior. What does that mean to you?
JW: The furniture you make can be kind of like casting a vote for the way of living you think is good. When it comes to art forms, it's a very direct one (and the best one!) as a way of sharing an embodied experience from person to person, while also not ignoring either the user's or the maker's individuality. It brings both to light, and is a very efficient way of improving one's everyday life.
BW: Where do you draw inspiration from for your work?
JW: Woodturned forms. I love them, a lot. My work focuses a lot on connections to the human body. Woodturning is one of the easiest and quickest ways to create forms with doubly-curved surfaces, which is what the human body is also made of, and in turn, loves back.
BW: What's something you've been part of creating recently that you're proud of, and why?
JW: Physically, I made a body of work through a residency this summer that took a series of woodturned forms that I have been working on over the past few years and turned them into porcelain. The woodturned forms are all based on hand gestures and meant to center the relationship we have to- and reliance on- our hands in daily life. Turning these vessels into ceramic utilitarian objects was something I wanted to do for years and it is such a relief to finally get to it.
"Non-physically," I recently joined the team at TinyWPA to help lead the Building Hero Training Program, a program where we train a small cohort of about 10 local Philadelphians to become Building Heroes— folks with building skills and the power to give back to their loved ones and communities!
BW:  Can you tell folks what you're most excited about for your class, Natualistic Knobs and Pulls? What can students expect to leave class with?
JW: Actual knobs and pulls! To use in their homes, art, furniture, and beyond. We'll be looking at several different connection methods and fundamental forms, and learning how to use quite a few different tools, techniques, and work holding methods at the lathe while we're at it. I'm most excited about what kinds of experiments students will invariably come up with. Every time I teach, I get to see things I wouldn't have thought of in a million years. It's awesome.
BW: Besides coming to the Folk School, you have an abundant teaching schedule planned for next year! What your favorite thing about teaching?
JW:  As the recipient of a lot of good teaching, I have explicitly seen how good educational experiences have enhanced my life. Learning something you want is just so clearly valuable, and watching a student change over whatever course of time you get to spend with them is glorious. It makes my hair stand on end sometimes when I think about it, especially when I see profound changes in certain students. I'm so glad institutions are there to support us, and this.
BW: Where can folks find you if they want to stay up-to-date on your work?
JW: I'm keeping some distance from it right now, but when I return, Instagram will be the best way to find me.
Upcoming Classes with Janine
Naturalistic Knobs and Pulls
June 9–11, 2023
Janine Wang
Learn to turn several different types of handles, each with extensive room for creative expression. Make a wide variety, developing and prototyping to improve your designs every step of the way. Walk away with as many handles as can be made in a weekend. Students are encouraged to bring project ideas and/or objects in need of handles for use during class. Best suited for students with some prior lathe experience.
Woodturned and Woven Baskets
June 11–17, 2023
Sandra Kehoe & Janine Wang
This dual-studio class will focus on the novel crossing of two traditional vessel-making crafts, woodturning and basket weaving. Discover the way these two practices can enhance each other as you design and create carriers that incorporate woodturned and woven elements. All levels of experience in both media welcome.
Janine Wang is a craftsperson who works professionally in the design and modern production of retail home goods and furniture, while keeping one foot firmly rooted in woodturning and hand-crafted world, believing that we need both in good design. She has exhibited and done residences widely, at institutions such as the Center for Art in Wood, Arrowmont School, and American Association of Woodturners. She holds a BArch from the Cooper Union, and MA in Furniture Design from the Rhode Island School of Design, and began teaching in 2020. She currently lives in Philadelphia, where she also works as part time faculty in the Fine Woodworking department at Bucks County Community College.