31 Oct

Swirls, Starry Skies, and Butterflies: A Sunday at Olive's Porch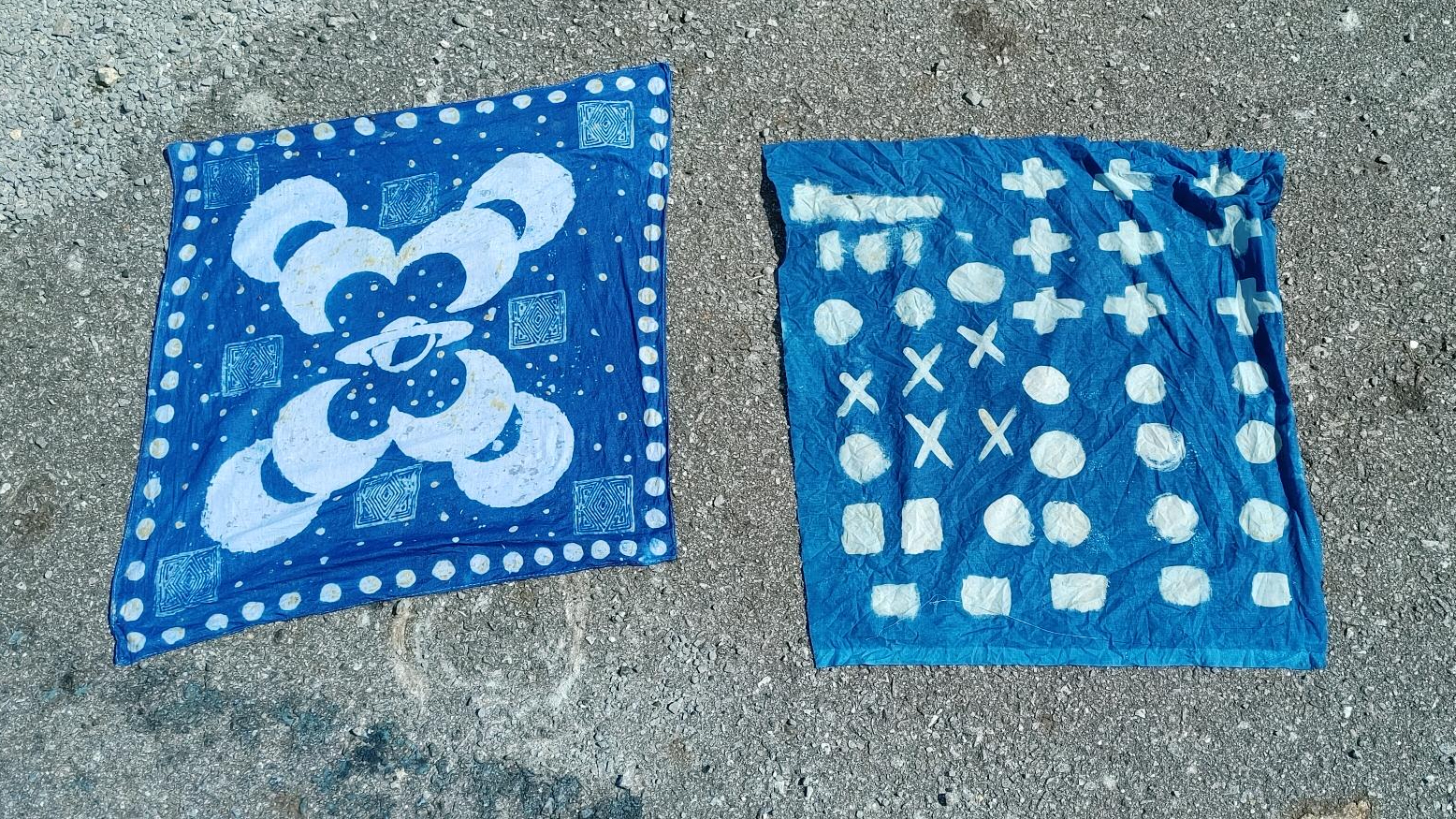 In 2022, we opened Olive's Porch in downtown Murphy––a new way for our neighbors and those passing through town to experience the Folk School. Olive's Porch features a retail shop showcasing regional makers, a studio space for our new Artist-in-Residence program, and hands-on workshops in the afternoon, evening, and on weekends. Below, our own Alison Leininger recounts her experience in Kristin Arzt's Indigo Dye and Clay Paste Resist weekend workshop.
If you've stopped into Olive's Porch in downtown Murphy, you've probably been drawn in by the varied and unique crafts on offer: handwoven linens, scented soaps, beautiful hand-carved ornaments, and all kinds of kits to practice dyeing at home.
You may even have had the chance to step into the Artist-in-Residence studio space to see quilts in progress, hear Appalachian folk tunes, or taste herbal tinctures and teas.
But step in just a bit further, and you'll find an even larger classroom space, where you can learn many of these traditional skills yourself.
This fall, I joined Kristin Artz and about eight other local students for half a day's exploration of dyeing with indigo.
On a Sunday afternoon, we found ourselves at plastic-draped tables eagerly learning the differences between purchased clay and "wild" clay, that we could harvest in our own backyards.
Kristin explained how to make a paste using clay, Epsom salts, and gum arabic, with each ingredient playing a role to mask our fabrics from the indigo dye. She provided us with pre-mixed paste, templates, and fabrics, but many of us had brought our own shirts, quilting squares, and table runners to turn blue.
We spent the next hour or so playing with mud; drawing, stamping out patterns, or using templates to mask the areas we wanted to remain white. This required some reverse thinking, since the brown lines, dots, and pictures we made would end up white, and the areas we were leaving white would finish blue. As we finished up each piece of fabric, we took it out behind the building to dry in the conveniently warm fall sun.
Once everyone had designed at least two or three masterpieces, we all moved outside to learn about the dyeing process.
We gathered around three appropriately blue buckets, as Kristen explained some of the mystery behind balancing the oxygen with the other elements in the dye vats. One of the keys was to move our fabric into and out of the dye vats smoothly, to minimize splashing and dripping, and to keep them from touching any sediment at the bottom of the vat.
We took turns for the two-minute dye sessions, and "oohed" and "aahed" as our work emerged, the initial green tint deepening quickly to the classic blue of indigo. Soon, the bushes around the small area were draped with blue-and-white designs, from swirls and starry skies to butterflies, birds, and abstract patterns.
Most students were able to complete three projects, with one ambitious woman dyeing at least four quilt squares in an ongoing project for a family member.
As we let our blue beauties finish drying in the sun, Kristin gave us clear instructions about finishing the process at home, setting the dye with a vinegar bath, and washing our fabrics.
Students lingered to ask more detailed questions, and we reluctantly parted from this magical space bearing our dazzling new creations. So, if you happen to notice someone around the area wearing a unique indigo-dyed shirt, ask them where they got it. You might learn even more about Olive's Porch.
Take a Workshop at Olive's Porch
Olive's Porch in downtown Murphy offers hands-on community workshops for youth and adults throughout the week and on weekends. Designed for all skill levels, workshops are formatted to meet for one or two days or for multiple sessions over several weeks.
View all offerings on their website and register online today!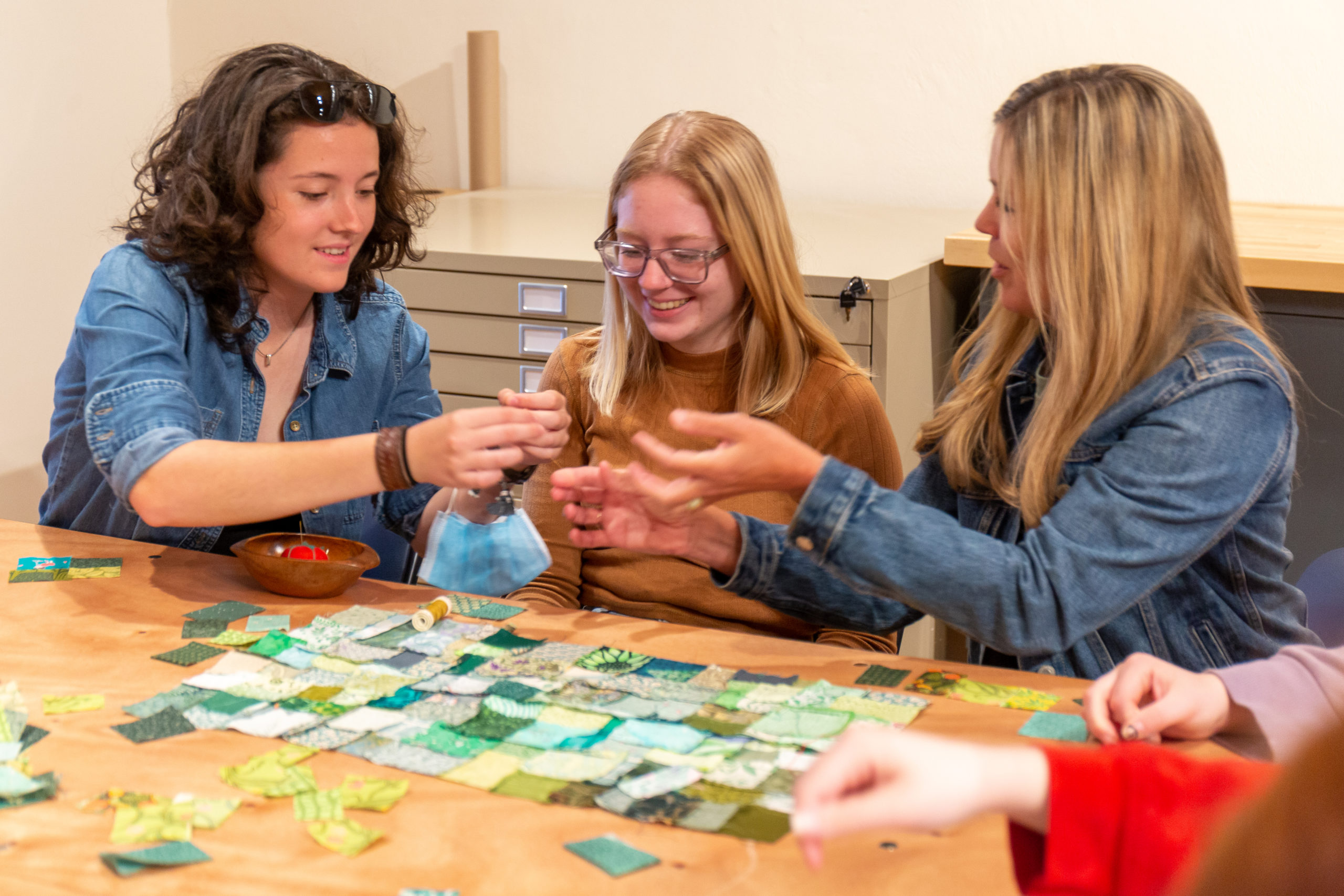 Kristin Arzt is a natural dyer, educator, gardener, and designer based in western North Carolina. She believes that by exploring the collision of textiles, plants, and sustainability, she can help make the study of natural dyes accessible to everyone through education and enthusiasm. When not teaching, Kristin grows her own seasonal dye plants in her home garden for closer experimentation. She also serves on the board of directors of Local Cloth, an Asheville-based nonprofit organization that educates its community on sustainable textiles and regenerative fiber.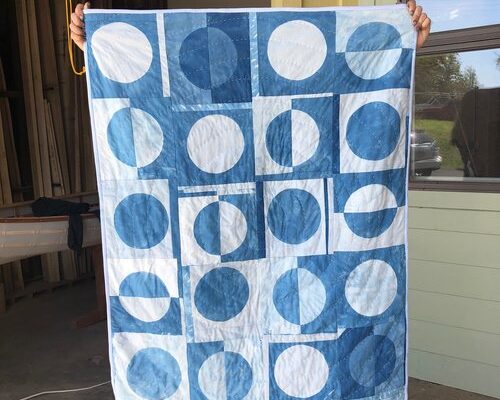 Upcoming Classes with Kristin
Indigo Plus Mordant Dyes 
October 15–21, 2023
John C. Campbell Folk School
Explore how using natural dyes can create limitless tones, hues, and values on fabric. Using natural indigo, madder, and weld, we can create an entire rainbow of colors! Learn to color a variety of natural fibers and how to prepare different types of fabric for dyeing. Bring your own small natural fiber items and dye them vibrant hues. All levels welcome.
Alison came to the Folk School's Registration department with experience as a teacher, writer, and local food advocate. Now she is working her way through our classes, deciding which craft to adopt for her next career. Aside from dyeing, current contenders are enameling, marbling, and photography.