25 Aug

Concerts, Dances, and Singings Continue This Fall at the Folk School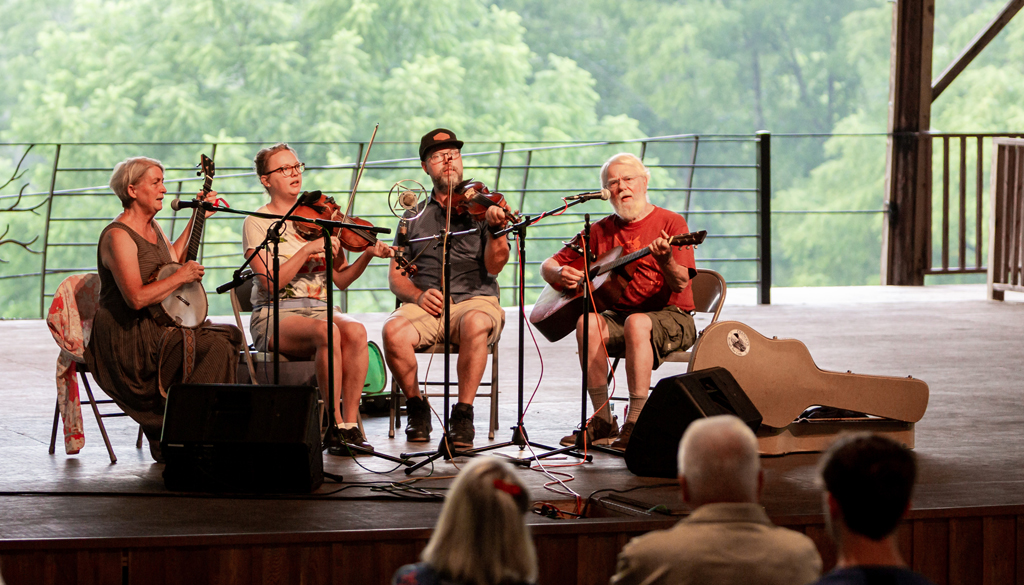 The John C. Campbell Folk School is delighted to announce a new series of Music and Dance events happening this fall. These programs are an integral part of the Folk School experience, and we hope that you and your family will join us for concerts, variety shows, and dances in a safe, outdoor environment. All are welcome at our outdoor events. Vaccinations are not required. 
In addition to standard weekly offerings, the Folk School is proud to present several special Music and Dance events this October. Most of these unique events will take place at Open House, the pavilion by the Folk School Garden with a $5-$10 donation suggested, per adult. All are welcome at the outdoor public events regardless of contribution.
• On Thursday, October 6, a senior team of gymnasts from Denmark, GYS87, will perform dance and rhythmic exercises in Festival Barn at 7 p.m.

• On Tuesday, October 11, acclaimed honky-tonk group Western Centuries will perform for a Country Two-Step Night from 7:00 – 9:00 p.m. The night will start with a beginner dance lesson.

• On Saturday, October 22, The Folk School hosts a beginner-friendly Bal Folk & Contra Dance with Annie Fain Barralon, Susan Kevra, Rachel Bell, and Becky Tracy from 7 – 10 p.m.

• On Monday, October 24, An evening of Spooky, Spirited Storytelling: Ghosts, goblins and good times. This is a one-hour program with four storytellers and plenty of family-friendly fun. Several ghostly apparitions will be in the audience!

• On Monday, October 31, all ages are invited to a family-friendly ghostly affair with Katherine Fahey & Dan Van Allen's Halloween Crankie Show. Enjoy the magic of a crankie, where whimsical characters will come to life on a hand-cranked scroll accompanied by live music and storytelling.
Detailed information about these events and performers is included below. 
The Saturday Night Community Dance is back and scheduled monthly in August, September, and October. If it is your first-time dancing, come early for simple walkthroughs and instruction on easier dances. These dances take place in our open-air covered dance pavilion, Open House, by the Folk School Garden.  
The Folk School will continue "Community Tuesdays," evenings of music, dance, and activities at Open House through November 1st. Starting at 7 p.m. the focus will be on traditional music and dance, but watching, jamming, playing games, gathering, crafting, etc. are welcomed and encouraged. For weekly updates, follow the Folk School on social media. 
Every Thursday Community Old-Time Jam from 7-9 p.m. Folks gather to play acoustic music outside the Crown Restaurant while enjoying a breathtaking view of Brasstown from the top of the hill. The focus is on Appalachian Old-Time melodies, with everyone playing together in unison. Beginners are encouraged to join in on the fun by playing along with simple chords or picking out the melody with help from others in the circle. The Folk School schedules a rotating cast of musicians who host the sessions; each week is different. Genres can range from Celtic harp and whistle to classic country and bluegrass, all in the same evening! The Crown is located at 135 Emily Lane, a short stroll from the Folk School. For more info about the Jam, please contact Charmaine Slaven using the form below.
The Folk School's Fall Concerts feature many of the school's instructors as well as touring musicians performing eclectic roots music. They have standard seating, along with a family-focused social area of picnic tables in the back. You're welcome to bring your dinner, card games, sewing project, or set up on the grass and let your kids play. A donation of $5-10 per adult is suggested for most events, but all are welcome regardless of contribution. Most concerts are on Friday evenings, but some are on Thursdays. 
Monthly Shape Note Singing continues September 12 and October 10 in Open House from 7 – 9 p.m. Come sing, learn the shapes, contemplate the poetry, and relish the power of voices raised together in song. This event welcomes first-timer and experienced shape note singers to sing from the song book The Sacred Harp. Simple shapes can be a gateway to singing in harmony and reading music from a page. Experience the beauty of singing 4 parts unaccompanied with the guidance and encouragement of host and Folk School staff member Stefani Priskos.  
Little Olive's Music and Movement program invites infants through seven-year-olds—and their caregivers/siblings—to gather for an enriching and fun-filled musical morning. Songs and dances from traditional Appalachian culture and other folk traditions will get everyone singing & dancing along! Little Olive's Folk Music and Dance program is facilitated by a small rotating group of performers. *These events take place at the L&N Depot in Downtown Murphy, at 4 Railroad Street, 9 – 9:45 a.m. September 3rd & 10th, and *10 – 10:45 a.m. October 15th & 29th. For more information on Little Olive's, visit olivesporch.org/pages/events 
All events run from 7 – 8 p.m. and rain or shine, unless otherwise noted. Lineup and schedule are subject to change. Our most up to date listings can be viewed on The Folk School's website at folkschool.org/events-calendar. 
The John C. Campbell Folk School is a 501(c)(3) nonprofit organization, and any funds raised support traditional arts and help with equitable pay for our performers. Want to get involved? The Folk School always looks for volunteers to help with their events and programs. Call Event & Volunteer Manager Morgan Budzinski to learn more: (828) 837-2775 ext. 116. 
Our new Events Calendar features detailed listings about every concert, dance, and singing coming up. You also have the option to add the event to your Google Calendar, iCal, or Outlook 365 and receive reminders and notifications based on your preferences.
Browse Calendar
Listing of Events
Friday, Aug. 26: Concert, Mack Samples with Nobody's Business
Saturday, Aug. 27: Dance, Mack Samples and Nobody's Business
Tuesday, Aug. 30: Dance, Erynn Marshall & Carl Jones
Thursday, Sept. 1: Concert, Erynn Marshall & Carl Jones
Tuesday, Sept. 6: Dance, Mckain Lakey with House Band and caller Charlotte Crittenden
Friday, Sept. 9: Concert, Mckain Lakey
Monday, Sept. 12: Shape Note Singing
Tuesday, Sept. 13: Dance, WB Reid & Bonnie Zahnow
Friday, Sept. 16: Concert, Aubrey Atwater
Saturday, Sept. 17: Dance. Mark Graham, WB Reid, Bonnie Z, & Caller Fred Park
Tuesday, Sept. 20: Dance, Lillies of the West
Friday, Sept. 23: Concert, Lillies of the West
Tuesday, Sept. 27: Benjamin Hunter with House Band
Saturday, Oct. 1: FALL FESTIVAL, performances all weekend
Tuesday, Oct. 4: Dance, The Faux Paws with Tyler Hughes calling
Thursday, Oct. 6: Performance, Danish Seniors GYS87 Perform Dance and Rhythmic Exercises
Friday, Oct. 7: Concert, Evie Ladin & Keith Terry
Monday, Oct. 10: Shape Note Singing
Tuesday, Oct. 11: Dance, Western Centuries, *Special Country Two-Step Night 7-9pm
Friday, Oct. 14: Concert, Squirrel Butter
Tuesday, Oct. 18: Dance, Michael Ismerio with House Band
Saturday, Oct. 22: Dance, Annie Fain Barralon, Susan Kevra, Rachel Bell, Becky Tracy
Monday, Oct. 24: Ghost Stories at the Folk School
Tuesday, Oct. 25: Dance, Don Pedi with House Band
Friday, Oct. 28: Concert, Don Pedi
Monday, Oct. 31: Katherine Fahey & Dan Van Allen Halloween Crankie Show 
Tuesday, Nov. 1: Dance, Licklog String Band
Friday, Nov. 4: Concert, Warren Wilson College Old-Time Band