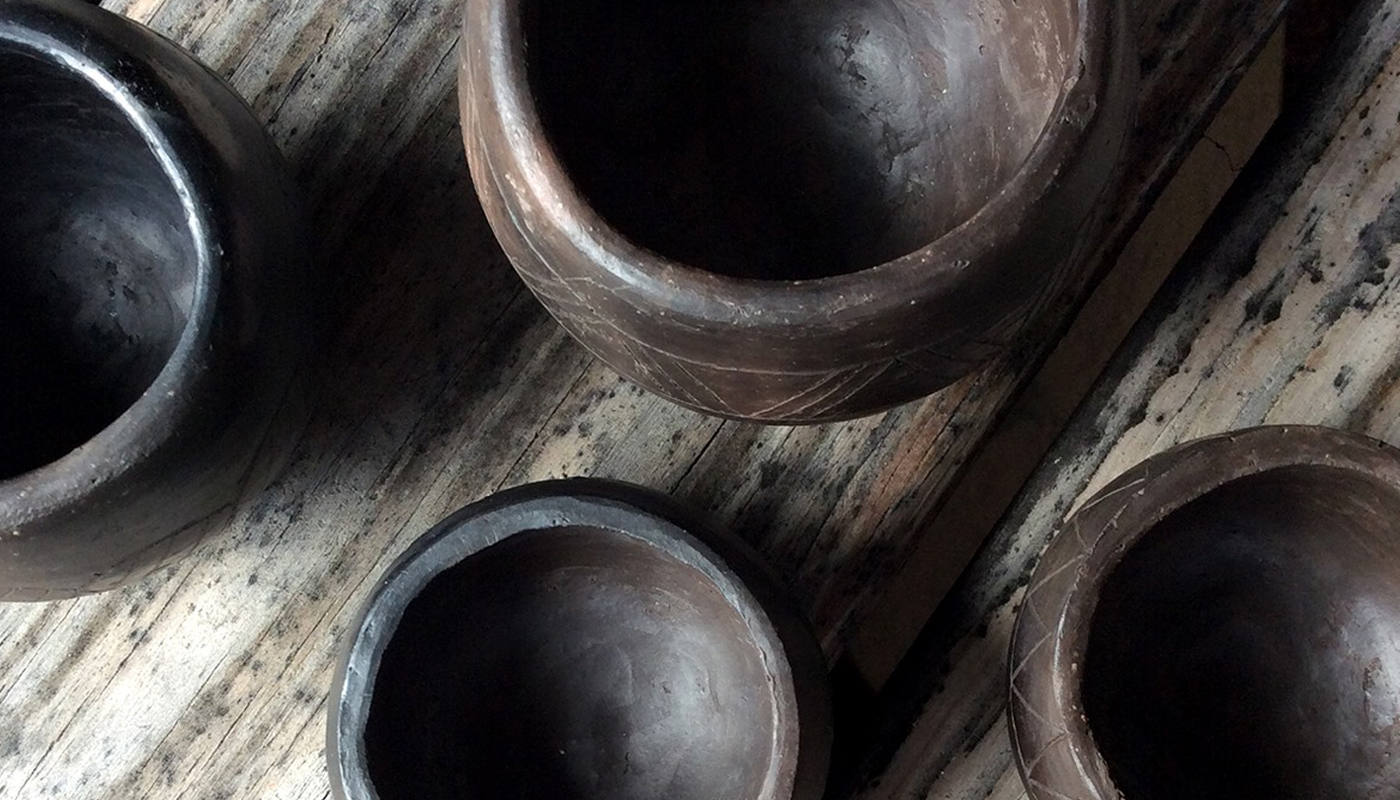 12 Apr

The Importance of Carrying on Tradition: Interview with Gina Myers, 3rd Generation Cherokee Potter

Gina "Swimmer" Myers sat down with Tammy Elwell recently for a conversation about her craft. Gina comes from a long line of established Cherokee potters, the granddaughter of renowned Cherokee potter Amanda "Sequoyah" Swimmer. Her craft has been inspired by the strong women in her life and her commitment to the stewardship of traditional Cherokee crafts. Gina lives in Murphy, NC where she spent her childhood, just a few miles from the John C. Campbell Folk School. She places a high priority on giving her time and energy to making positive changes within her community. Influenced by her church family at Little Brasstown Baptist Church as well as her education in the field of Human Services. Gina "Swimmer" Myers also has a sweet connection to the greater Folk School family, having worked for two years with us in the Craft Shop!

Gina & Folk School
TE: What was your first impression of the Folk School?
GSM: As a local, it always seemed like an odd thing to be a part of–if you're not already a part of it. Which is silly because my dad was telling us about how my Grandpa James used to come to the contra dances all the time! That was a big community activity at the time. I came to very few contra dances at the Folk School in my teenage years. My impression changed, and my love for it came after I started working at the Craft Shop.
TE: How did you first get involved with the Folk School?
GSM: I first got involved with the Folk School when I was on the clogging team here (The Folk School Cloggers). I don't even know how young I was! I didn't really travel with them. No, that's a lie, we went to Highlands and Blairsville sometimes. I performed a few times at Fall Festival.
TE: What was the first class that you took at the Folk School? What did you think of it?
GSM: The first class I took was after I started working at the Craft Shop; it was a needle felting class: "Elves Gnomes & Trolls" with Karen Richardson. I loved that class! I loved the experience to just be a student here. To see what the "magic" was, that students always talked about. I took to felting really well and I didn't know how that was going to go! I'm still needle felting. Not as much as I would like to, but it's an enjoyable past time for me.
TE: How has being a part of the Folk School influenced your craft?
GSM: It's influenced it greatly. I guess I always liked the arts, but I had really gotten away from them during school. I didn't realize how out of touch I was with art, until being surrounded by people who had so much knowledge of art and traditional crafts. I thought that I would never buy anything from the Craft Shop, because it was too expensive. Then, I really learned about the process that goes into each piece, and I found the escape of art being a stress relief. I didn't realize the true importance of art until I worked there.

Process & Inspiration
TE: When did you first start making pottery?
GSM: I started making pottery as a kid. I didn't realize that we were doing it! We were just playing with the clay. If Grandma was sittin' on her front porch or sittin' near her fireplace, she would hand us clay to work with. We had continued that off and on, but it was never something that I was purposefully doing until she passed away.
TE: After she passed, what made the change for you?
GSM: After she passed, we saw the importance of carrying on the tradition. She had taught my mom how to do it. One day she finally threw a piece of clay in front of Mom and said, "Learn how to do this so you can always take care of yourself and the kids." That's how my mom learned. Any time we needed anything extra she'd make a "run" of pottery. My sister's prom dresses were bought with pottery money. After working at the Craft Shop, it was about appreciating art forms that could be lost if I didn't keep it going. Now, for us, it's about preserving culture.
TE: What captured your interest?
GSM: Saving culture. Our tribe (Eastern Band of Cherokee Indians) is in a state of emergency with saving our language; we have less than 200 fluent speakers left, and that just attached to our traditions and saving those as well. I think it is all tied together because I'm trying to think of any young artists my age. People my mother's age sell work in Cherokee still. (Qualla Arts & Crafts in Cherokee, NC) I'm sure there are some young artists who make and sell pottery, but I don't know them personally. It's our job as the next generation to keep these traditions going.
TE: What is your favorite part of the process from concept to finished piece?
GSM: Oh my, let's see. I really like the shining part of making the pottery, which is really silly. It's the in between part of the process, you build this piece, and you have to carve it down. I got really tickled; sometimes I hand pieces to my mom and ask her if I need to carve it down more because I don't want to take too much off! It reminds me of carving nights at the Folk School with Richard* and I'd hand him pieces and ask if he could help fix my pieces! I don't want to take too much off or there won't be anything left!
*Gina is referring to the weekly Brasstown Carver's evening program, lead by Brasstown Carver Richard Carter, which she participated in prior to Covid-19.
TE: Where do you do most of your work? Do you have a designated studio space?
GSM: No, not at all. Literally some of the pots I've made I've done while sittin' on the floor in my sister's living room! Could be at the kitchen table, could be out on the porch. Mom does a lot of pottery in the house. When we're on the front porch sittin,' we're on the porch making pottery. On pretty days, you can sit pots on the railing and let them dry out so you can get to the next step. That's where Grandma was most of the time; she'd have pieces all along the railing as you'd walk up, and she'd have a piece on her lap that she was working on. I guess that's why we do the same thing, that's what we saw and how it was done.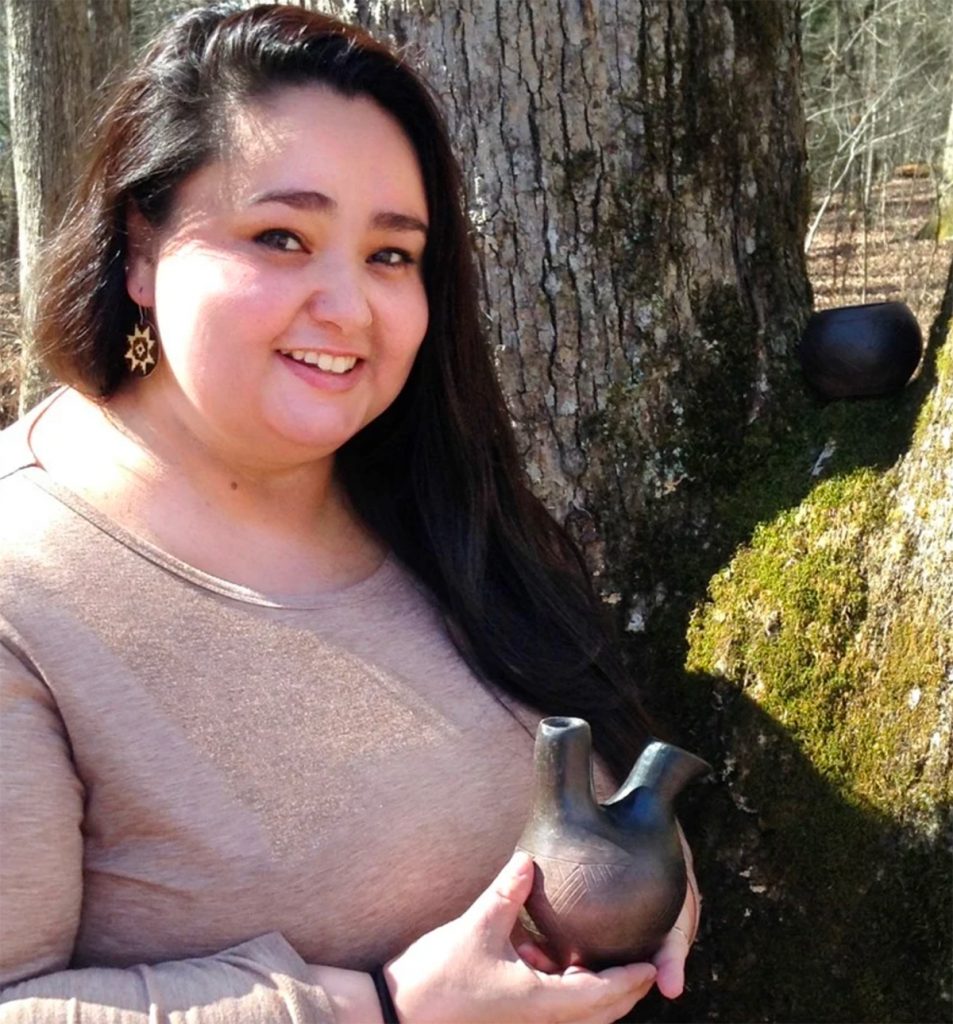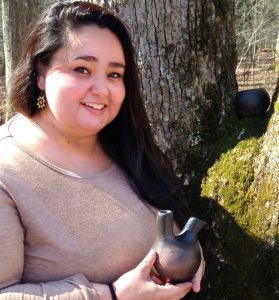 Gina "Swimmer" Myers

TE: How do you come up with ideas for designs and new work?
GSM: From my mother; I take inspiration from her pieces and I try new things to see what a tool might make. Scenery and animals; I like to sketch animals on my work. I would like to incorporate some of the Cherokee legends and stories into the next pots that I'm working on.
TE: Do you find it hard to maintain a balance of keeping your work traditional but wanting to use your own voice to make designs and shapes within your pieces?
GSM: Yes; a little bit, I do. I want to keep it traditional, but I've also seen different designs that I want to try out and I'm always thinking about what I could build.
TE: How would you like your work to connect with people who purchase it?
GSM: I hope it connects with them in any way that they need it to. I hope that there is a natural connection that brings them back to their roots or maybe just to a place of inspiration within themselves. I just hope that they can see the beauty in it.
TE: How do you source material?
GSM: We get clay from a warehouse in Asheville. Mom has worked with natural clay deposits and knows how to find clay but there's not a lot of easy ways to obtain it. She knows how to spot pottery veins and I would really like to learn how to find them and work with them. You just don't see them as often anymore; I don't know if it's that people have used them up or if it's something else. We've talked about going out on a trip to find active veins. I don't know where I would go around here to find them.
TE: I can imagine that you'd need to reach out and get permission to go looking for pottery veins on different property and that becomes a hurdle.
GSM: Yeah, exactly.
TE: Can you explain a little bit about the process of making one of your pots?
GSM: I start out with a clump of clay. I do a lot more hand building as opposed to other traditional coiling. I make smaller pieces and I mold it up slowly to wherever I'm headed. After I get the shape or design to where I want it, I leave the clay to dry. Next, I carve down to get the excess clay off to get the true vase or pottery shape that I'm happy with. Then I start the shining process; we have smooth river rocks, and I wet your pot back down and start shining with the rocks, sometimes I use antlers to get into the smaller pieces of the spouts. I use the rock and rub it to smooth out the clay. Lastly, I do my design process. Some people use paddles or sticks, corncobs, or seashells. I use an awl when I'm sketching animal faces or certain types of designs that need a fine line. After the design is done, I wait for the pottery to dry completely before I head to the firing process.
TE: Can you describe the firing process?
GSM: The firing process is in an open fire pit, but my mom uses a metal trash can too and you stick your pots inside the open flame. Mom always gets tickled when people ask her how hot it has to be, her and my grandma would always joke "If you want to stick your hand in an open flame, you tell me."
TE: What gives your work it's distinct color?
GSM: That'll be the type of wood you use if you use hard or soft wood. I always think I wanna say it backwards, but the hard wood makes it more orange and soft wood makes it black. You can use a mix of woods. I like my pots to be black, so I prefer soft woods. Some people like it to be multicolored so if you mix your wood the pots will come out with all different colors and shades on them. Rosin on the wood gives you really shiny pieces that make it look like you almost have a glaze on them.
TE: What is the significance behind some of your designs?
GSM: Most of the designs are inspirations of my mother's or grandma's. I also like to do animal designs because I love animals.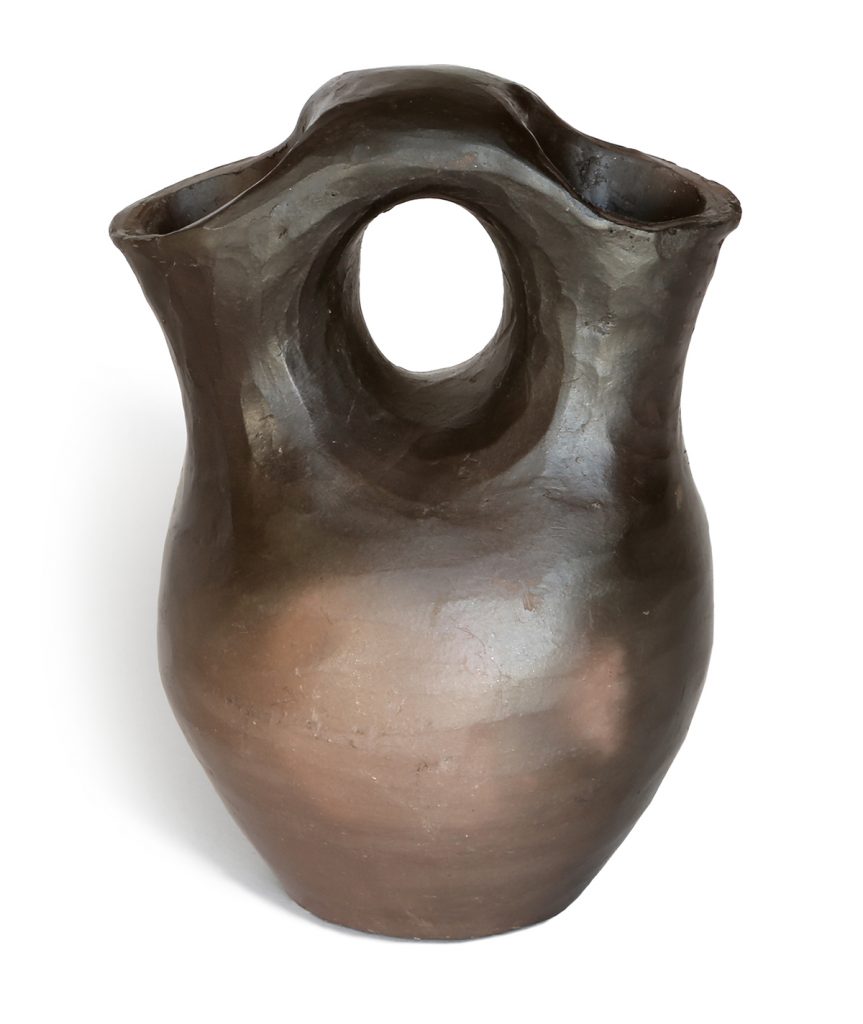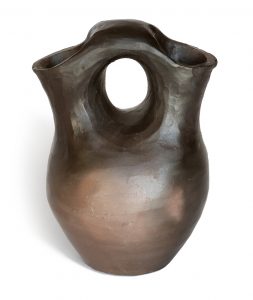 Small Wedding Vase
Family & History
TE: What role does your family play in your art?
GSM: They play a huge role. They're a big part of my inspiration because they're all artistic. T0 be able to learn and take inspiration from them is really important to me. Mom is a big teacher for me but most of it is watch and learn, it's not really a speaking process.
TE: Does anyone else in your family make pottery? 
Some of my aunts and uncles, and a few cousins. All of my mother's family are artistic people, lots of bead work and drawings. I'm just jealous and impressed with the artistic ability in my family. All of my uncles have really impressive animal designs. We have one from my late uncle, Herbert "Herb" Swimmer; a beautiful ram bowl that he made. I was so impressed with how realistic they are! My other uncle, Don Swimmer, I can remember being young and him showin' us a piece where it was a combination of animals and on one side was a fish coming out of water. It literally looked like water, around a fish, in clay!
TE: Pottery can be a community process. Do you work with your mother and sister to make enough pots for a firing?
GSM: We do sometimes, my mom makes fun of me because I have a hard time making large pots. I like making small pots! She wants me to etch a design on her larger pots because she thinks I have better designs, but I like her style a lot. My sister will help shine if we have a big run. Courtney is capable, but she says she's not artistic, so she doesn't make as much. She's also a mom though, so she's busy!
TE: Now that your grandmother has passed, do you feel a connection or a deeper understanding to the work and art she created in her lifetime?
GSM: I think so, I think even more after I experienced working at the Craft Shop and working with the women who were so knowledgeable about craft. I learned how to see it differently and see the distinct differences in style and design for the artists we carried.
I can pick out Grandma's work in a photo even if it doesn't have her in it. She was an impressive artist, and I would like to be that distinct as well. Knowing her hands, it's been interesting flipping through books with Mom and Courtney, saying "I bet that's grandma's pots" and then reading the caption under the pot and yep, it's hers.
Here's a story, I don't know if you'll want to add this but one of the ladies that I was interviewing with for my master's program asked if I knew a woman who made Cherokee baskets. I didn't know her, but I mentioned that Amanda Swimmer was my grandmother and she asked me to spell it. She said, "I think I have one of your grandma's pots!" She almost got up during the zoom meeting, she was going to find it! She did get up later and showed me a really nice display of shelves with a Cherokee basket, paintings, and some pots. She had a wedding vase that she picked up and showed me the bottom and it had grandma's signature on it! What a cool connection to make, she was so tickled about it.
TE: How has being able to learn pottery techniques from your mother influenced your relationship with her?
GSM: It's an interesting question Tammy; I guess it's strengthened it or bettered it because it's an excuse for us to get together. I wanted to get better at the firing process because Mom is quick to sweep up the pots and fire them; and I wanted to be present through all of the process learning it, so we'd get together for a weekend and do it.
TE: Is there a piece of advice that you'd give to other artists who are exploring their cultural traditions?
GSM: Ask questions. Find people who can show you and will show you, and just go for it. Have fun with it. When I was just playing with clay with my Grandma as a kid, I didn't think that this was going to happen. I didn't think I would be getting an interview with the John C. Campbell Folk School.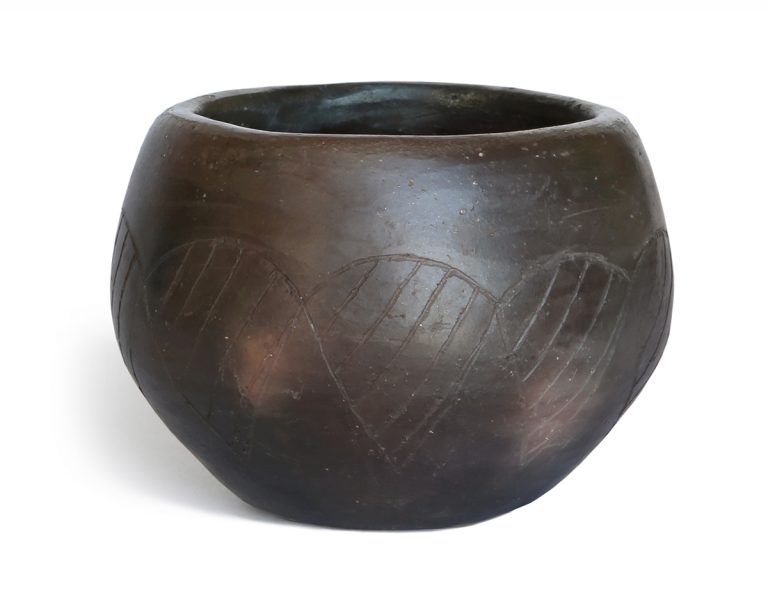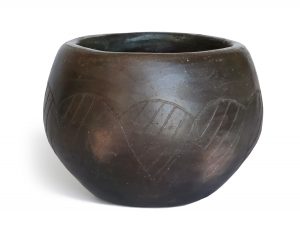 A selection of Gina's pottery is available at the Craft Shop online. To see what is available for purchase currently, visit craftshop.folkschool.org. You can also call the Craft Shop for more information at 828-837-2775 (ext. 125). Check out the book Cherokee Pottery: From the Hands of our Elders by M. Anna Fariello (also available in the Craft Shop) to learn more about the tradition of Cherokee Pottery.