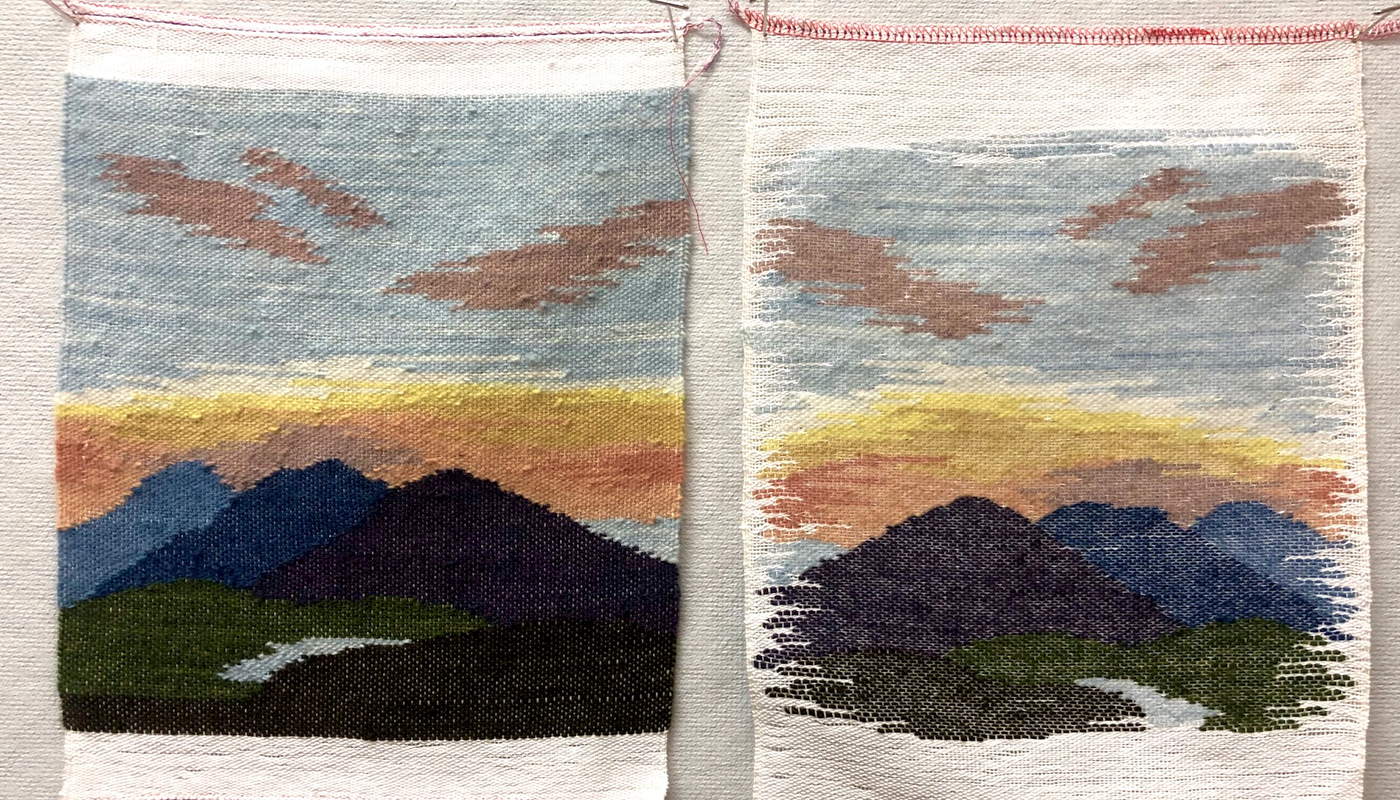 30 Mar

Welcome Allie Dudley, Resident Artist in Weaving, Rugs, Thread Art, Lace and Beading

*Header image: "Alice Tipton Landscapes: Two Ways", 2020, by Allie Dudley

We would like to extend a warm welcome to Allie Dudley, our new Resident Artist in Weaving, Rugs, Thread Art, Lace, and Beading! Allie is a fiber artist and teacher who works primarily with weaving and embroidery, whose tapestries and other works have been included in several international fiber shows.

We are overjoyed to have Allie joining us as a staff member, shortly after their experience as a mentee in the Folk School's Traditional Craft Mentorship program. Read below to learn more about Allie's background and goals as an incoming Resident Artist.

BW: As a Resident Artist, what are some of your day-to-day responsibilities?

AD: So far I have been working on creating the class schedule for next year, which has been super exciting. It's really fun to be able to have a peek into the future, and I can't wait to meet all the instructors and see what they're working on! I also will be responsible for maintaining the studio, which mostly looks like loom maintenance, stocking up on yarn, organizing equipment, and this year making sure spaces are sanitized and that the studio is a safe environment for everyone.

BW: What are you most excited about in this new role?

AD: The thing that I've really been dreaming about is spending time in the fiber library. It is such an amazing resource. Every time I'm at the Folk School I feel like I'm too busy with class to really make a dent in the books, so I'm really looking forward to some deep dives in the library. I'm also really excited about getting to take classes and expand my craft skill sets. I love the way that learning something new gives my brain a boost of energy and inspiration; it feels like each new skill sets off a chain of ideas to explore.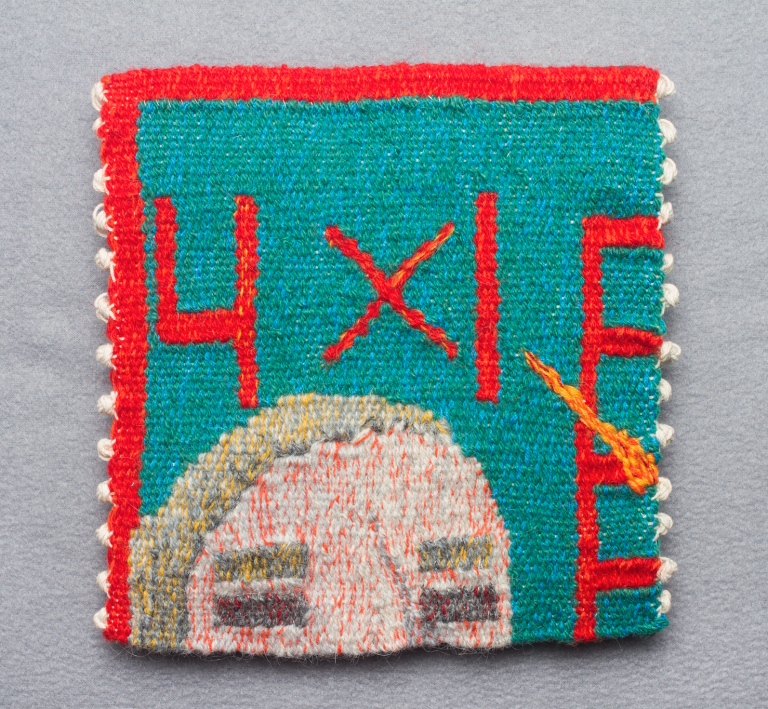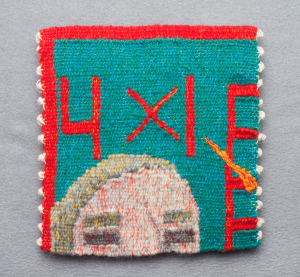 "Penland Face", 2019. Cotton warp, wool weft. Photo by Chris Dant.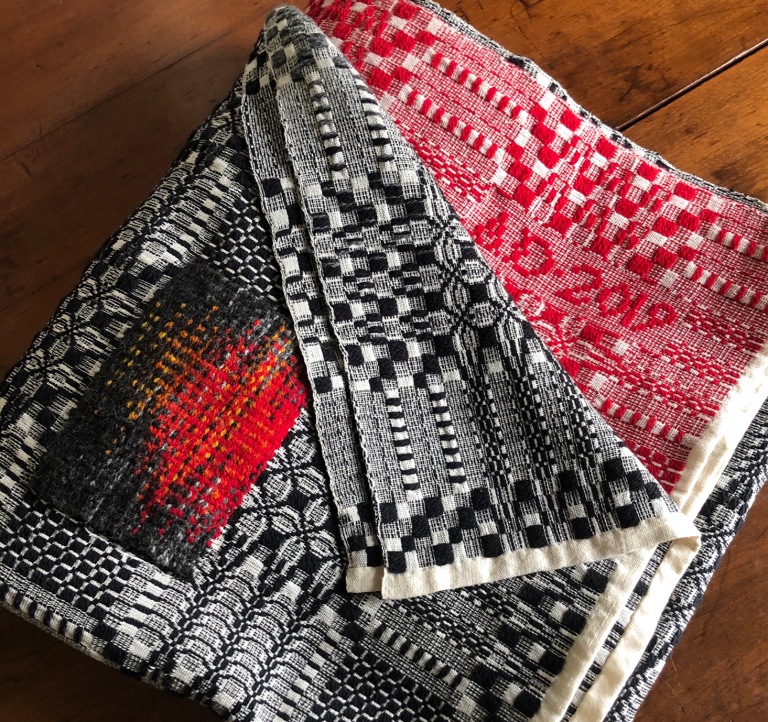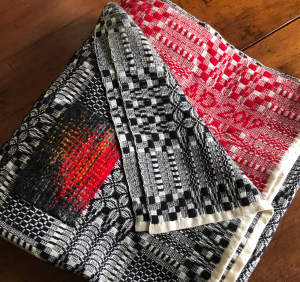 "Keep Me Warm", 2019. Wool and cotton. 72" x 102". Featured in Of Threads, On Place at the Asheville Area Arts Council in 2019.
BW: Tell us a little bit about you and your background in craft. When did you start weaving?
AD: I studied film in college, and even before I started learning how to weave, I was sort of grasping at a craft-oriented approach to making art. Back then, my favorite way to make films was on 16mm; something about the physicality of the celluloid really had a hold on me. Looking back on it, weaving seems like a pretty natural extension of the same skill set I used in filmmaking. Both mediums have a set of rules or constraints that can guide your work, but you still have room within those spaces to mess around. Something about the pace of film editing feels echoed in the rhythm of weaving structures to me.
I think my weaving origin story is pretty cheesy–I visited some friends in Asheville who took me to the Warren Wilson College weaving studio, where I saw an in-progress Double Bow Knot coverlet panel being woven on a loom. Much like Frances Goodrich when she saw her first coverlet, I thought "I need to learn how to do that." I started taking lessons at the Chicago Weaving School on weekends during my senior year of college. After graduating and aimlessly wandering for a few months, I decided to take a concentration class at Penland from Tommye Scanlin and Bhakti Ziek, which felt like a turning point when I got serious about making weaving a central part of my life. I moved to Asheville and Tommye very generously started bringing me along to assist her at her many tapestry classes at craft schools. Shout out to Tommye for bringing me to the Folk School for the first time and sharing her deep love for this place with me!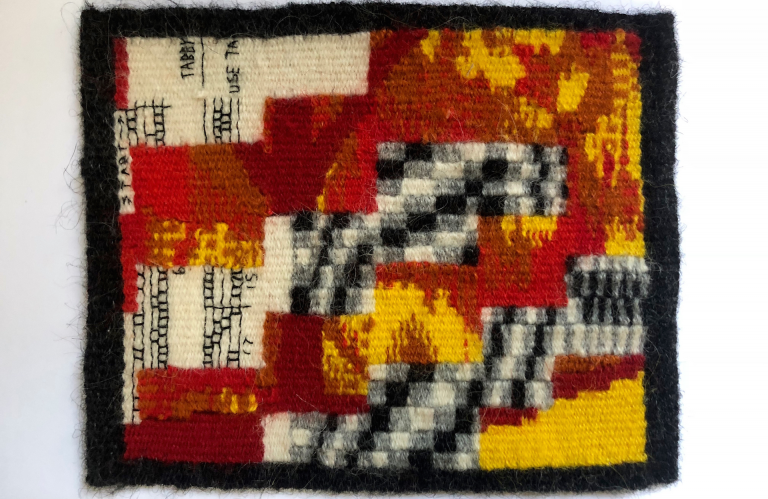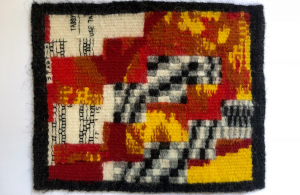 "Blooming Leaf", 2018. Linen, wool, and cotton. 6" x 7 1/4". Featured in Small Tapestry International 6: Beyond the Edge.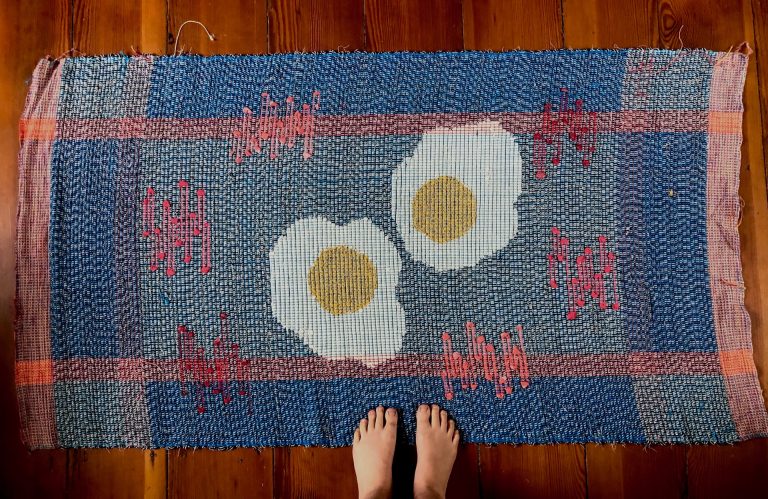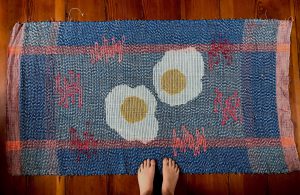 "Egg Rug", 2020. 30″ x 60″. Cotton carpet warp, cotton rag weft.
BW: Where do you draw inspiration from for your work?
AD: I'm really fascinated by historical textiles. I think there is so much to learn from the weavers and stitchers of the past. Weaving is an incredibly ancient art, and it feels almost sacred to be a part of such a long unbroken chain of people creating fabric. There are so many things that our ancestors figured out how to do–it's literally awe-inspiring sometimes. But that's not to say I'm super precious about my weaving practice; I am all for using handmade dish towels as rags and incorporating well-crafted items into everyday life. I think that's what really gets me is the everyday-ness of textiles, the way people used them and cared for them, and the way fabric shapes our lives. It feels like I'm verging into getting all mushy about textiles, but this is all coming from someone who can't even get rid of ratty old t-shirts without making a fuss about it.
BW: What piece of work have you created that you're most proud of, and why?
AD: I'm most proud of the first coverlet I wove while at Penland's winter residency program in 2019. Under the guidance of Cassie Dickson, I planned a coverlet using a Pine Cone Bloom draft, with a twist: I wanted to combine tapestry (a way of weaving that uses a lot of hand-manipulation) with overshot patterning (which is entirely loom-controlled). I spent the first week of the residency sampling, and I wove the coverlet during the second week. This process gave me a huge appreciation for the weavers of yore–weaving that much in a week was absolutely backbreaking. I was exhausted. Weaving is a tough job when you have to do it twelve hours a day.
I also got to flex my problem-solving skills; the coverlet was meant to be woven with black wool for the overshot patterning, and I ran out partway through the last panel. I got to improvise with color and the final piece turned out to be much more effective than if I had actually done a good job of planning ahead. I'm really proud of my invisible seam! The best part is that I get to sleep under this coverlet every night.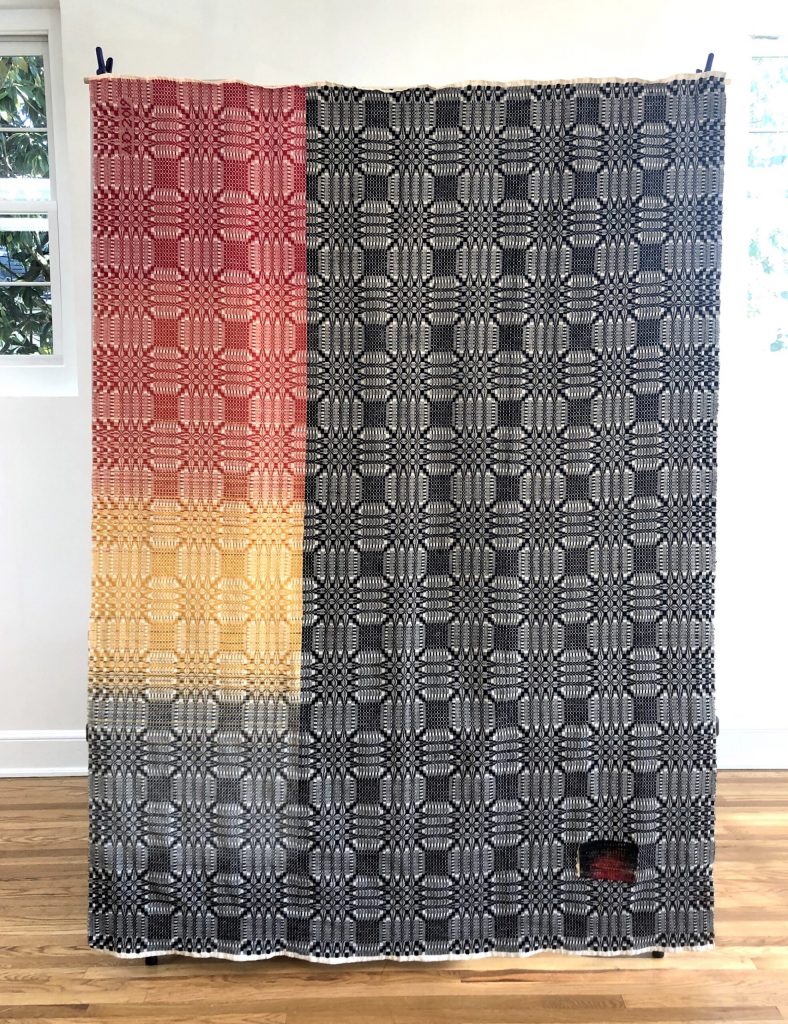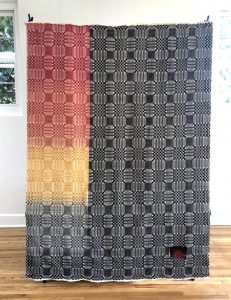 Full-length view of "Keep Me Warm"

BW: You were a mentee in our Traditional Craft Mentorship program. How did that experience impact you?
AD: The mentorship program truly changed my life. Obviously, because it's what encouraged me to apply for this position, but one thing I had missed most throughout the pandemic was working alongside other weavers in a studio. Having the opportunity to weave with Marge Dugger & Hannah Watson (the other amazing weavers I shared the studio with) really drove home the importance of being around other craftspeople in my work. It made me really excited for a future where I get to teach and learn year-round.
BW: Is there a particular memory of the mentorship program that sticks out to you?
AD: It's hard to narrow it down, but an especially sweet one is when Elizabeth Belz, Creative Catalyst Fellow extraordinaire, had us all come to the blacksmith studio and taught us how to make hooks. Elizabeth is an amazing teacher! Blacksmithing is such a different way of working than weaving, and I had been dying to learn how for so long. I felt powerful.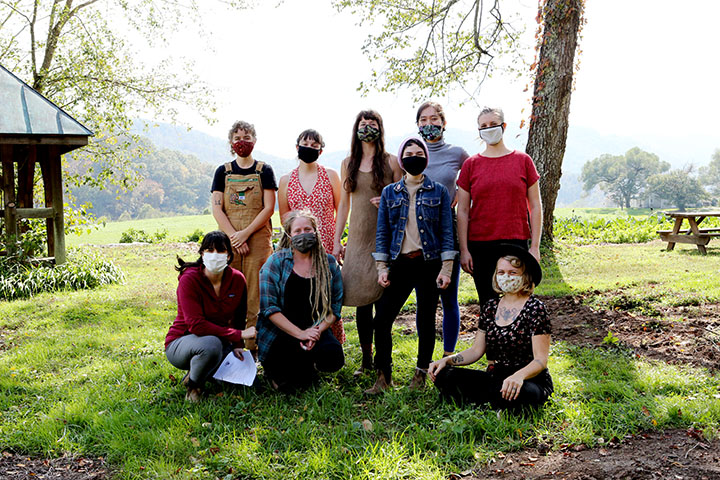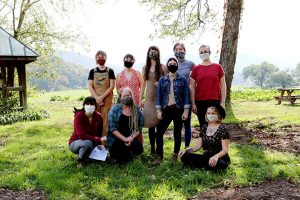 Session 1 mentees
BW: What is one of your goals for the programs you'll be managing?
AD: I'm really excited about the opportunity to expand the traditions of the Folk School. Something I find really valuable is the long lineage of instructors who have been coming to the school year after year to share their knowledge. I'm looking forward to bringing into the fold teachers who are working within textile traditions that may not yet be represented in our class offerings. It's important to maintain our connection to the craft traditions of this area while expanding on the concept of what craft can be, and I'm excited to be a part of that process at the Folk School.
BW: How can people stay connected with you, and reach you in your new position?
AD: I have a website, I'm on Instagram, and you can always reach out to my Folk School email.
About Allie Dudley
Allie Dudley is a fiber artist, teacher, and Resident Artist of Weaving, Rugs, Thread Art, Lace and Beading at the Folk School. They primarily work with weaving and embroidery, but also dyes, sews, knits, and spins. Allie started learning how to weave on the weekends while attending college at the University of Chicago. After graduating with a degree in Cinema & Media Studies, Allie relocated to Asheville, North Carolina to further their study of weaving. While there, they worked under several production weavers and spent time learning and assisting at the Folk School, Penland School of Craft, and Arrowmont School of Arts and Craft. Allie's tapestries and other work have been included in several international fiber shows, including the 2019 Irene Davies Emerging Artist Award for Small Tapestries Finalist Exhibition and Small Tapestry International 6: Beyond the Edge.
Allie's work draws primarily on traditional textiles, using historical patterns and techniques while interpreting them through a contemporary lens. Allie loves the intimacy of textiles and the window they can provide into the past.
About the 2020 Mentorship Program
The 2020 Traditional Craft Mentorship Program was a grant-funded opportunity for early-to-mid-career artists to spend a month at the Folk School, learning from master artisans. The unique situation of the Folk School closure due to COVID-19 allowed us to offer 6, 1-month-long programs, with 3 students per program, and 2-4 mentors working collaboratively and independently in studios. Subjects included: Basketry, Music & Dance, Weaving, Blacksmithing, Chairmaking, and Fiber Arts.
We'll be announcing 2022 Mentorship opportunities in July 2021. Sign up for our eNewsletter to learn about upcoming opportunities.