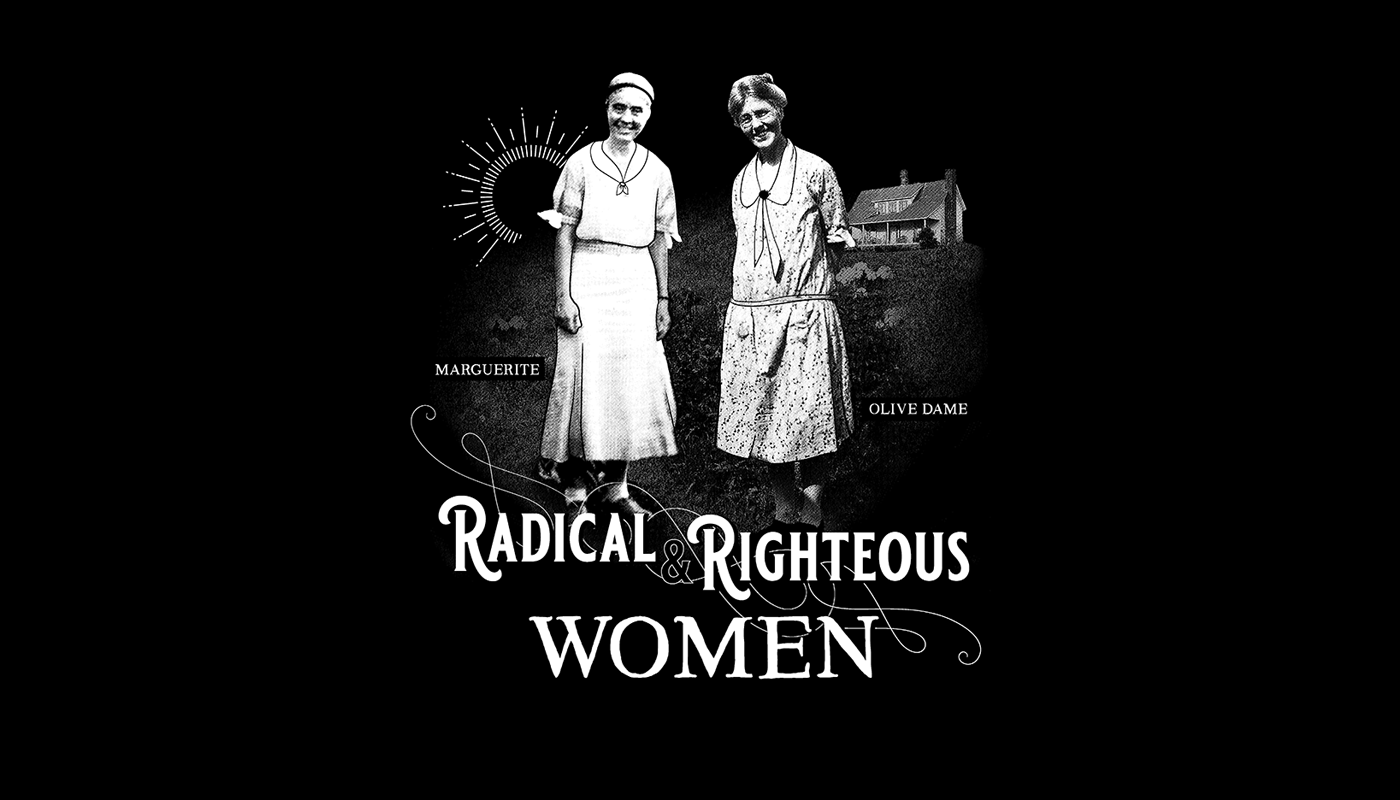 24 Mar

Radical, Righteous, Women at the Folk School

In honor of Women's History Month, I had short chat with Mary Doornbos, former Craft Shop Manager at the Folk School.

TP: I know you created your own tagline about women, but I can't quite remember it, can you tell us about the line?

MD:  I wish I could claim Radical, Righteous, Women as my quote. It was actually a comment that Kelly Totten made to Darcy Holdorf at the time Darcy was working for Marketing. She was excited about it and told me. It seemed such a perfect descriptor for Olive Campbell and the other female founders of not only the Folk School but also Penland, Arrowmont, and the Southern Highland Craft Guild. It was a fun and inspiring mantra to aspire to. I wanted to create T-shirts and mugs. I would use the phrase in the Craft Shop to bolster staff and my own energy. It was always a great reminder of what we were all working for despite the mundane retail chores. We were strong, intelligent, capable of whatever challenge was before us!

TP: There were many influential women who worked at the Folk School over the years. During your time at the school, what did you learn from their accomplishments?

MD: I have always been very inspired by Olive Dame Campbell, Marguerite Butler Bidstrup, Louise Pittman. The longer I worked at the Folk School and the more I learned about these women, my admiration for them grew. I always tried to imagine the courage it took to do what they were doing in an era where most women were in very traditional roles of mother and wife. What these women did was incalculable, they took big risks and powered ahead with their agenda despite what must have seemed insurmountable challenges. Reading the Folk School newsletters that Olive Dame authored made those challenges very real, yet she was always positive in her attitude.

These women inspired other younger women to engage with the Folk School. Ellie Wilson was a friend. She came to Brasstown and the Folk School in 1940. After the war, she married a local gentleman Monroe Wilson and returned to Brasstown. She started the Episcopal church in Hayesville, taught at Martin's Creek School, started Industrial Opportunities Inc., pursued another degree at WCU in sociology in the 60's while raising three children and working the family farm. She was a humble and good woman who laughed a lot. She was born in the Northeast but fell in love with the Folk School, Brasstown, the mountains, and of course Monroe. She made a difference in the lives of many individuals in Clay and Cherokee Counties for decades.

Hope Brown was another Radical, Righteous, Woman.  She was a Brasstown carver, and she like many women carvers was a mother, and wife. Carving enabled her to bring income into her family. She was able to afford everything from indoor plumbing to educational opportunities for her children. Her oldest daughter became a lawyer.

TP: Can you tell me about your career at the Folk School?

MD: My career as Craft Shop Manager began in March of 1997 and I retired in March of 2020. This position gave me the opportunity to meet and be inspired by many Radical, Righteous Women and they motivated me to pass on their strength to many others. I am so grateful always for that opportunity.

The month of March was declared Women's History Month in an effort to commemorate and encourage the study, observance, and celebration of women in America.