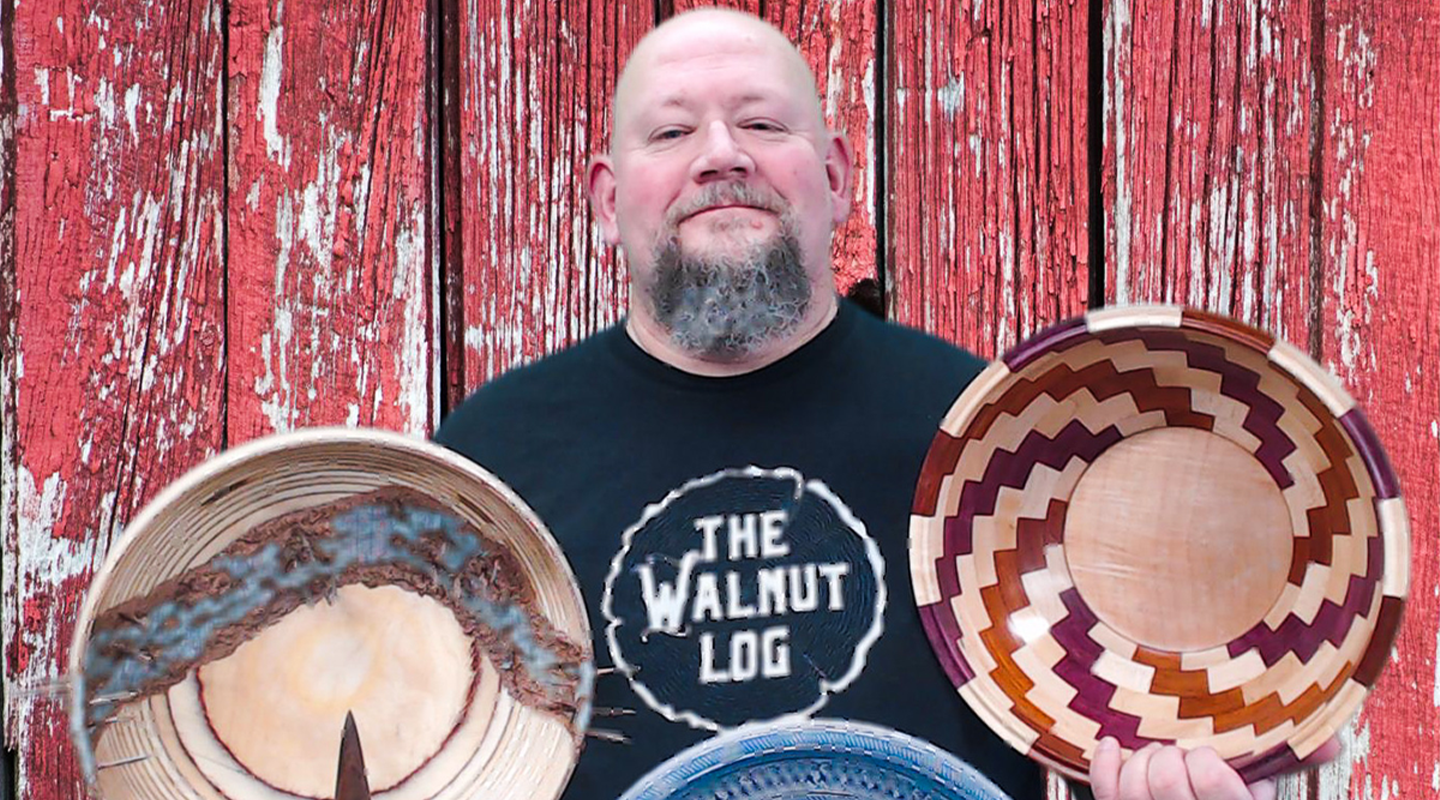 16 Mar

The Importance of Being a Student: An Interview with Jeff Hornung

Jumpstarted by a Folk School woodturning class nine years ago, Jeff Hornung began his own woodturning business after recovering from post-concussion syndrome. Now, he is a Folk School instructor, juried artist, national and international demonstrator, author, and Artist-in-Residence at the Craft Alliance School of Art + Design in St. Louis, Missouri.

Read below Jeff's lighthearted take on how he got started in woodturning, his work, and his upcoming class in the fall.

BW: What made you decide to take class for the first time with us?

JH: My wife MADE me go, I really didn't want to. In 2011 I was in a car accident and suffered a minor concussion. This caused severe post-concussion syndrome and I found it very difficult to focus for most of 18 months. My "creative side" of my brain was damaged and it was a struggle to do anything. After several months of trying to deal with that, we figured out if I had a hobby it gave me something I could focus on long enough to be comfortable for a few hours. My problem ended up that I would get bored with those hobbies quickly.

Fast forward another few months to 2012 and my wife tossed a copy of the John C. Campbell Folk School catalog on the table and said: "Pick a class, we're going on vacation…You're driving me nuts."

Paging through the catalog, I saw many classes that I really did not want to take, several that made me roll my eyes and eventually settled on woodturning…Whatever that was. Pretty sure I could have picked a lathe out of a machinery catalog but had no clue what else would be entailed.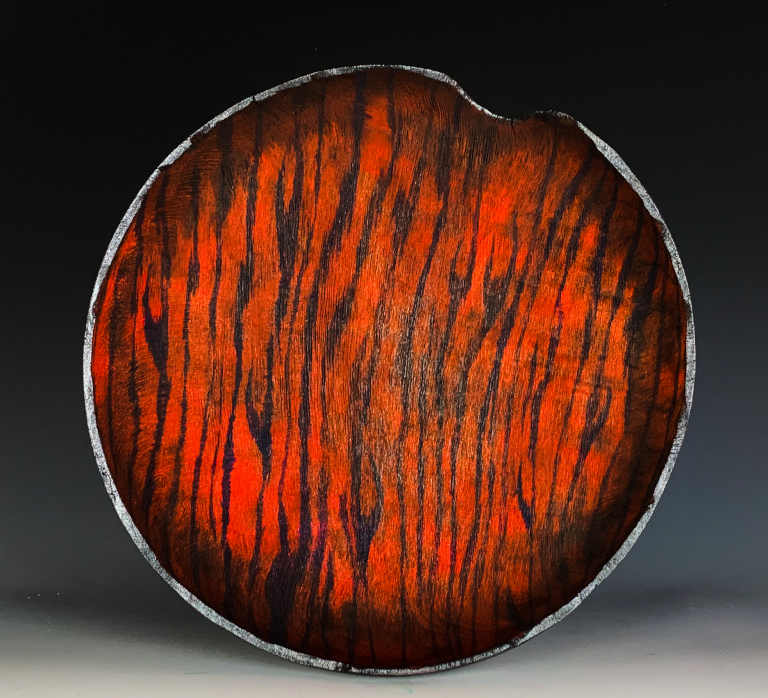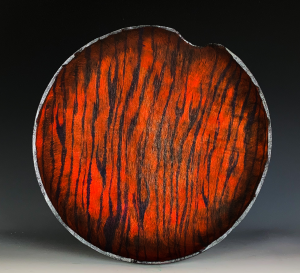 "Can't See The Forest For The Fire". Shou Sugi Ban and stain on maple. 2020.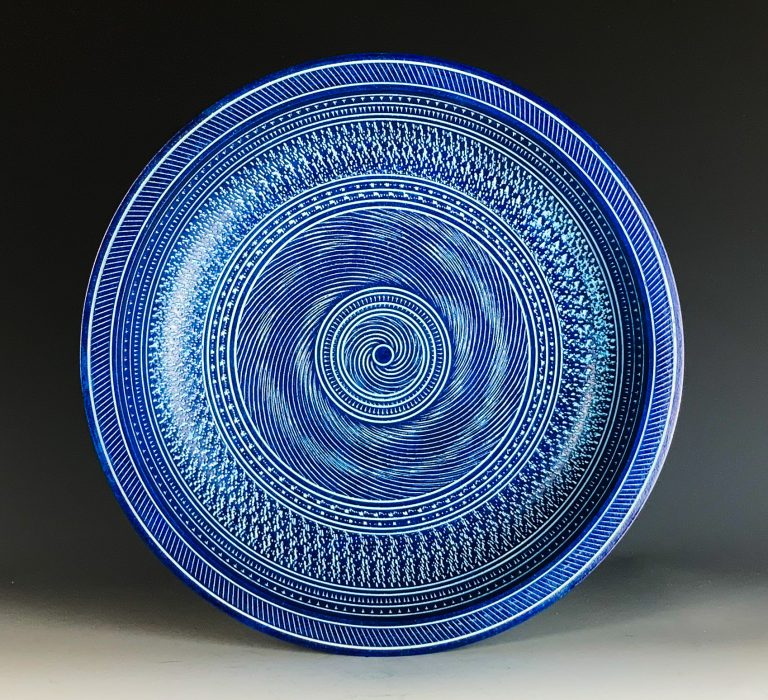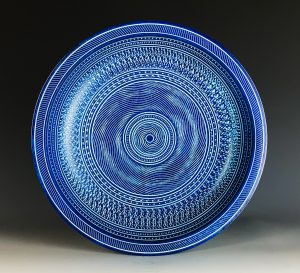 "Morocco Blue". Texture, wax, and ink on maple. 2019.
BW: Tell us a little about your first class and how it inspired your craft journey.
JH: The very first class I took was Green Wood Turning with David Barringer. He gave me enough basic skills to continue on my own back home and lit a fire in me to the endless possibilities of what could be made on a lathe. We signed up and made our way to the campus, arriving on the last day of that year's Fall Festival. I had a screaming headache and didn't want to be there. Since we spent the money I'd at least give it a shot, then maybe go nap the rest of the week.
The following is how I remember things happening but most likely not what actually happened.
The instant the tool touched that spinning piece of wood my head stopped hurting. The clouds parted, the skies showed bright and angels starting singing from the heavens. At that moment I became a member of the Folk School community, became a woodturner, and started falling in love with the whole idea of craft.
After that first week, I had a beat-up old lathe that I found on Craigslist, some low-quality tools, and a workspace set up in my garage. The absolute best part was I could feel myself finally starting to heal. We went back to the Folk School in 2013 and I took my next weeklong class with Kirk DeHeer. I went back again in 2014, 2015, 2016, and 2017, was Kirk's assistant in 2018 and 2019, then finally was asked to teach my own full class in September 2020!
That first class at John C. Campbell Folk School changed my entire life. Full disclosure, I want to go back and take almost every class I rolled my eyes at during that first glance through the catalog. JCCFS is truly my happy place.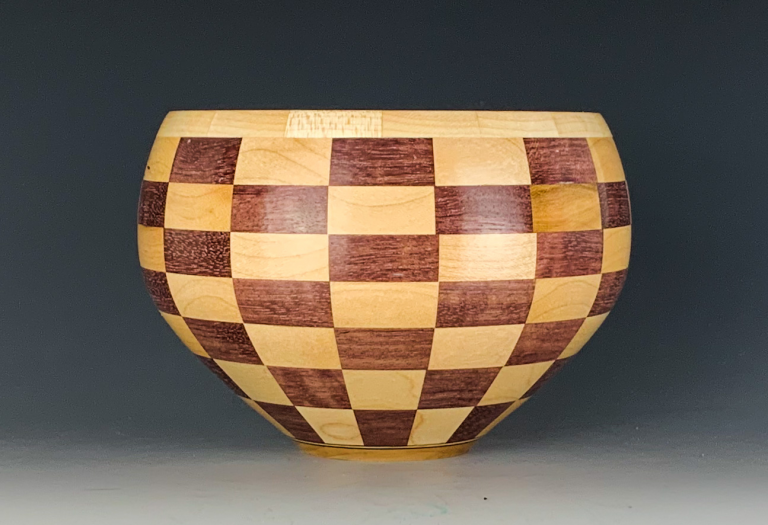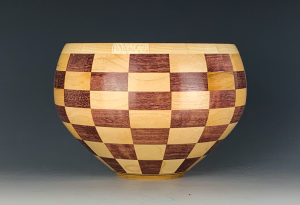 "Checkerboard". Maple and purpleheart. 2020.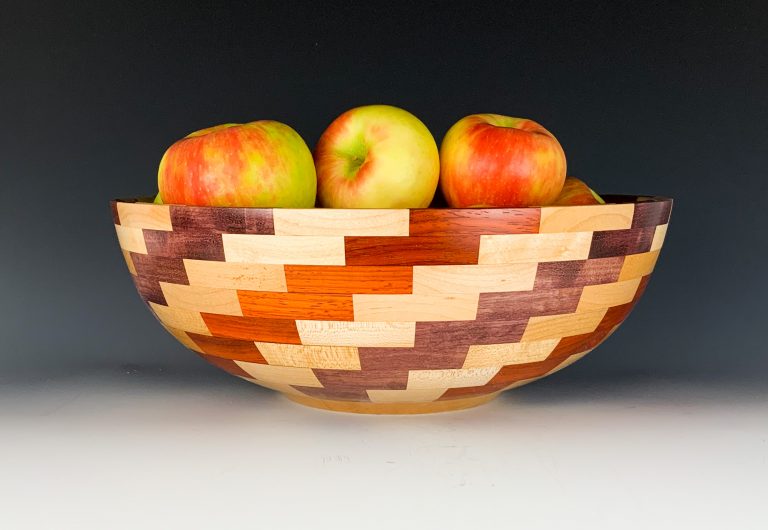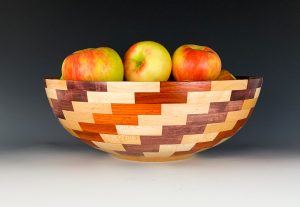 "Harvest Tornado". Maple, padauk, and purpleheart with apples. 2020.
BW: Tell us a little about your work. Where do you draw inspiration from for the pieces you create?
JH: My work ranges from functional utility pieces like salad bowls to conceptual art pieces, sculpture, and many things in between. For me, the best part of turning is knowing that I'll never be able to master it all. It sounds weird, but not being able to get bored with something, because there are so many aspects to learn, makes me incredibly happy. I draw inspiration from everywhere…The wood itself, a texture seen in nature, or current events.
BW: What's been the highlight of your career so far?
JH: This is not a snarky answer. The highlight has been being asked to teach my own class at the Folk School. I knew within the first two years of turning that was at the top of my bucket list. I'm still bummed we couldn't meet in 2020, but am hopeful for 2021!
BW: What makes you passionate about the work that you do?
JH: I know I can create something that will stir emotion in someone else. Sometimes it's because I made a nice thing, other times it's because I made an emotional connection with the viewer. Another reason I'm passionate is that I know I'm in a position to teach others what my teachers took the time to teach me. Sharing what I know so that someone else might fall in love with woodturning like I did.
BW: Tell us about one of your best memories at the Folk School.
JH: The Folk School is truly my happy place so all memories are good ones. I think the best memory is the third trip to the Folk School and seeing the sign out front as we drove in on a Sunday. Huge uncontrolled smile on my face.
BW: What's your favorite thing about teaching?
JH: I think my favorite thing is when a student "gets it".  That moment of clarity for them…The smile, the excitement. I will ALWAYS be a student. Pretty cool, huh? I think part of the journey of every student is to get to a point where you can also teach. Kirk made sure that was part of my instruction, not only giving me skills I can use but skills I can share.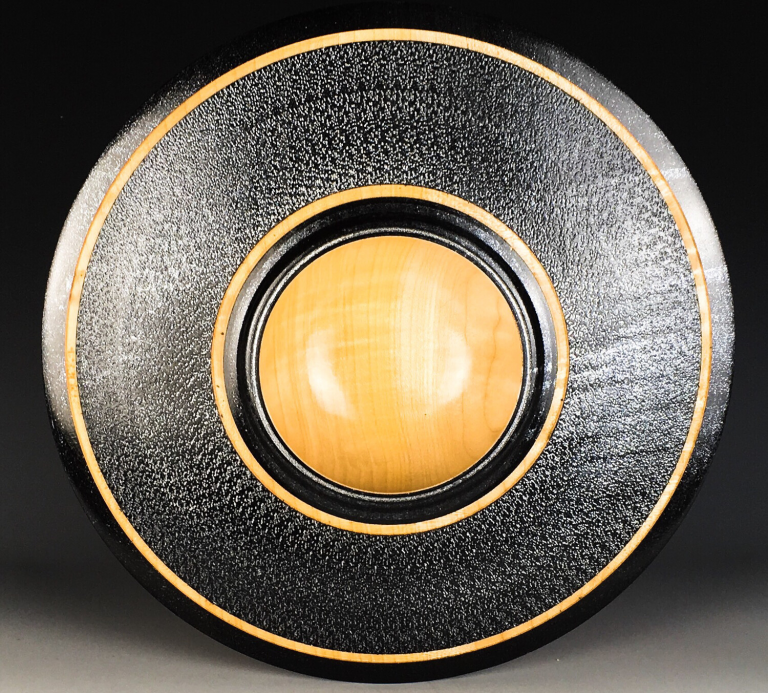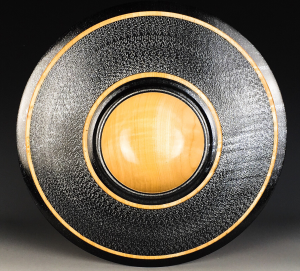 "Southwest Vibe". Texture, wax, and ink. 2017.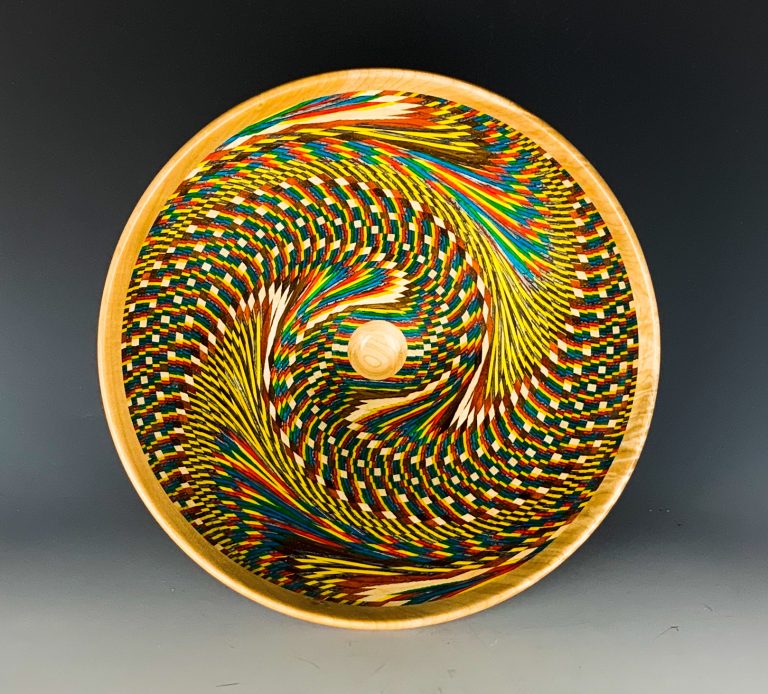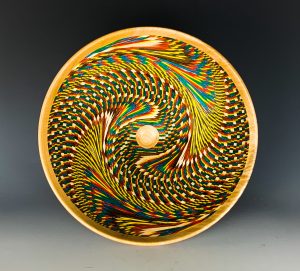 "Vortex Carnival". Maple, oak, cherry, and spectraPly. 2020.
BW: I see you taught an online class on Lessonface with the Folk School. What's your experience like teaching online? 
JH: I've actually been teaching online since early 2019. I've always felt that technology could benefit craft in a number of ways and in 2016 there were a few of us trying to figure out how to move forward as online teachers. The camera technology and broadcasting platforms were not what they are now so it wasn't practical at that time. Since 2019, however, technology has been improving greatly and I currently have a very nice permanent virtual classroom space in my shop. Nothing beats in-person and hands-on but if nothing else, 2020 has proven that virtual lessons are here to stay.
BW: What tips would you give aspiring woodturners? Anything you wish you knew as a student?
JH: Tips for aspiring woodturners…Never stop learning. Never tell yourself that you "can't" do something. Maybe you don't have the skills today, but that doesn't mean you won't have them tomorrow. Never limit yourself to one tool or technique. The more options you have, the more problems you can solve as they come along. As for me, I'm still a student…I'm always a student. I got lucky and have had access to some outstanding teachers.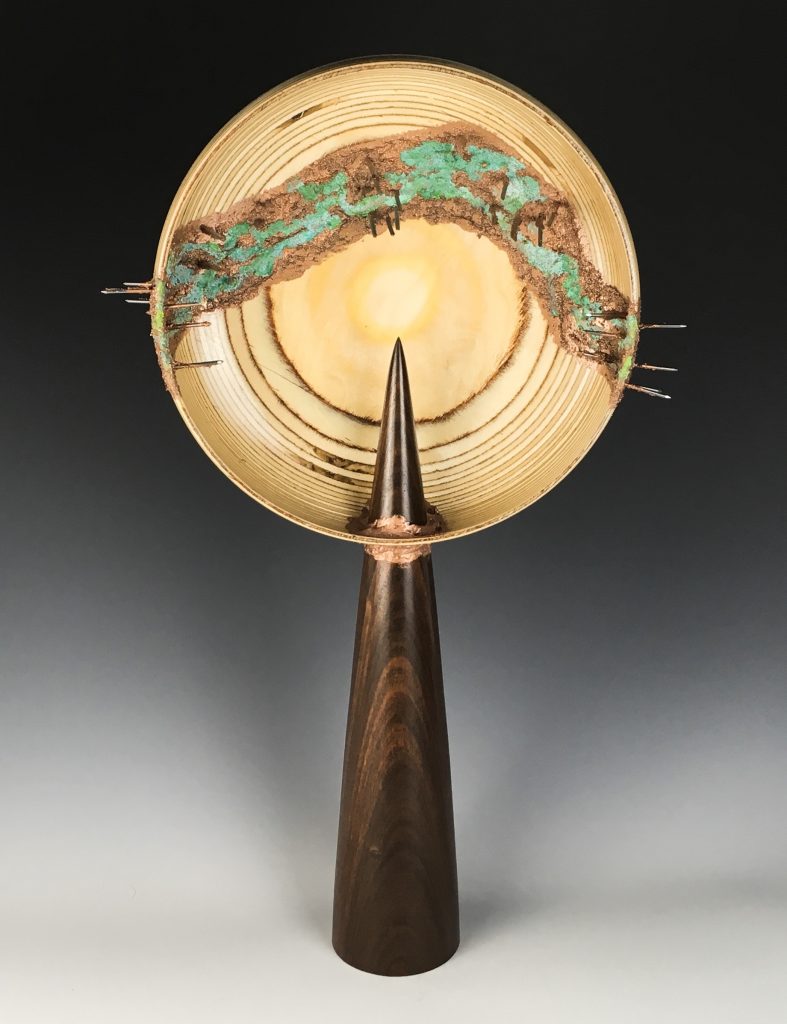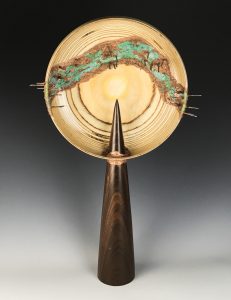 "Road to Recovery". Plywood, Ipe wood, nails, and acrylic with forced patina.
BW: Where can folks find you if you're not in Brasstown teaching?
JH: If I'm not in Brasstown teaching you can find me in my own studio in St. Louis, Missouri. That is my home and base of operations. If you're a turner you know that I always have at least 2 lathes available, and if you bring donuts I might just give you a free lesson. I also teach at the Craft Alliance School of Art + Design, also in St. Louis. I have been a woodturning instructor there for several years and it's a great place for all sorts of crafts.
BW: How can people stay connected with you and the work you're doing?
JH: You can find me on Facebook, on Instagram, and on my website.
BW: If someone was interested in purchasing your work, where can they find it?
JH: I have a webstore built into my website. You can see my work in St. Louis at the Craft Alliance Gallery Shop, as well as various craft and art shows during the year. Hopefully, you'll also see me at the Folk School Fall Festival this year too.
Upcoming Class
Turning Scottish Style
August 29 – September 4, 2021
Learn some traditional Scottish treenware (tableware) designs, and enhance them with carving, gilding, pyrography, and texture. Turn and carve a spurtle, quaich, and goblet. Fashion a round bottom bowl with design roots in the United Kingdom, and an ancient Scottish sphere. Focus on tool control, sharpening, thin-wall turning, and winged turning, along with embellishment techniques to create the look of metal and stone. Basic turning experience is encouraged; beginners are asked to contact the instructor in advance to determine needs.

About Jeff Hornung
Jeff began his artistic foundation in 1984, as a ceramics maker, and this morphed into a 24-year career as a floral designer. Following an auto accident and suffering from post-concussive syndrome, he came to the Folk School on a much-needed vacation. Woodturning was the class Jeff chose, and somehow that not only began the healing process his brain needed but also ended up launching his very own woodturning business. Since that first class, he has become a juried artist, national and international demonstrator, author, woodturning teacher, and Artist-in-Residence at the Craft Alliance School of Art + Design in St. Louis, Missouri.