10 Mar

Appalachian Traditions Discussion with Ann Miller Woodford

We are excited to present artist, author, and speaker Ann Miller Woodford for our Appalachian Traditions Discussion. Ann is an Andrews, NC native who wrote When All God's Children Get Together chronicling Black history west of Buncombe County.

In her presentation, Making the Invisible Visible: African American History and Heritage in Far Western North Carolina, Woodford speaks on issues, institutions, and practices that impacted African Americans in WNC from the 1950s and 1960s down to the present day.
About Ann

Having traveled and worked across the United States, Ann built an exciting business and art career in Los Angeles, California. She then returned to western North Carolina and founded One Dozen Who Care, Inc. the area's first 501(c)3 organized by Black women. Intent on nurturing seeds of change, Ann has always had a personal goal to improve understanding between races, religions, youth, and adults.
Ann saw a need to strengthen the African American heritage in far western North Carolina. She researched, documented and captured the powerful personal stories of the lives of the seemingly invisible African American people of the region. In her book, When All God's Children Get Together, Ann endeavors to "make the invisible visible."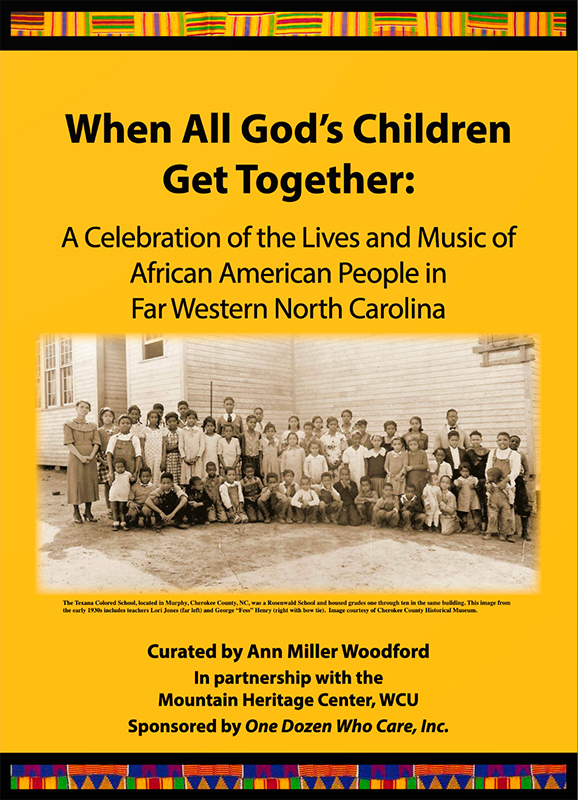 Based on her ground-breaking book, When All God's Children Get Together: A Celebration of the Music and Lives of the African American People in Far Western North Carolina, Ann Woodford collaborated with the director of Western Carolina University's Mountain Heritage Center (MHC), Pamela Meister, and her staff to create a series of programs and exhibits that use materials from her book. View the exhibition panels.
About Appalachian Traditions
Appalachian Traditions is a virtual discussion series with instructors from our master-artist-led series on traditional Appalachian craft. These free, hour-long conversations provide a space for instructors in traditional craft to share their personal stories and discuss their creative process. We'll explore the historic role of craft in Appalachia, examine its continued relevance today, and learn how practitioners are working to promote their craft and inspire the next generation of traditional makers.
Appalachian Traditions is part of a grant-funded program designed to connect highly-skilled Appalachian craft instructors with present-day students. Although we are not able to hold this series of master-artist-led classes in person, we hope to use this digital platform to celebrate traditional craft and help viewers connect with and learn from master artisans.
If you've missed our previous Appalachian Traditions discussions, recordings are available to watch at any time through our YouTube channel.