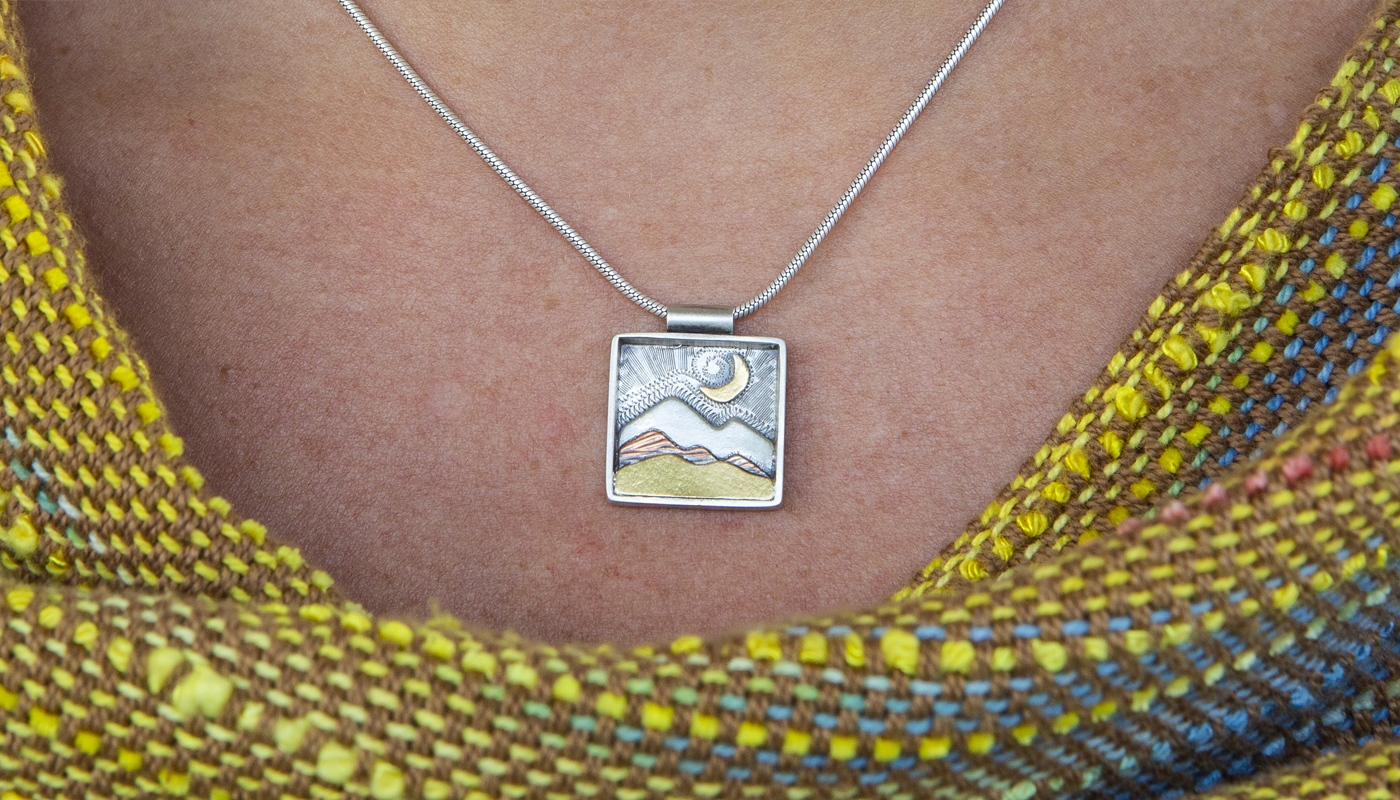 17 Feb

Interview with Barbara Joiner, Resident Artist in Jewelry & Metals

*Header: A pendant by Barbara Joiner paired with woven apparel by Deborah Bryant. Both artists are featured in the Craft Shop.

Barbara joined Tammy Elwell in the Craft Shop for an afternoon of questions where she shared some wonderful insights into her journey as a maker, artist, and teacher. Barbara is a renowned jewelry artist and metalsmith. She also carries the title of Resident Artist in the John C. Campbell Folk School's Jewelry and Metal Studio. As Resident Artist, Barbara maintains studio materials and equipment, invites talented instructors around the country to participate in our yearlong programming and serves as an instructor in a variety of programs on campus throughout the year. Barbara lives in Brasstown, NC along with her pug, Poppy. Enjoy the interview!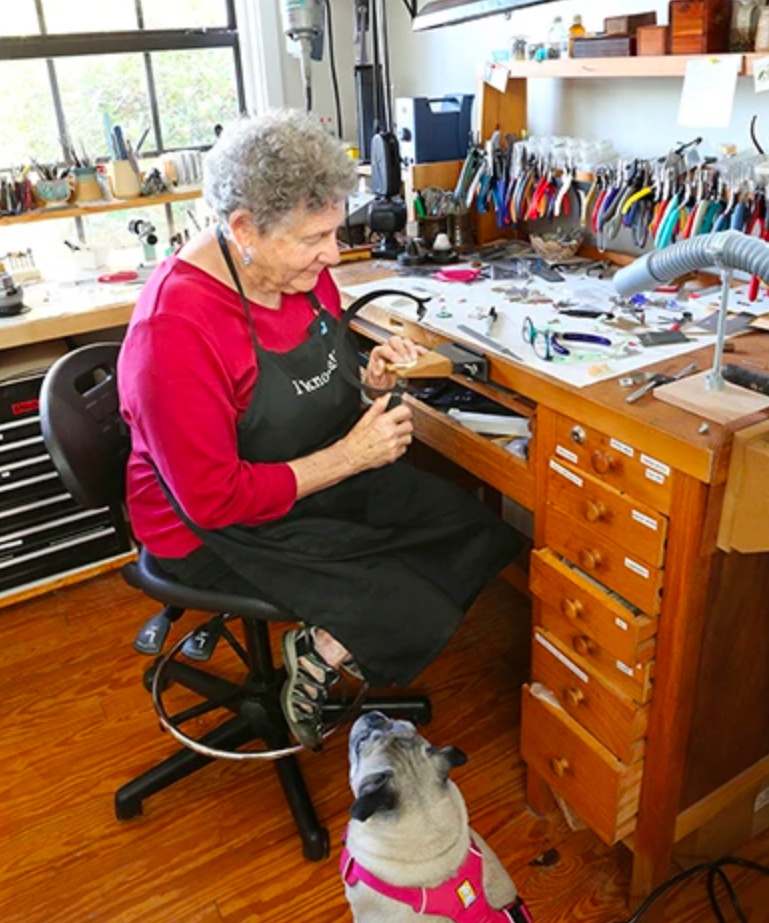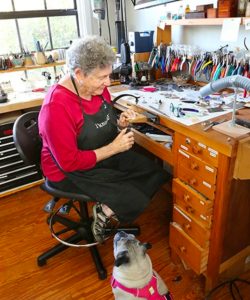 Barbara in Studio with Pug, Poppy.
TE: How long have you had a relationship with the John C. Campbell Folk School?
BJ: Since 1986 or '87 so 33 or 34 years! I taught a clay class; it was wheel throwing, either "Intro to Clay" or "Beginning Clay".
TE: What was your first impression of the Folk School?
BJ: I fell in love with the place, and wanted to move here, and I did! In those days you had to bring all of your own equipment and a lot of the studios were general use studios. The only jewelry class was wire wrapping and they had some kaleidoscope classes and metal sculpture in the same building. I moved to Brasstown in maybe 1990. There were Resident Artists, but I didn't become an RA until 1994.
TE: How has the experience of being a Resident Artist enriched your life?
BJ: There wasn't a jewelry program here, so I helped create it. I met so many neat people, both instructors and students, and the people who've worked here over the years, not just in jewelry, that's worth the price of gold! The community.
TE: Do you remember the first class that you took at the Folk School?
BJ:  My first official class was with Anne Lough playing hammered dulcimer. I still play hammered dulcimer and mountain dulcimer since I took another class with her to learn how to play that.
TE: Looking back, you started in ceramics and had a successful career with pottery, what made you decide to switch mediums and explore silversmithing?
BJ: Actually, I took a jewelry course in high school and my freshman year in college but didn't really do anything with it. My senior year in college I took clay as an elective and fell in love with it! So, after graduation I took continuing education clay classes in the evenings while I was working, teaching special education.
TE: What was it about the clay that got you hooked?
BJ: I don't know, it was the wheel, I just loved it! I was offered a job at my old high school teaching language and special ed and I turned it down to work as an apprentice for a guy in Sarasota, FL. He had me clean bathrooms and sweep the floors, all the dirty jobs but I just wanted to be there working with clay. I would have made more money teaching!
I'm glad I made my way back to jewelry; I don't know how much longer my back could have taken leaning over a potter's wheel.  It was hard to give up, people knew me as a potter and that was my identity… but I said "You know what? It's time to change!".
TE: How has working in clay influenced your jewelry making?
BJ: My transition from clay back into metal was in 1991. I was doing hand carved plaster cameos with insects and flowers which I needed a setting for and used metal. The piece displayed in the History Center on campus is that transitional piece.
TE: Did that fire you up for jewelry again?
BJ: No, actually, after 20 some years sitting over the pottery wheel my back and body was hurting and moving here to Brasstown, I had to decide what I was going to do. This area was saturated with potters, so I decided to get back into jewelry. And the rest is history!
TE: What kind of things bring you inspiration and have you been able to spend time in the studio trying new things out?
BJ: I started doing enameling a number of years back and got into sugar fired enamels, so I've been doing some of those, inspiration being sea forms, sand dollars and sea urchins, they have an incredible surface. I did a series of enamel painted earrings. I've done some three leaf earrings that are new.
TE: How do you come up with ideas for designs and new work?
BJ: It depends, a lot of the time I'll use scrap playing with the pieces and combinations, of course, nature is an inspiration all the time. I teach a class with Elaine Rader who is a really, really good designer. The class we teach is called, "Adventures in Design" (co-teaching in May 2021) she's one of these intuitive designers, so was D. X. Ross, they just knew what had to go together.
I actually learned that (design) from D. X. Ross, who more than anybody was my mentor and influence. She was an incredible artist and enamelist. She was one of the first people that I hired to teach here when I became the Resident Artist.
TE: What is your favorite part of the process from concept to finished piece?
BJ: I should probably say the designing of it but it's not. The making of it, the using my hands. I Zen out and work.
TE: Is there somewhere you go to recharge or explore new ideas or learn new processes?
BJ: Just taking a class from someone else is inspirational for me; it kind of humbles you because when you have so much experience in these realms it kind of bogs you down. You use the same techniques. Taking a class from someone else kind of opens up a whole new window.
TE: What is the intent behind your work, how would you like your work to connect with people who purchase it?
BJ: It sounds weird, but I like to make jewelry that people can afford. I fuse gold onto sterling so it's coated, not pure, and I don't use a lot of stones because you have to double or triple the cost of an item, and the average person that walks into a shop can't afford it, so I like creating jewelry that's accessible.
TE: If there is a piece of advice that you'd give to emerging artists what would it be? Or to artists that are trying new techniques?
BJ: I guess if you love doing it, you need to do it. I always loved working with my hands since I was little, that was all I really wanted to do. When I hire someone to teach here, and they need an assistant, I'll watch the assistants. I can tell the ones who are really enthusiastic, they'll ask questions, saying "I want to do this full time." and they'll take a bunch of classes and persist and sometimes I'll end up hiring them.
Someone who is just starting out… you have to balance whether you can make a living at it, I don't know what I would have done differently myself. If you have a passion for it, you need to pursue it. If it's your passion you need to do it!
View Barbara's Work in the Craft Shop
Here is a sampling of Barbara's jewelry work. To see what is available for purchase currently, visit craftshop.folkschool.org.

Upcoming Classes
Adventures in Design
May 30–June 5, 2021
Instructors: Barbara Joiner & Elaine Rader

Look no further than your scrap box to fire up your imagination and create that special piece of jewelry to which you've always aspired. With two instructors, a wealth of knowledge will be shared – where to get ideas, where to start, and how to solve technical problems along the way. This class is designed specifically for high-intermediate to advanced students. Experience in silver soldering is a must, as is good eyesight or magnification.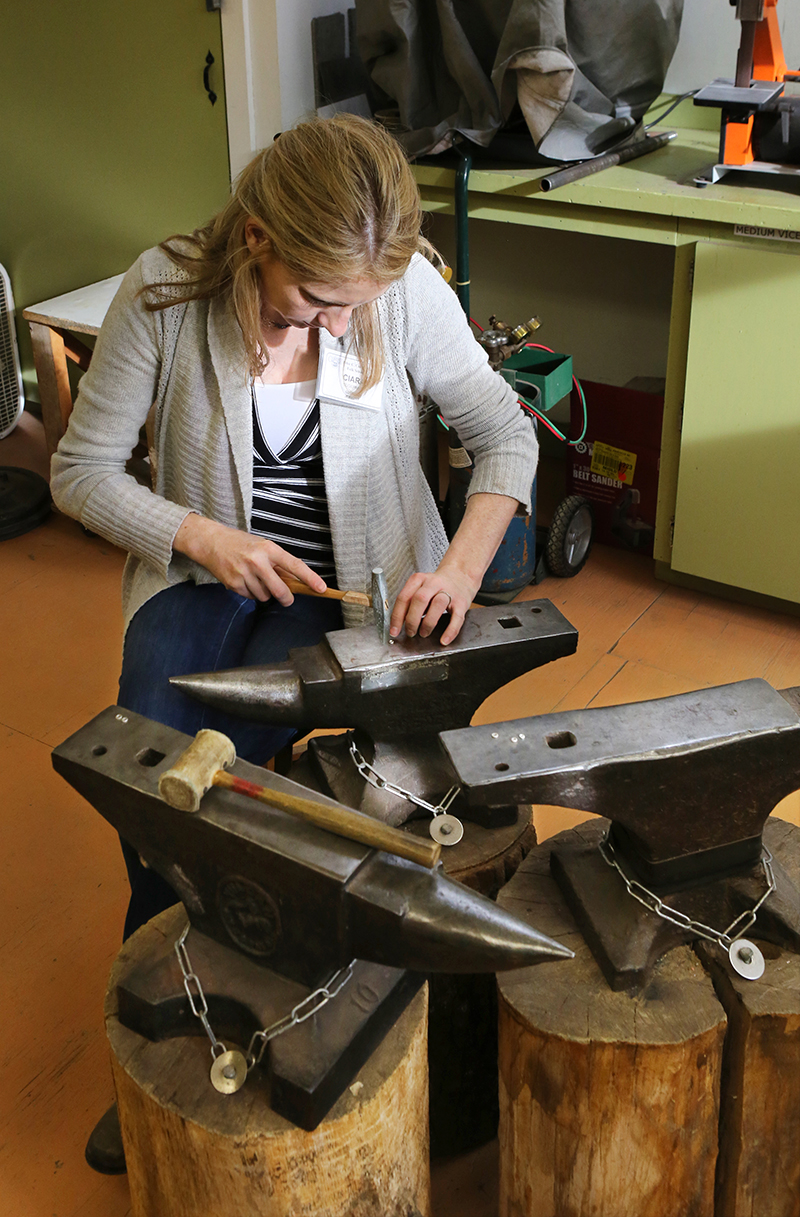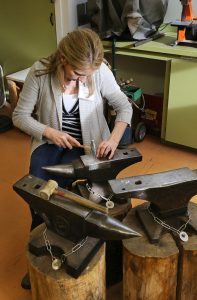 Torch Fired Enamels Well Connected
October 31–November 6, 2021
Instructors: Barbara Joiner & Steve Artz

Does your jewelry need some color? Or do you have some unset enamels collecting dust? Join this interdisciplinary class to learn several enameling and metalworking processes. Explore sifting, stenciling, corrugation, and fold forming, and learn how to torch fire enamels and set them in traditional and nontraditional ways. No enameling experience is necessary, but prior jewelry soldering, sawing, and filing is required.