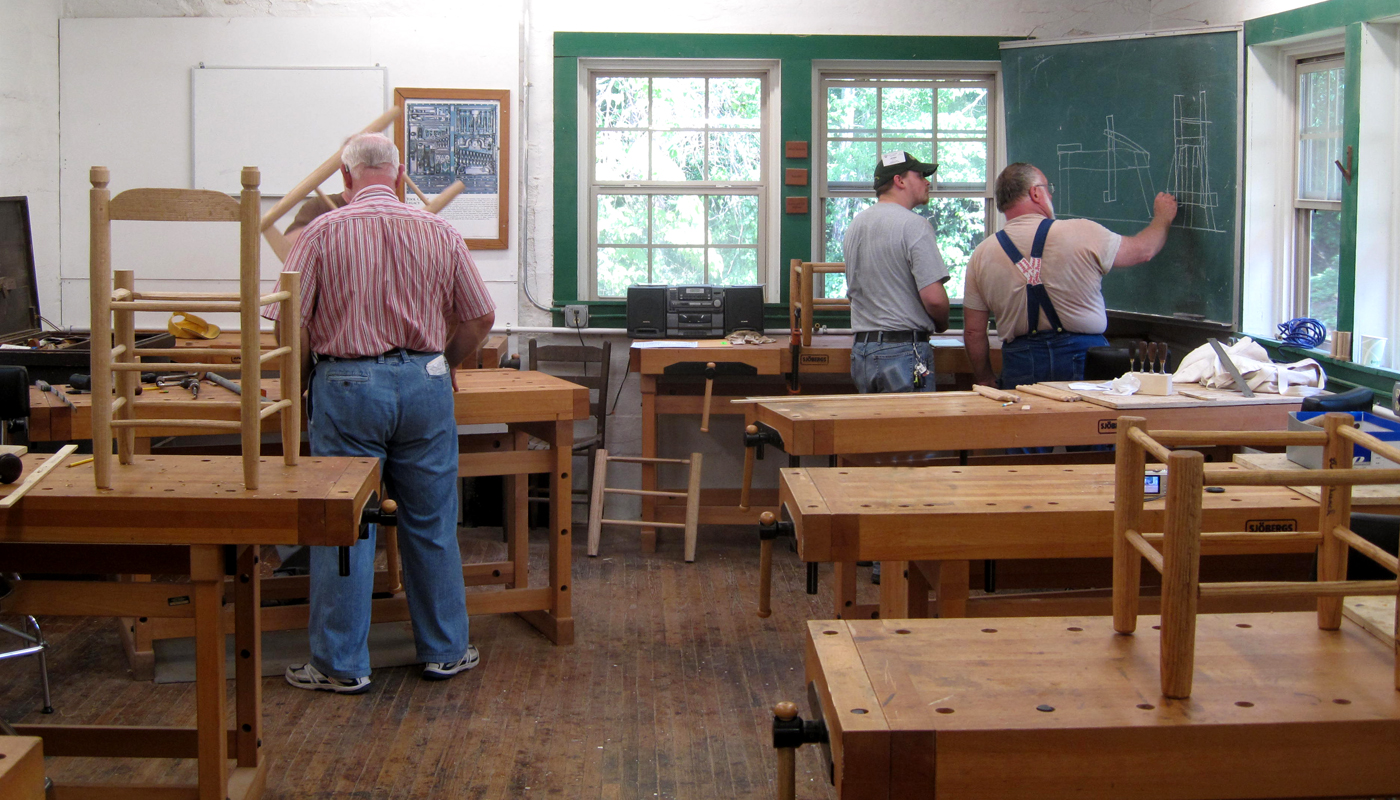 03 Jun

I Made a Classic Appalachian-style Ladderback Chair with Lyle Wheeler

Lyle Wheeler, a longtime Folk School instructor in both Woodworking and Blacksmithing, is a treasure of the Folk School. Years ago, I spent a week building a ladderback chair with Lyle. The class changed the way I think about craft and my capabilities as a maker.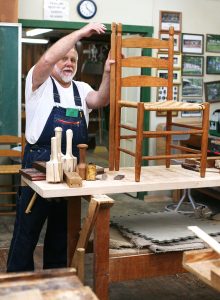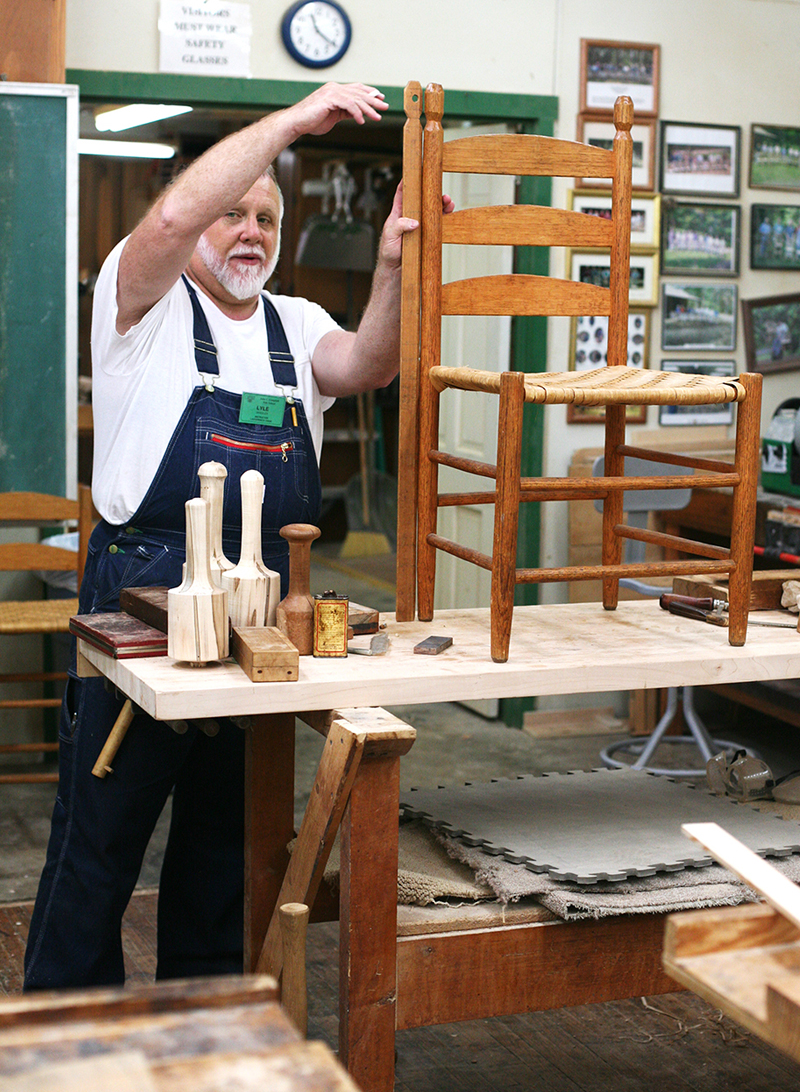 Lyle Wheeler talks about ladderback chairs in the Woodworking Studio.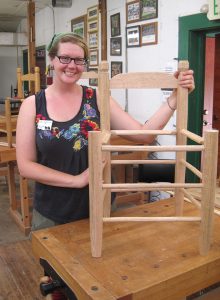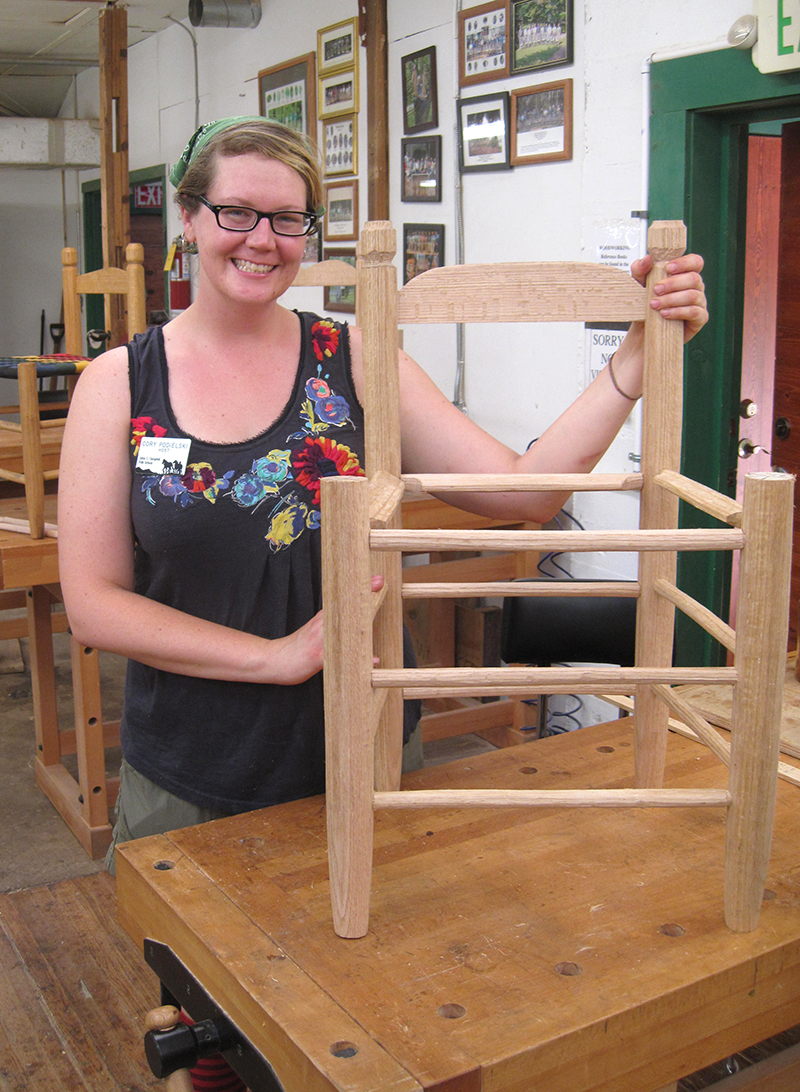 My finished chair on the last day of class.
When I walked into Lyle Wheeler's Ladderback Chairmaking class, I did not know what I was getting myself into. I was a student host at the time, visiting from California, so making a traditional Appalachian chair seemed like a pretty cool thing to do while in WNC. I had never worked in a wood shop, nor taken any woodworking classes. I saw in the class description that the class was for all levels, so I went for it!
My first shock was learning that we would not be using any power tools for building our chair. Every piece would be created by hand tools. We wouldn't even be using glue. Say what?! We would leave the posts of the chair green. The rungs we would dry in a kiln, so when the parts were put together, the green wood would dry, tightening the joints around the dry rungs. So smart!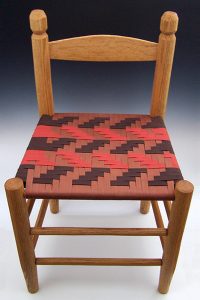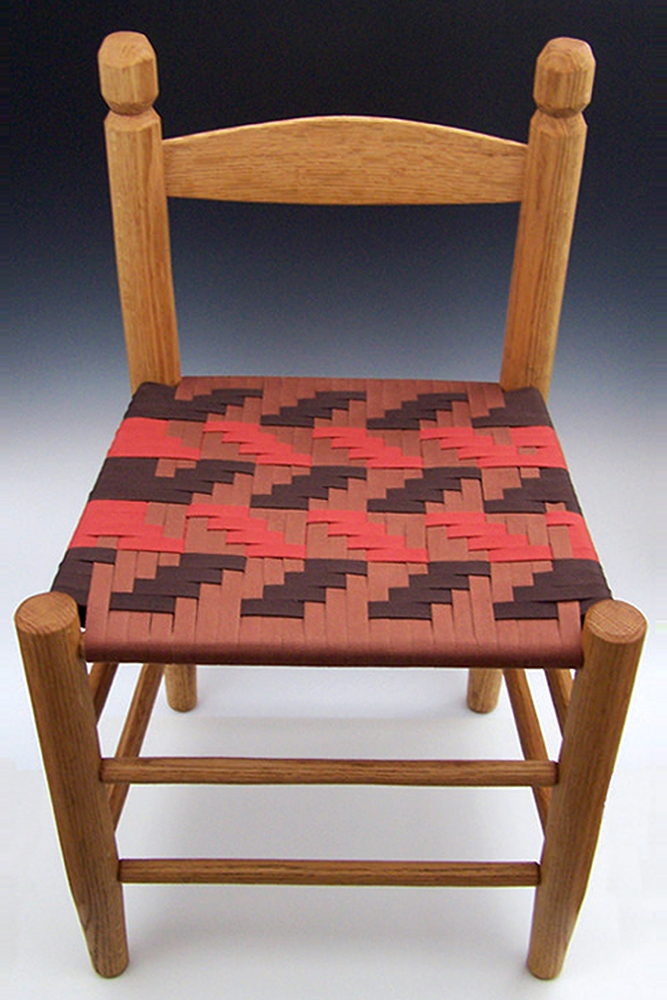 One Slat Ladderback Chair by Lyle Wheeler.
Frame: Red Oak. Seat Bottom: Shaker Tape.
Photo by Kelsey Schissel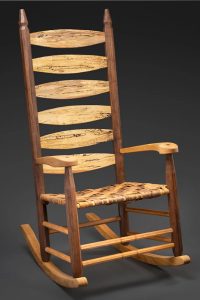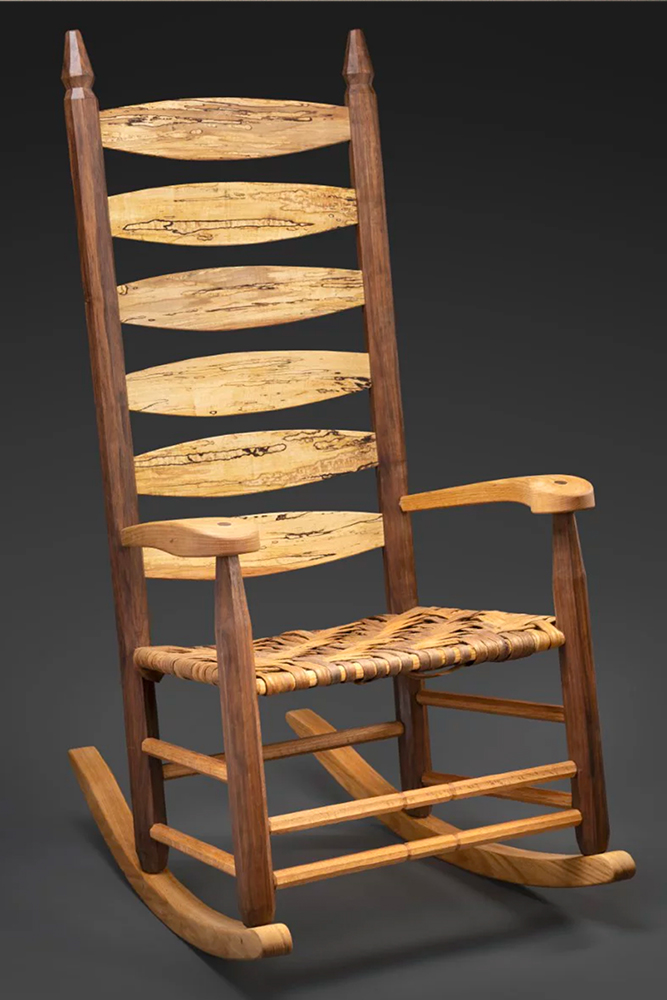 6-slat Grand Rocker by Lyle Wheeler. Best Overall Winner in the Made in NC Competition 2019 sponsored by
Our State Magazine
.
Rungs, Arms
: Red Oak.
Slats
: Spalted Maple.
Seat Bottom
: Hickory Bark.
Photo by Robert Batey Photography.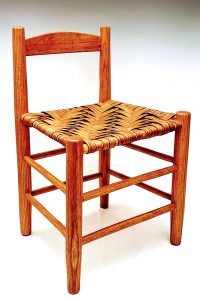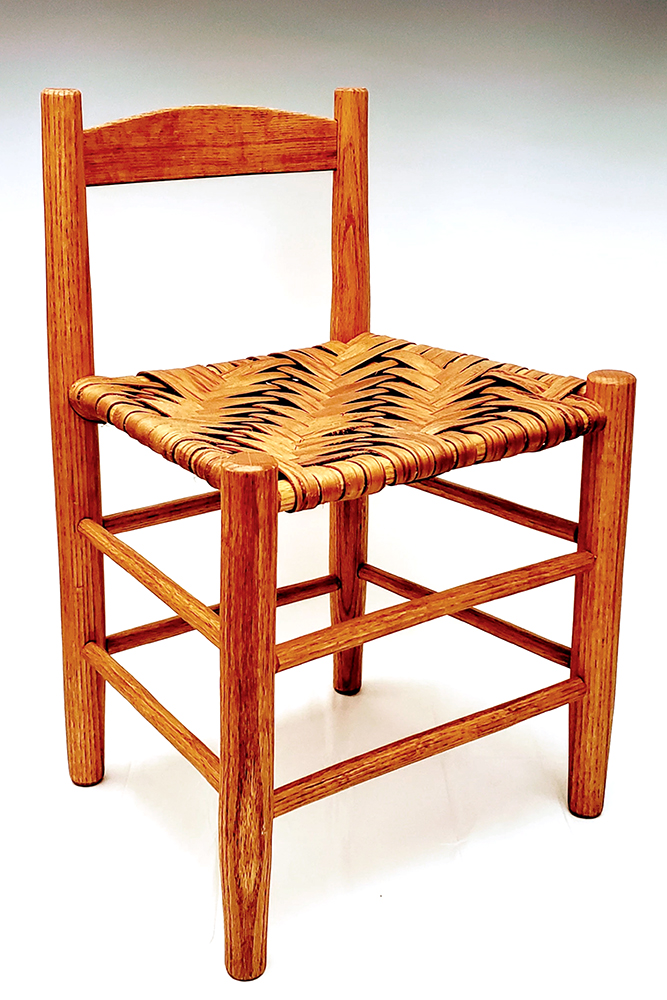 One Slat Ladderback Chair by Lyle Wheeler.
Frame: Red Oak. Seat Bottom: Hickory Bark.
Photo by Kelsey Schissel
Lyle specializes in chairmaking, using techniques, tools, and styles from Appalachia in the late 1800s. He works exclusively with native hardwoods from the North Carolina mountains. Lyle believes that handing down the skills and knowledge Appalachian chairmaking is vital to keep the tradition alive. Lyle comes from a family of makers, but he became especially interested in chairmaking in the late 1970s by reading The Foxfire Book, the first in the classic book anthology of Appalachian crafts, culture, and wisdom of simple living. Lyle started his professional chairmaking journey in 1982 using tools passed down through his family.
"I was guided by my family's example more than anything," Wheeler says. "I have some of the tools my great-grandfather used, and I use them every day. I have a grandson who has been introduced to those tools, so now there's seven generations of us who've used the same saw."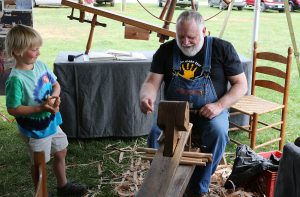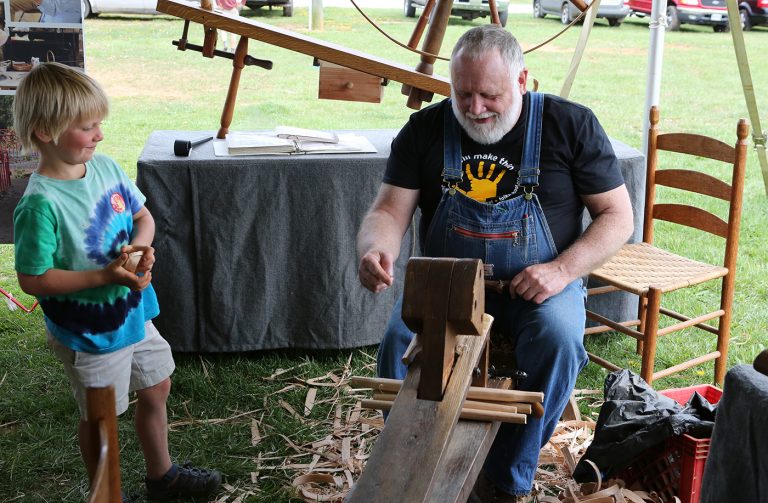 Lyle inspiring the next generation, demonstrating on the shaving horse in the Folk School booth at the Mother Earth News Fair in Asheville, NC.
Back to my class experience… At the start of the first morning of class, Lyle walked us outside to a pile of red oak logs. He told us to pick one, and from that log we would cut all the pieces of our chair. Once again, say what!? No kit? Starting with a log? I felt intimidated, yet excited.
When I signed up for the class, I believed that if I couldn't get a part done, Lyle would do it for me. This sometimes happens in beginner classes with a tricky step. But no, in Lyle's classes, he supported us, but did not do any of the hard parts for us. It was challenging, but rewarding. The best part of the class was learning how to start with a log and make it into a chair. Using a froe, drawknife, spokeshave, and bit brace we slowly and carefully carved the rungs and post out of the wood. Every student in the class was able to create their own chair under Lyle's excellent instruction.
Completing the class made me feel capable, connected to the entire process, and proud of myself for doing something I never thought I could do. I went home with a furniture piece I will have for the rest of my life, a reminder that I can make beautiful and functional things from scratch with my hands, even if I am not an expert.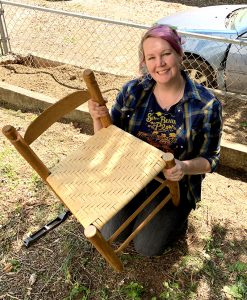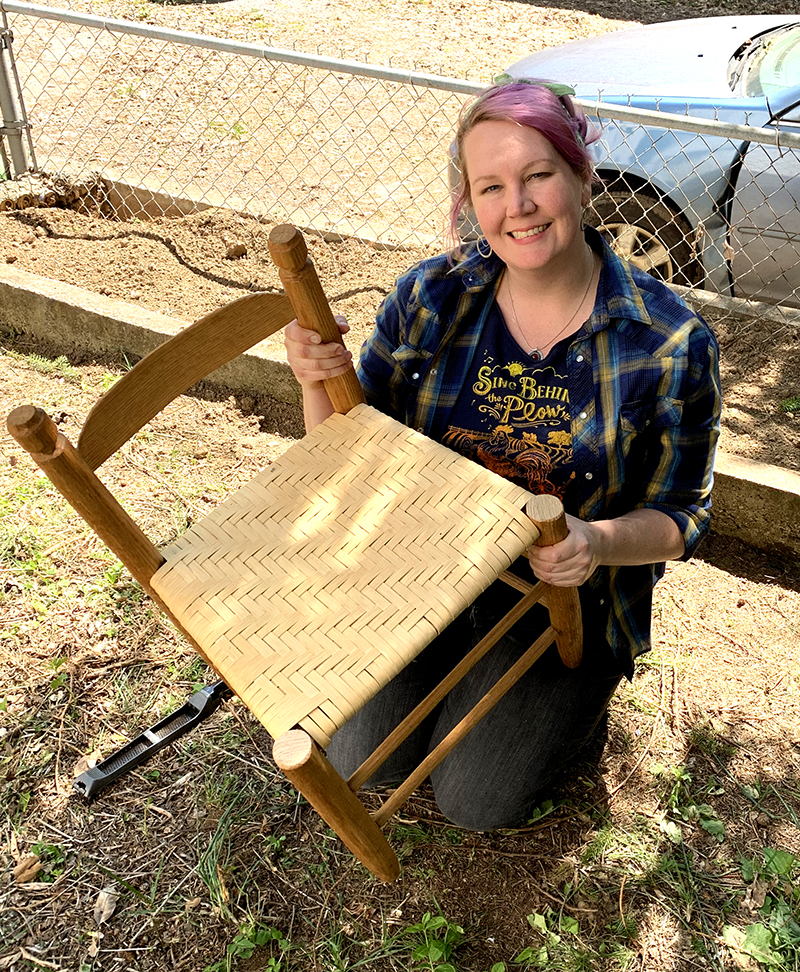 My Finished Chair Today (Caning Done in the Chafin's Chair Seat Class (but that's another tale!)
Appalachian Traditions Virtual Discussion
While classes have been on hiatus due to COVID-19, we were excited to present Lyle Wheeler as the panelist for our June
Appalachian
Traditions
, a virtual discussion with an instructor from our master-artist-led series on traditional Appalachian craft.
View a recording of this free virtual talk
with Lyle about woodworking and the ladderback chair, originally recorded on June 15, 2020.
Here's the details:
Appalachian Traditions
Panelist: Lyle Wheeler
This free, hour-long conversation provides a space for instructors in traditional craft to share their personal stories and discuss their creative process. We'll explore the historic role of craft in Appalachia, examine its continued relevance today, and learn how practitioners are working to promote their craft and inspire the next generation of traditional makers.
A Wonderful Video About Lyle from Our State Magazine

"Made in NC: Wheeler's Chairs" short movie by Our State Magazine. Lyle's ladderback rocking chairs won the top prize in the 2019 Our State "Made in NC Awards."
Lyle Wheeler's Bio
Lyle is an all-around "good ol' boy" from Millers Creek, North Carolina. He has been working wood for most of his life, specializing in ladderback chairs and furniture from the late 19th century, and he is also an accomplished blacksmith. He has been teaching at the Folk School for over two decades, and he is a long-time member of the Southern Highland Craft Guild, for which he does educational demonstrations. Little-known facts about Lyle…he is the current whimmy-diddle world champion in the professional division, and he enjoys communicating by postcard, one stamp at a time.​
Visit Lyle's website: lylewheelerchairmaker.com