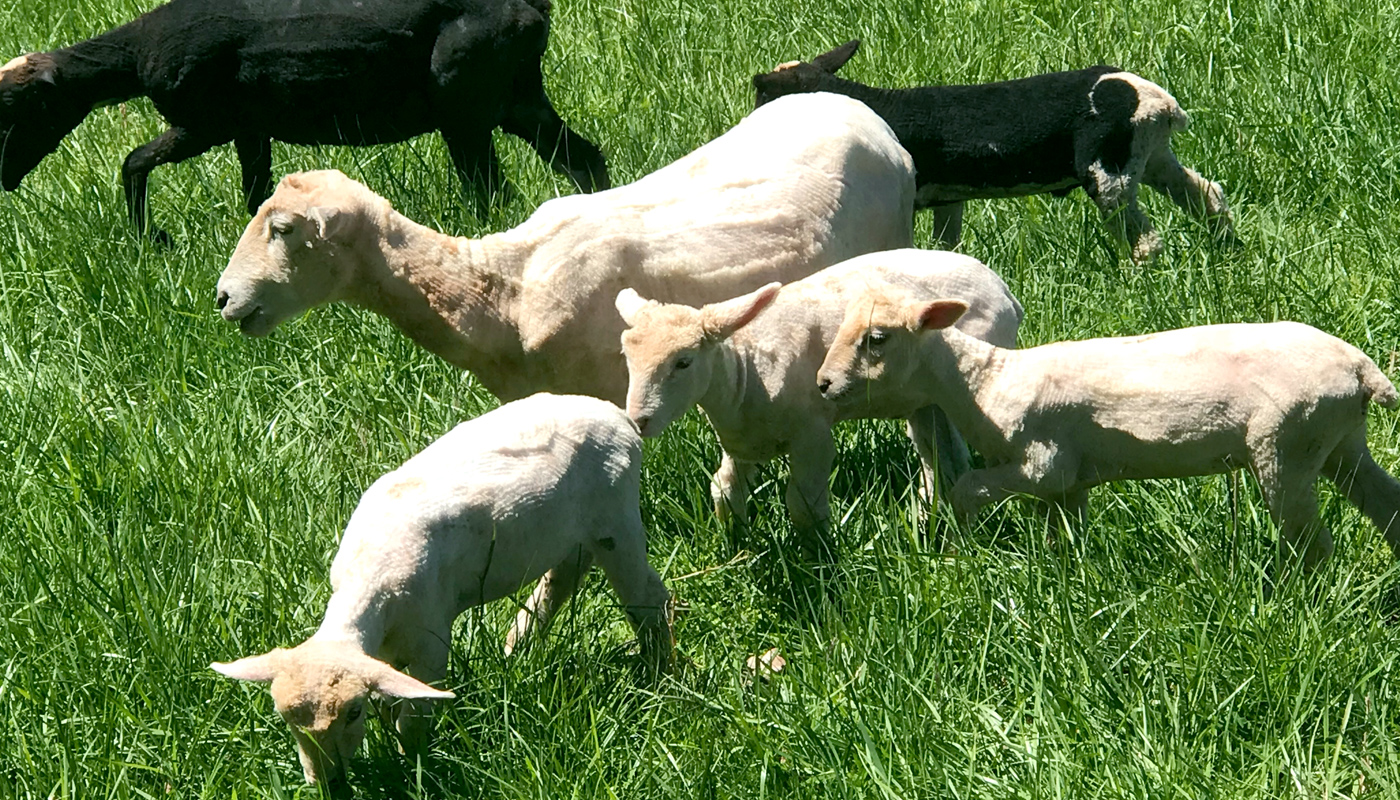 05 May

Shearing Day at Martha's Farm & A Prize for All

The days have pushed themselves along since the birth of our three brave lambs born to "Robin" on March 6th. When they arrived, I did not call them anything much. I just looked at them, noted their shape and health and desire to eat, and thought, Those three, they are the ones without names!

Eleven lambs were born out here in my big barn, but those three didn't get names because of needing some entertainment this spring, thus launching my lamb naming contest. The contest has given me many gifts from loud laughs to, Are you crazy? to Ohhhh, I like that one.
Shearing Day Arrives
Where does your year start? For me, shearing day is a big starting spot. Of course, when the lambs are born is a big moment too!
On shearing day, wool comes off the back of a sheep. They don't know that there is a lovely sweater riding around on them. All they know is that they are hungry. Whim takes them where ever they go (within the confines of the fences). They eat, and eat, and then lie down, and rest, and chew their cud, and think lovely thoughts about eating, oh, and drinking.
Whenever I go down to count them, and take a look (because that's what shepherds do), they pause in their chewing and say: Hey, old lady, how about a little something? To you this would sound like maaah-maaah-baah-bow-wop, but I have a trained ear, and know what they are saying.
It's shearing day! The lambs get their first haircut.
But I digress, as I am prone to do.
Recently, all the lambs and their Mamas were sheared. The day before shearing, the sheep were fed a little to trick them into a pen, and left there for the night because our hero, the shearer, Ben Hearne was coming. After the all-over body haircut, they are let loose, now looking like smooth velvety seals, instead of noisy eating machines. The sheep don't recognize each other at first, and many pitched battles are waged in the pasture-for a short time. After shearing, the wool is skirted, weighed, recorded, and dreamt about plenty…sweater, rug, hat, shawl?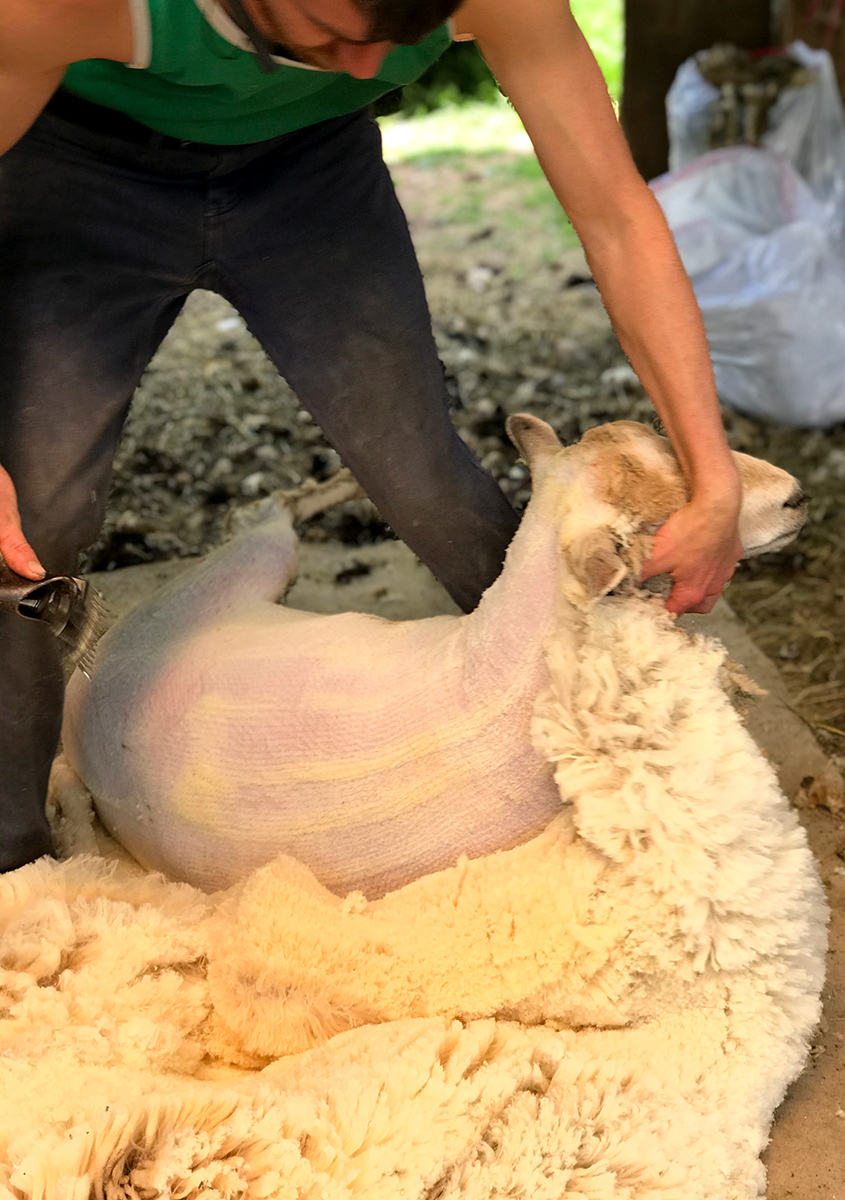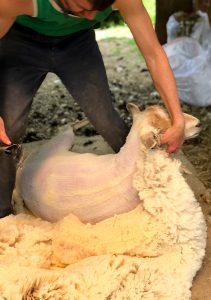 Ben Hearne shearing Skeeter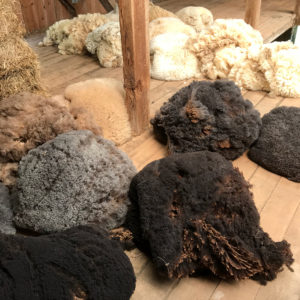 Freshly Sworn Wool
All this to say, I needed to decide the winning entry and get going on my other life as a wooly worker soon. What to do with raw fleece, yarn, batts, sweaters, mulch (but no filling of potholes in the drive way! I have tried it and the wool just bounced out when we drove over it!)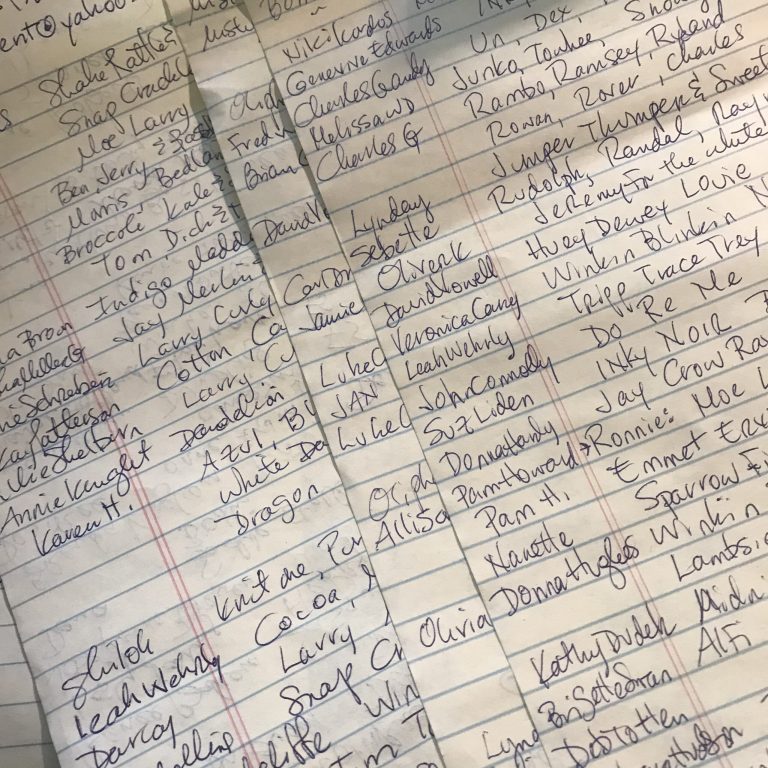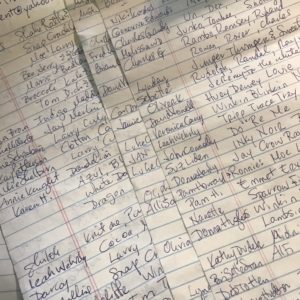 Lots of Names to Consider
The Lambs Are Named
Of the many name entries, I had many favorites, and I was beginning to seriously wonder how I was going to choose. In the end, I decided to choose the most often suggested name combination. Why of course!
Meet, Wynken, Blynken, and Nod!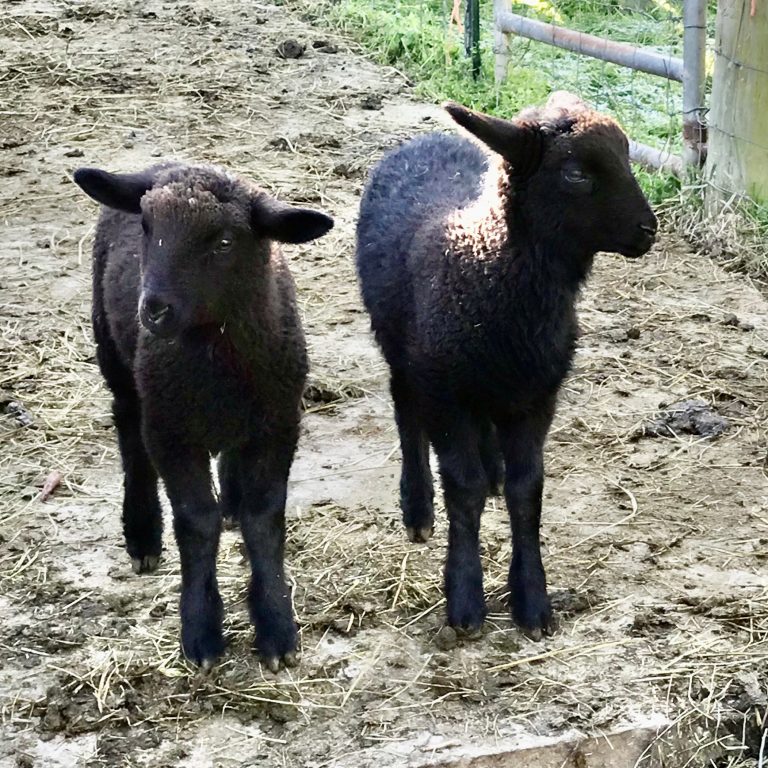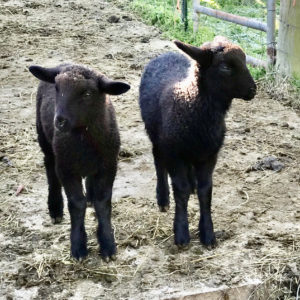 Wynkin and Blynkin, the newly named black lambs from the naming contest.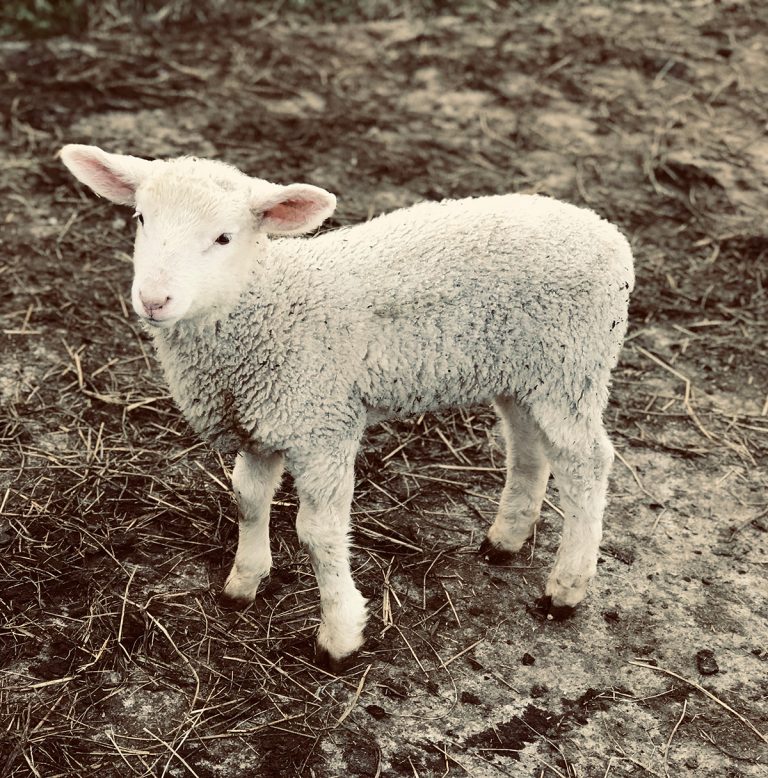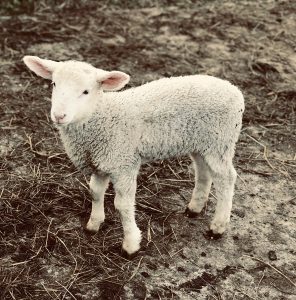 Nod, the newly named white lamb from the naming contest.
What is the Prize to Be?
Well! That took some thinking too. I have decided to extend this prize to all who played this game with me (and anyone reading along). Now that there are three lambs that have their new names: Wynkin, Blykin, and Nod, you are granted the gift of asking me anything sheep, wool, craft, or Folk School-related) that's been on your mind. Ask me any three questions you can dream up, one per lamb! Just leave the questions in the comments below.
Let me give you examples of often asked questions:
How long have you had goats?
Are sheep hard to take care of?
Will you sing me a song that has a sheep in it?
Where can I learn to spin and how to raise sheep?  ( Martha is schedule to teach Sheep to Shawl October 4-10, 2020 and February 7-13, 2021)
Do you have a book to recommend for children about sheep and wool?
What does Sleeping Beauty and the Industrial Revolution have to do with each other?
Do sheep like to eat pumpkins?
Ask away my friends. It's been lovely getting to know you better. Best Wishes until we meet again!

About Martha Owen
Martha is the Folk School's Resident Artist in Spinning, Knitting & Crochet, Feltmaking, Dyeing, and Surface Design. Her adventure in spinning began at this very school in 1978. Since then, her extended family has included sheep (mostly Corriedale, Shetland, Romney) and Angora rabbits (French).
A banjo player known to tell a story or two, Martha's interest in sheep and wool, music and dance has carried her quite literally and joyfully around the world. She reads historical fiction for knitting references and rewinds movies to see the shape of a hat or to draw a color repeat. She is a member of the Southern Highland Craft Guild and was co-owner of Yarn Circle in Murphy, North Carolina, until deciding to close in 2016. Find her on Facebook and Instagram at Martha Owen Woolens.
For wool, pattern inquiries, or any other questions, send Martha an email using the contact page on the subject pages.
Here was another big gift, looking for the words and sitting quietly and reading them. Enjoy the poem that inspired the names.
Wynken, Blynken, and Nod

by American writer and poet Eugene Field (1889)
Wynken, Blynken, and Nod one night
sailed off in a wooden shoe —
Sailed on a river of crystal light,
into a sea of dew.
"Where are you going, and what do you wish?"
the old moon asked the three.
"We have come to fish for the herring fish
that live in this beautiful sea;
Nets of silver and gold have we!"
said Wynken, Blynken, and Nod.
The old moon laughed and sang a song,
as they rocked in the wooden shoe,
And the wind that sped them all night long
ruffled the waves of dew.
The little stars were the herring fish
that lived in that beautiful sea —
"Now cast your nets wherever you wish —
never afraid are we";
So cried the stars to the fishermen three:
Wynken, Blynken, and Nod.
All night long their nets they threw
to the stars in the twinkling foam —
Then down from the skies came the wooden shoe,
bringing the fishermen home;
'Twas all so pretty a sail, it seemed
as if it could not be,
And some folks thought 'twas a dream they'd dreamed
of sailing that beautiful sea —
But I shall name you the fishermen three:
Wynken, Blynken, and Nod.
Wynken and Blynken are two little eyes,
and Nod is a little head,
And the wooden shoe that sailed the skies
is a wee one's trundle-bed.
So shut your eyes while Mother sings
of wonderful sights that be,
And you shall see the beautiful things
as you rock in the misty sea,
Where the old shoe rocked the fishermen three:
Wynken, Blynken, and Nod.