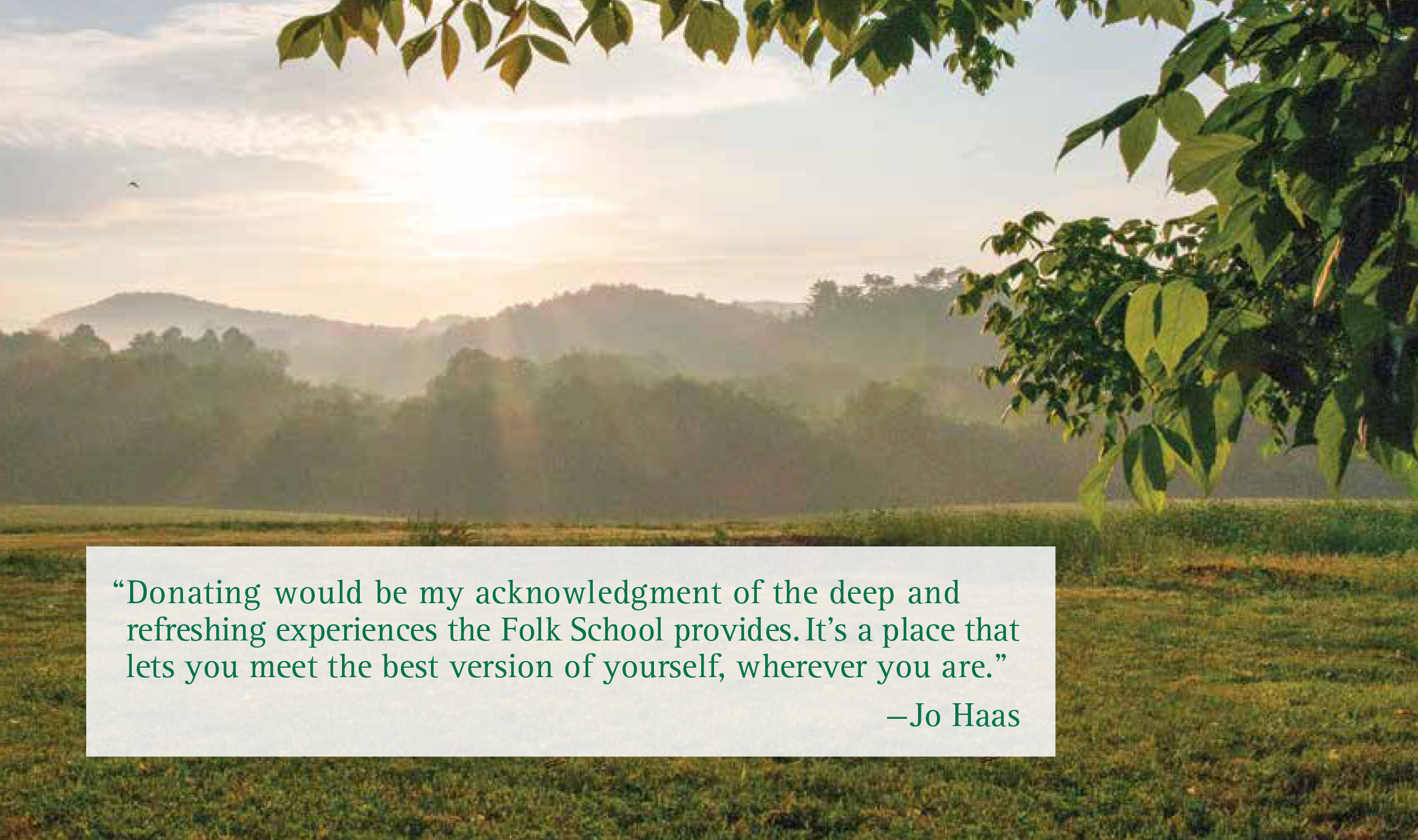 04 Mar

Folk School Stories: Jo Haas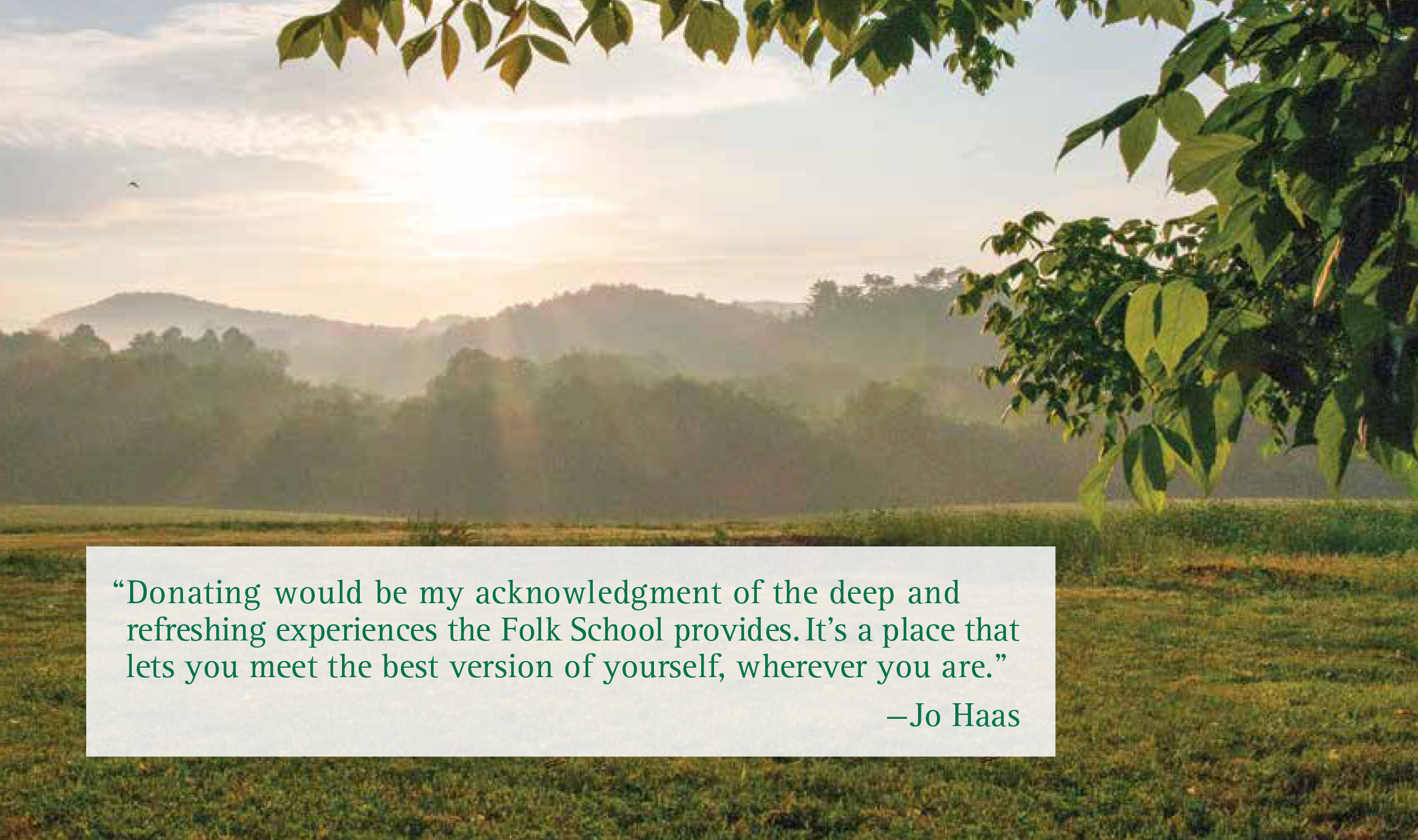 "Magical." That's how Jo Haas describes the first time she visited our beloved Folk School. Five years ago, Jo was looking for an immersive experience that would really help her unplug from her busy life as CEO of the non-profit Kentucky Science Center.
"Our worlds are crazy. We have so many demands on our time and attention, and we get so wrapped up in delivering for other people." Jo was seeking something that would kick off the first week of an annual four-week sabbatical; one that would be decidedly "therapeutic and peaceful."
"I didn't use my car once the entire week. I slept in Mill House and would walk up that hill through the mist each morning to Keith House for MorningSong. Like where else do you get that: someone singing to you in the morning while you drink your coffee?!"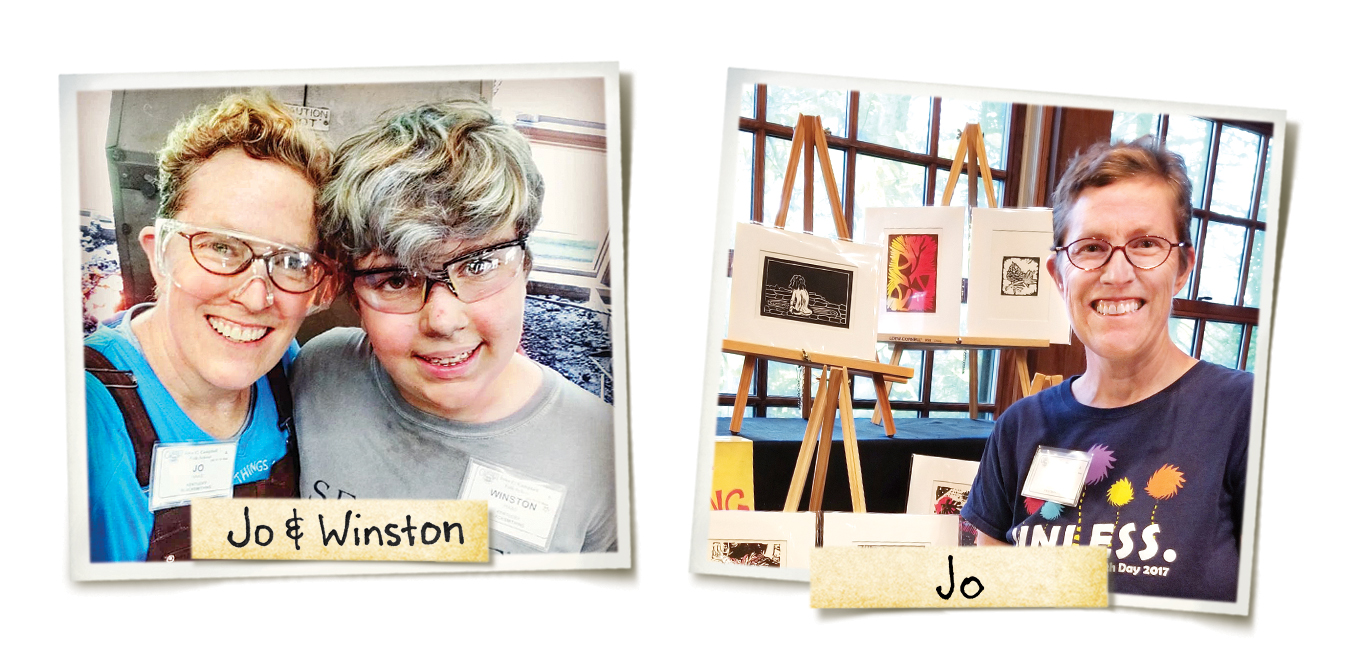 "That first visit, I just dropped right away into the balm-like, tactile, self-reflecting space of the Folk School. The amazing campus, the accommodating instructors…it really quickly shifted me into a slower, more deliberate, calmer pace in a way that other vacations don't."
Jo has taken a class every year since then, choosing classes that allow her to be "very intrafocused" through the making of art. "I enjoy being free to let my brain and my hands do whatever they want during the week."
And then came the class she took with her 13-year-old son, Winston, last year during our annual Intergenerational Week, which she describes as "one of the most amazing experiences we've had in our whole lives together." They've shared learning experiences before, notably earning Taekwondo black belts together. "But this was something new, exciting, and intimidating for both of us. Learning to tend a fire. To pound hot metal. It's pretty awesome to watch your kid do this."
Jo and Winston are already registered for another blacksmithing class during Intergenerational Week this July. "It's just a whole different rhythm. We don't have to make meals or have other responsibilities; we are just together, living in and through a day—and then another day."
From her first printmaking class, Jo knew she would provide annual gifts to our non-profit school. "It wasn't a question for me. Donating would be my acknowledgment of the deep and refreshing experiences the Folk School provides. It's a place that lets you meet the best version of yourself, wherever you are."
We've been talking lately about our new mission statement: The Folk School transforms lives, bringing people together in a nurturing environment for experiences in learning and community life that spark self-discovery. This is exactly what Jo is describing, whether she comes alone or with her son. And it's a mission that needs your assistance—in dollars, attendance, and ambassadorship. 

We're grateful for your support and glad you're part of our Folk School community.
Sincerely,
Jerry Jackson
Director