13 Feb

The Fantastic Recycled Plastic Art of David Edgar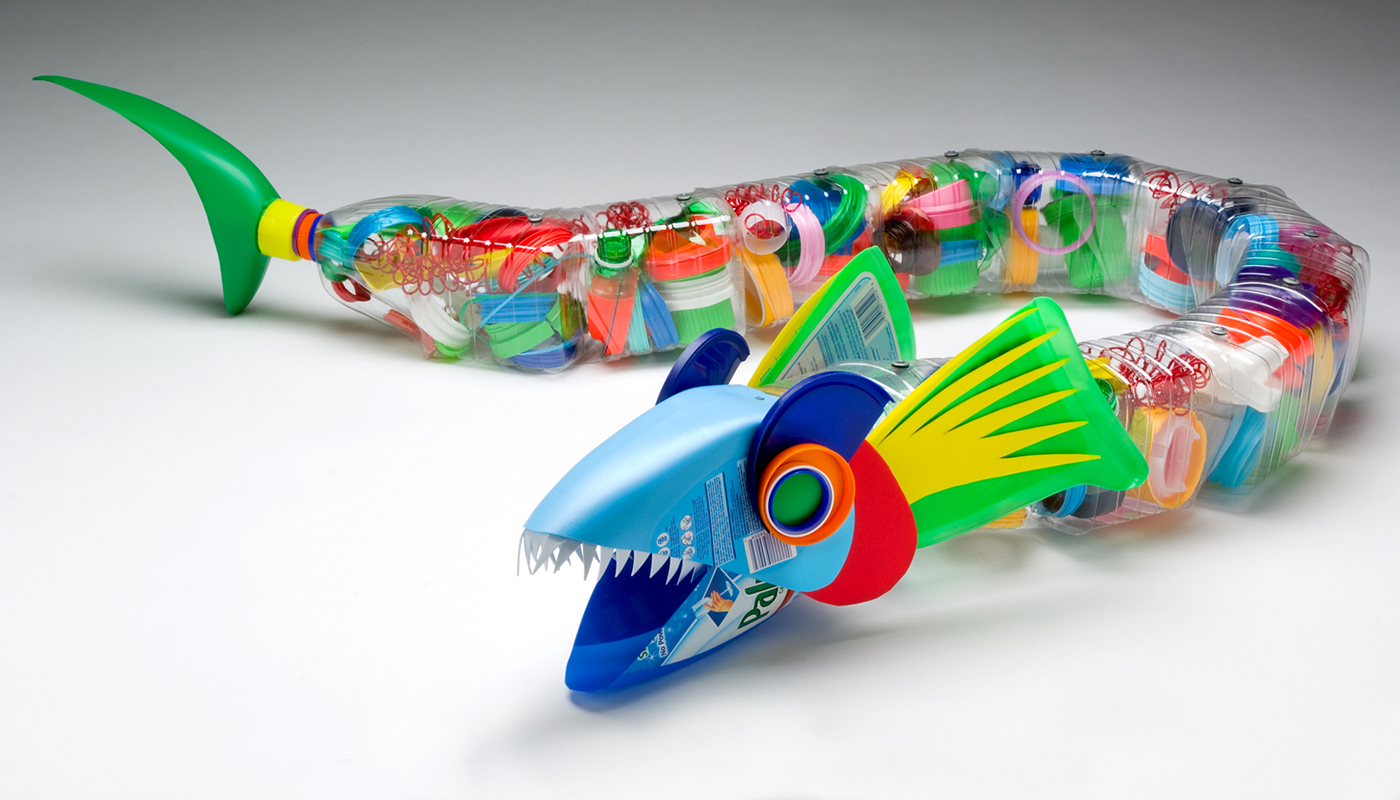 Imagine transforming your trash into treasure by creating fantastic creatures and whimsical designs with recycled plastic. David Edgar, an artist who sculpted in steel for 30 years, now creates stunning pieces in plastic, and he can teach you to do it too. Learn about the materials, equipment, and techniques for working with recycled plastic in his regular class: Fantastic Recycled Plastic. David's been teaching this class since 2004 and has been teaching at the Folk School since 1996. Let's get to know David a little more and discover the world of plastic art. Enjoy our interview!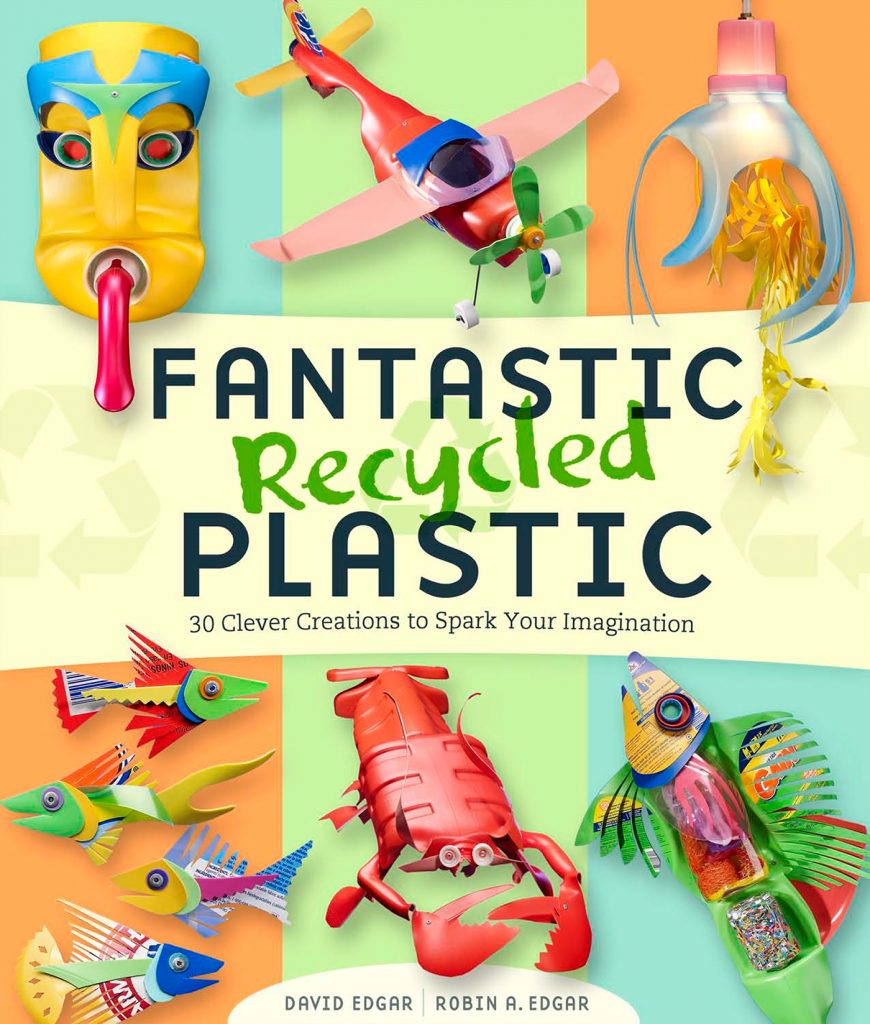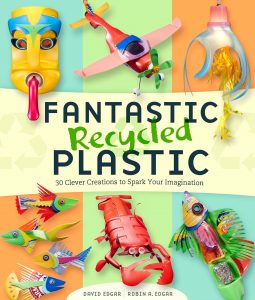 Cory: Your class, Fantastic Recycled Plastic Art, is truly a unique offering. There is no other class like it at the Folk School. Why do you like teaching at the Folk School?
David: I find the students to be open minded, creative individuals with good fundamental crafting skills. They care about the environment. Many students become excellent ambassadors for this new contemporary craft art form.
Cory: Many classes at the Folk School are about taking a natural material and turning it into a fine craft. Your work is about taking a manufactured material and recycling it into art. Can you talk a little about the joy, stigma, and adventure of working with plastic?
David: The first thing to remember is, just like glass, metals, and ceramics, plastics are refined geologic elements made from petroleum. The re-purposing of post-consumer plastic packaging is heavily influenced by our feelings about our producer-consumer society. For example, the colors are focus group approved for marketing purposes thereby resulting in artworks that are attractive.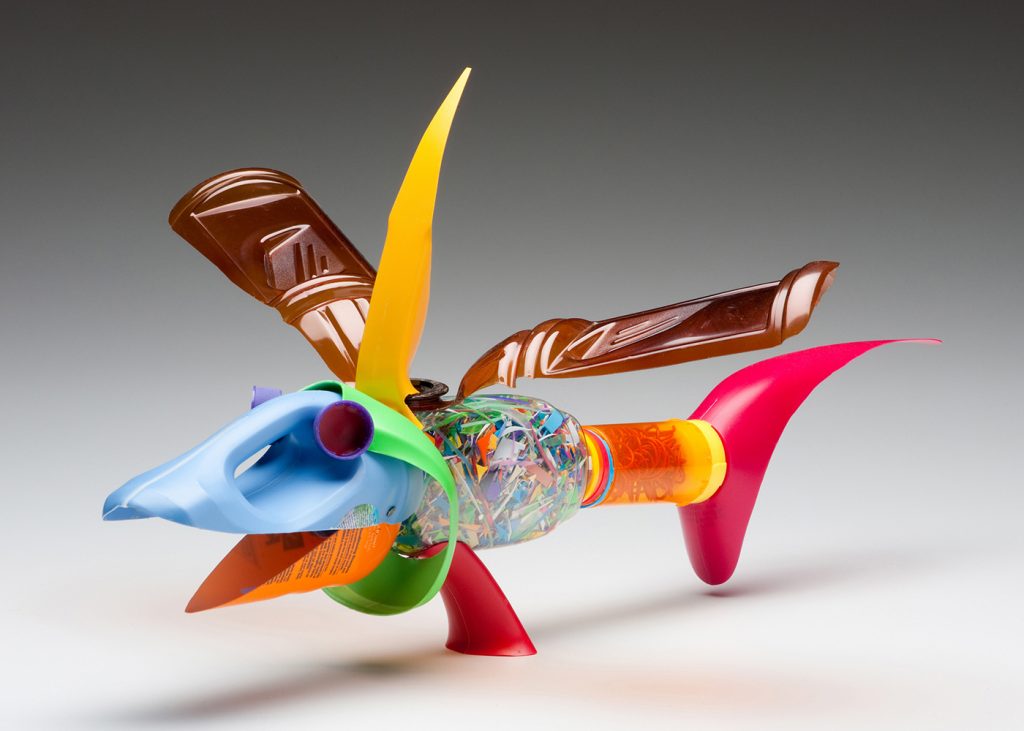 Cory: You started sculpting in steel and now you work in plastic. Why are you drawn to materials of the industrial age?
David: I grew up in the industrial age and was inspired by constructivist metal sculpture made by artists like David Smith and Mark di Suvero.
Cory: How did you start working with plastic?
David: Having worked in formal fabricated steel sculpture for about 30 years, I was setting up my welding studio after having moved to Charlotte, NC from Ohio. It seems that the Carolina Panthers, the Charlotte hometown NFL team, made it to the Superbowl that year, and my wife, Robin, and I were invited to one of our new neighbor's houses to watch the game.
This was in February of 2004. Bereft of any Panthers logo wear to show some spirit, I fashioned a Carolina Panthers mask from part of a detergent bottle, plastic rotisserie chicken tray, bleach bottle, and some old chrome hardware. Made in the team's blue, black, silver and white color scheme. The mask was a hit. (The Panthers lost to the New England Patriots that year.)
In the weeks that followed, I kept being attracted to the shapes and colors of the plastic containers that I saw in neighbors recycling bins during our morning walks. One thing led to another, and the Plastiquarium was born.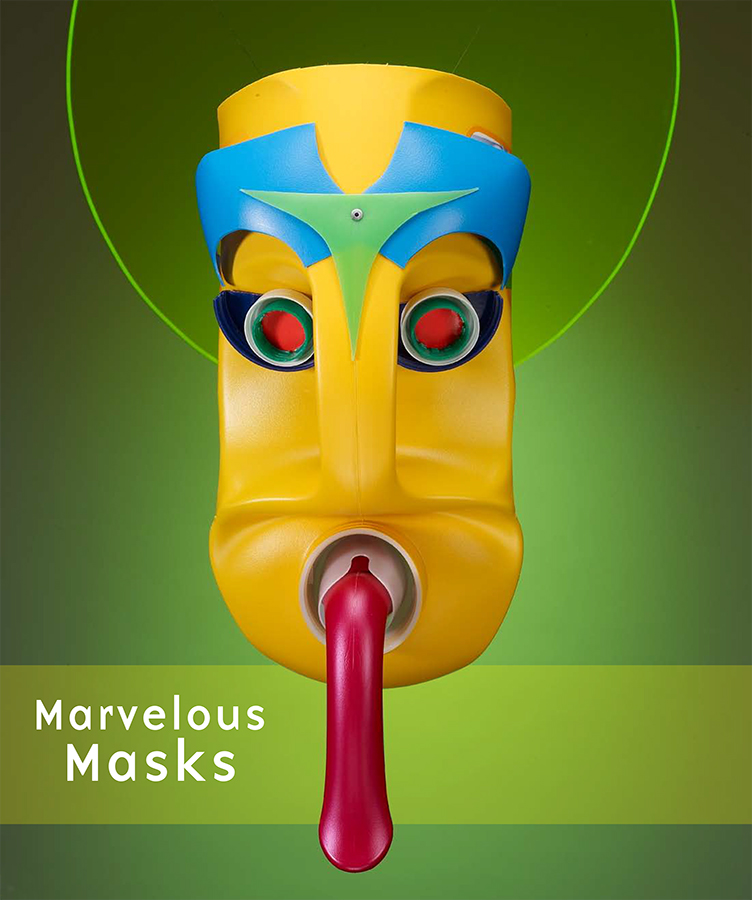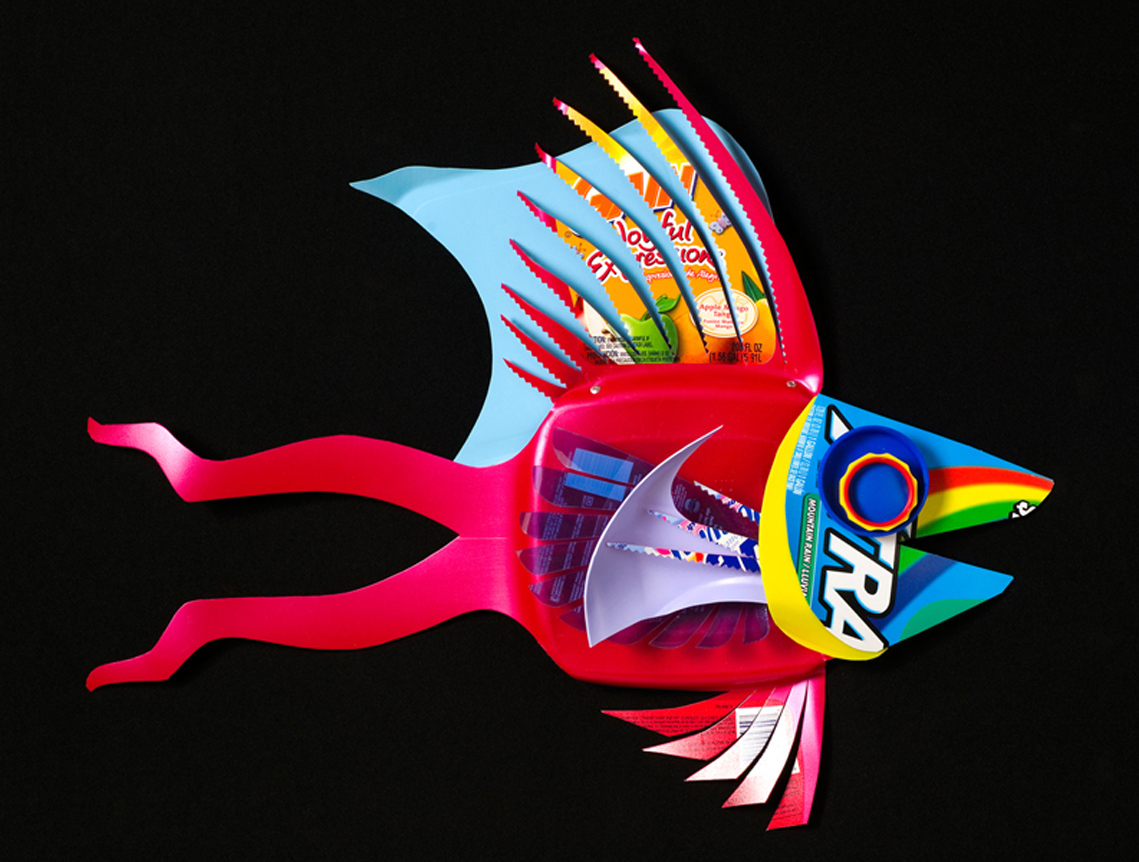 Cory: What is Plastiquarium?
David: As a sculptor, my work has always been strongly informed by the 20th century tradition of found object assembly. Perhaps, in the context of a mid-life catharsis, I interrupted over 25 years of working in steel, and began making decorative artworks from recyclable detergent bottles. With quality of craft as an important issue for me, I find that making recycled plastic art truly energizes my creative spirit. One of the results is the marine creatures of the Plastiquarium.
The Plastiquarium is immersed in mystery. Modern myth suggests that a century of increasing phosphate levels in Earth's marine environment caused new, synthetic life forms to emerge. As recyclable HDPE plastic containers spread concentrates of consumer product pollutants, the Plastiquarium creatures evolved in the image of their packaging forbearers.
Cory: What inspires you?
David: The material itself inspires me, in addition to the natural world I experienced growing up in Florida.
Cory: Can you talk about the idea of upcycling? How does working with plastic compare to steel?
David: I like using free materials emblematic of the market-based world we live in. Compared to the steel I worked with for decades, plastics are more colorful, lighter weight, quieter, and safer to work with. Plastic is also a unique departure from more than a century of sculptors working in fabricated steel. I like to think that I am in the vanguard of pioneering a new contemporary craft form.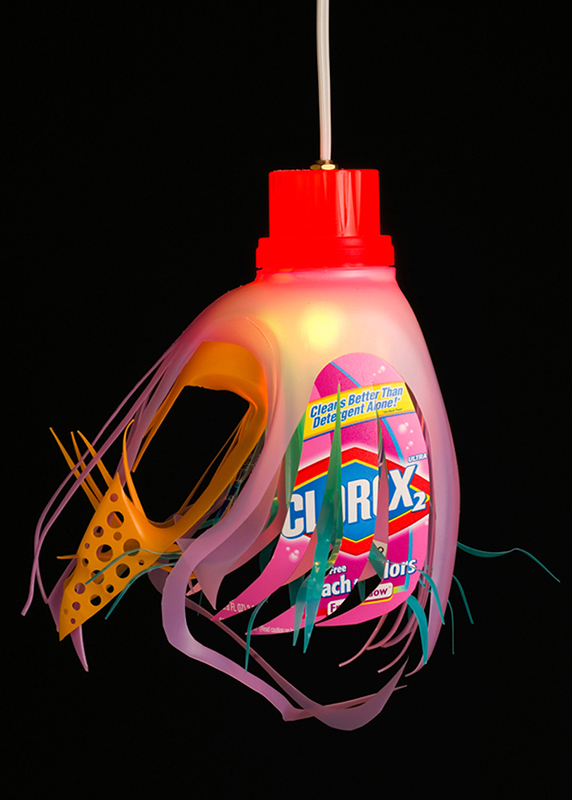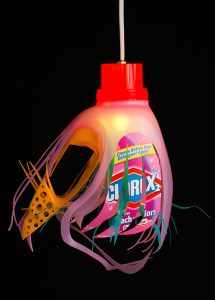 Cory: Is there one type of container that you love to find?
David: I prefer to work with colored laundry product containers made of HDPE (recycle#2). I do not alter the color myself. These products come in a wide variety of hues. Some colors are harder to come by than others.
Cory: What is your favorite tool?
David: I used a Fiskars snip with a three-inch, titanium nitride coated blade with spring-open straight handles. It cuts HDPE plastic like scissors cuts paper.
Cory: How did you and Robin (David's wife who teaches writing) become involved with the Folk School?
David: My friend, Mary Brandenburg, a Folk School basketry instructor encouraged me to apply to teach a metalworking course. I was accepted and placed in the 1998 catalog. When I told Robin, a professional mime at the time, about teaching at the Folk School, she contacted them to see if they would be interested in her teaching mime. As it turned out, we were both invited to be instructors at Little Middle Folk School in August of 1996. For about three years, I taught Mixed Media Sculpture and Robin taught Mime: The Basics at Little Middle.
We have been teaching adult classes there ever since 2004. I switched to teaching Fantastic Recycled Plastic and Robin developed the Folk School's first life writing course (now called Turning Fond Memories into Family Histories).
Cory: Who is the ideal student for your class? Can you talk about what sort of projects students create in your class?
David: Anyone with basic eye-hand coordination crafting skills will be able to do at least two projects per day. They can make wearable pins, small creatures, and larger scale wall display pieces as they learn about the tools and techniques for working with the material. It's a great skillset for art teachers in any school setting.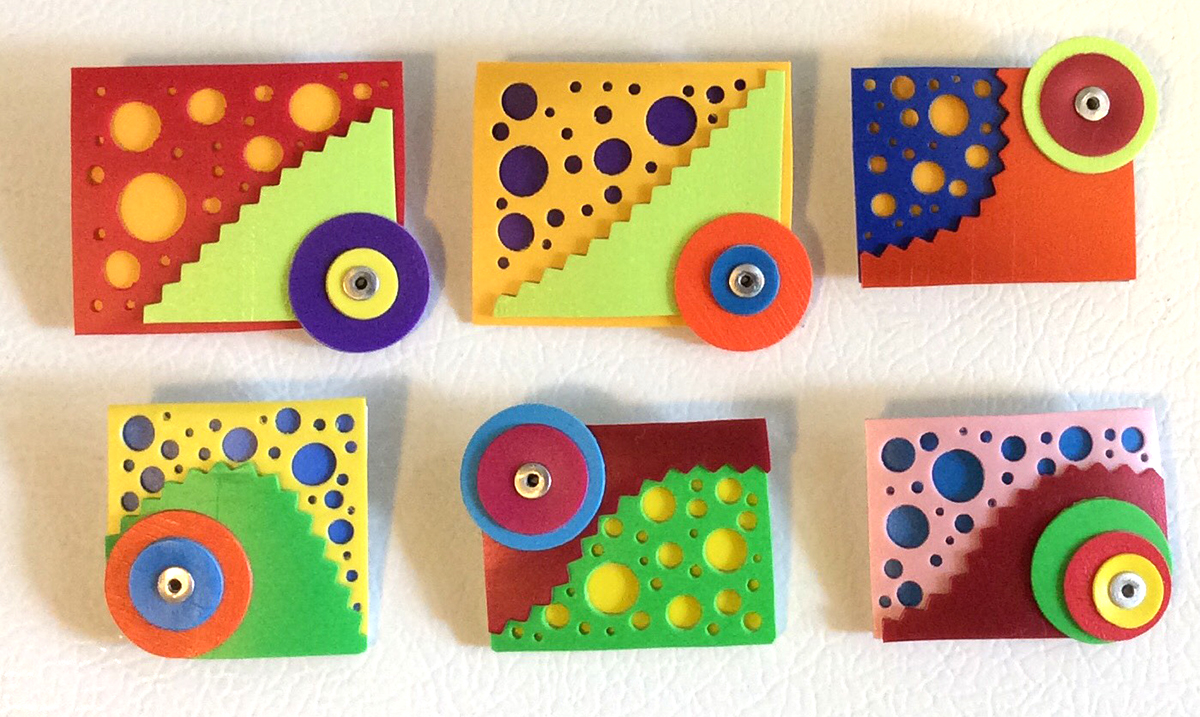 Students will learn to hone their plastic crafting skills on projects like this above.
About David Edgar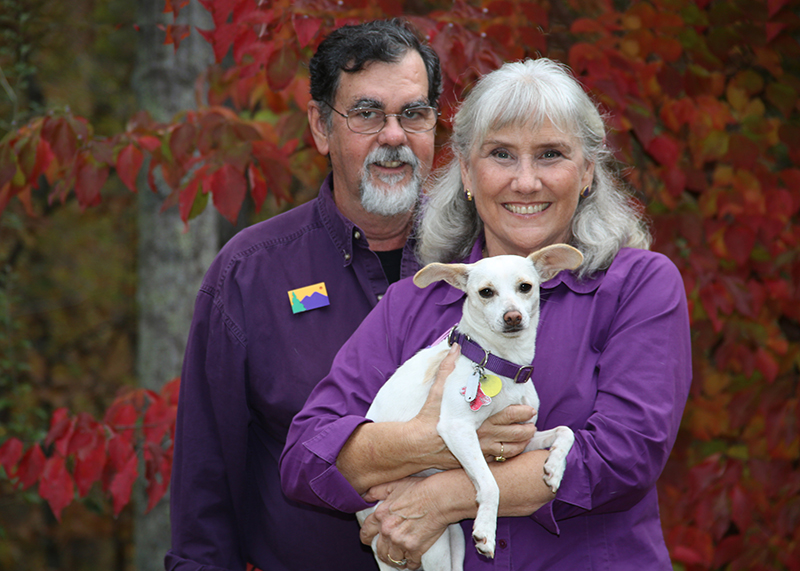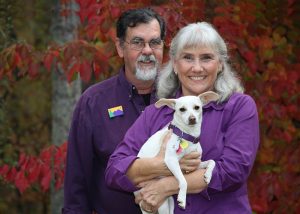 David sculpted in steel for 30 years before discovering recycled plastic as his medium of choice. He holds a BFA in sculpture from Minneapolis College of Art & Design and an MFA in sculpture from Cranbrook Academy of Art. In the early 1980s, David was an art preparator working on the EPCOT® and Tokyo Disneyland® projects for theWalt Disney Company. He has completed several artist residencies and conducts workshops in his Plastiquarium® techniques. He and his wife, Robin, are co-authors of Fantastic Recycled Plastic, published by Lark Books.
Robin & David Edgar, powerhouse Folk School teaching duo since 1996!