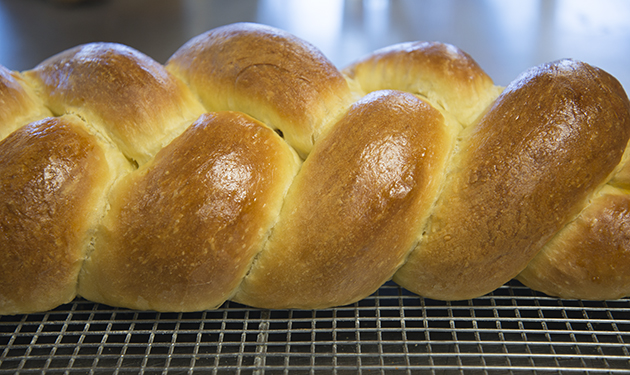 06 Dec

Back in Time at the Folk School, and Biltmore

My recent trip to the Folk School was a little different than usual. For one thing, after ten years of teaching "The Science of Bread," I shifted gears slightly and taught "Making Traditional Breads." Thankfully, science still applies in traditional breads.

The other difference was that my mom accompanied me for the first time, to take a quilting class. While I was busy lighting the wood-fired oven, hunting down recipes, and mixing doughs to demonstrate with in class, Mom was putting in long hours at the studio, turning the bags of scrap fabric she'd brought into quilts. Three times each day we met for meals in the Folk School dining hall.

At the end of a long week filled with traditional breads (two different black Russian breads, three whole wheat breads, four Irish soda breads, plus bagels, flatbreads, English muffins, pizzas, focaccias, one fabulous challah, another fabulous Vánočka, and a lot more, Mom and I set off for home, with one stop halfway: Biltmore.

It was Mom's birthday, and she wanted to see Biltmore in the fall, having visited last Christmas, when she and my Dad were the only ones walking in the frigid gardens. After a week of the rustic pleasure of Folk School life, I wasn't expecting to like what I imagined would be a gaudy, extravagant visit. I was surprised.

A lot of crafts learned at the Folk School were in evidence at Biltmore: hand-forged railings and chandeliers, old-fashioned furniture, paintings and prints, sewn costumes, and kitchens filled with canning jars. (I was amused by a paltry display of bread on the table in the kitchen—my class's display would have left it in the dust, if the Folk School were not non-competitive.) I also learned, via my audio tour, that George and Edith Vanderbilt offered classes to the locals to teach useful, marketable skills, including crafts. Like the Folk School, the estate includes what was once a working farm, with hints of the agrarian past peeking through. Much of the produce served in the restaurants at Biltmore is grown on the estate. There was also a marvelous craft shop, much like the Folk School's.

Unwittingly, I'd visited two very different places that both took me back one hundred years, give or take a few. Perhaps life at the Folk School in the 1920s was simpler than life at Biltmore, or maybe everyone back then aspired to the same simple pleasures.
---
Emily Buehler is the author of this blog and a frequent bread instructor at the Folk School. She became a bread baker in 2001, intending to take a break after finishing a degree in chemistry. Six months later she began teaching bread classes. Emily has written two books: one on bread making called Bread Science, and one about her bicycle trip across America called Somewhere and Nowhere. Visit Emily's website for more information.
Emily will be teaching her bread making class, The Science of Bread again on January 7-13 2018. Visit our website for more info.

Save
Save