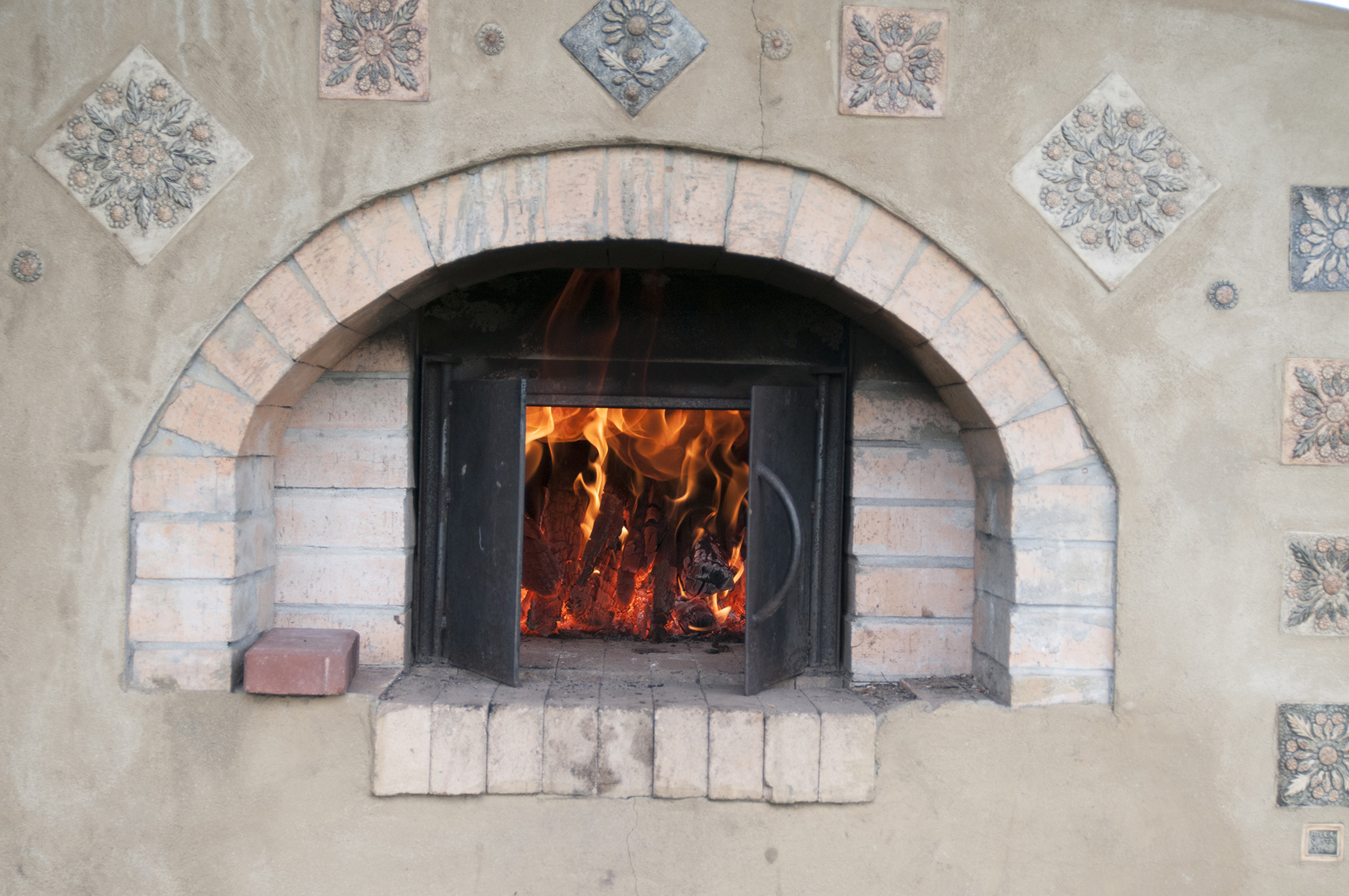 16 Dec

Wood Fired Cooking: Falling in Love with Falling Heat

Love the magic and allure of the wood fired flame? Do you savor the flavor of food cooked in a brick oven? The Cooking Studio at the John C. Campbell Folk School has not one, but two, wood fired brick ovens for students to bake all sorts of savory and sweet treats, from flatbreads and loaves, to roasted meats, fish & vegetables, to delicious curries & stews, and even pies, cakes & gingerbread cookies.

In 1998, when I was asked to become the first Resident Artist for Cooking at the Folk School, I was eager to learn the art of wood fired baking in our brand new Woodstone Domed Pizza Oven which was installed in the Cooking Studio on the ground floor of Davidson Hall. We recognized the growing revival of interest in wood fired baking and we wanted to make these techniques available to our own community. A few years later, we added the second outdoor student-built oven, housed under a student-built timber-framed pavilion. Clay instructor, Mary Dashiell and her husband John designed and led the construction of that oven.

A beautiful ceramic plaque adorning the front of the oven, lists all the names of the students who helped. The oven was expertly finished by our own maintenance crew.

Mastering wood fired cooking is a labor of love and a process which requires lots of practice in fire building, rotation cooking, and the study of how retained heat works. These ovens have allowed our instructors and students to create the most incredible pizzas, flatbreads, and European style loaves of open crumb, crunchy crust, yeasty heaven. The ovens have inspired me to teach flatbread cookery from all over the world and to create an international repertoire of delicious Afghani home-style naan, Indian stuffed-chapatti, Mediterranean pitas, Russian cheese-filled kachapuri, Italian focaccia, and Scottish oatcakes.

The Folk School Cooking Program has been a pioneer in wood fired cooking in our region, being one of the first to invest in brick ovens. Since then, wood fired cooking has really taken off and many people have built their own home ovens. With the versatility and increasing popularity of these amazing retained-heat ovens, it seems fitting to create some classes focused on the many things that can be baked in the ovens in addition to bread.

As the intense heat developed by a raging fire, spreads through the thermal mass inside the oven and equalizes, it becomes an ideal climate for pizzas and flatbreads. At this high temperature, the oven can also sear roasts and cook steaks directly on its brick floor. As the heat begins to drop after a couple of hours, it's perfect for roasting vegetables, meat & fish, baking pies and biscuits. As the temperature continues to fall, the oven is ideal for baking cakes and cookies, then slow cooking stews, curries and beans. The last of the heat can dehydrate fruits and herbs or dry out firewood for the next baking session. This called utilizing the falling heat in the wood-fired oven.

During the week of January 25, 2015 I will lead a class in the techniques of using the "falling heat" in a wood fired oven. We will learn how to build and manage a fire, discuss the types of heat created by a brick oven, cook a variety of delicious foods including flatbreads, stuffed meats, fish, roasted vegetables, stews and curries, grilled kabobs, desserts and more. Finally, we will assemble a simple temporary brick oven easily built in your own backyard.

Register for "Cooking with Fire – Baking, Braising, and Roasting" with Nanette Davidson (January 25-31, 2015).