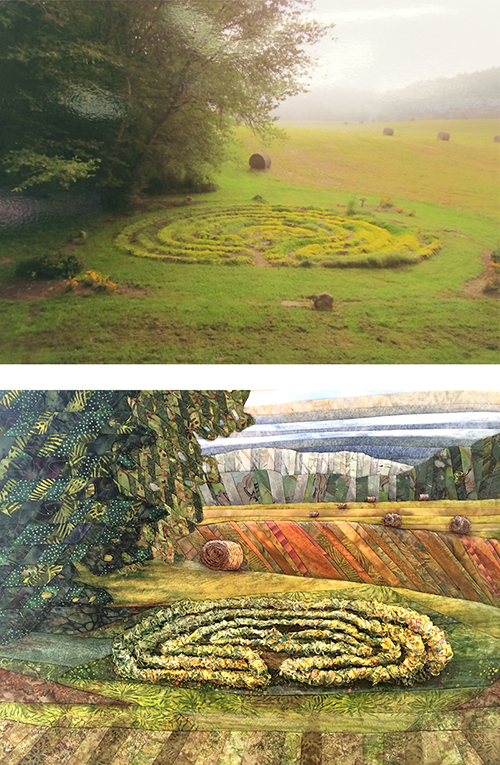 02 Feb

Quilted Landscapes, Labyrinths, & Lakes with Karen Tunnell

When I stepped into Karen Tunnell's "Quilted Landscapes" class, every wall had a different window peeking into a beautiful and unique world. The "windows" were the quilts students had been working on all week. Many worked from "near and dear" personal photographs of places that inspired them.

Stephanie Wilds from Black Mountain, NC used a photo she took of the Folk School labyrinth on a previous visit. The result was a gorgeous depiction of the garden rivaling the beauty of the original photo.

Stephanie is an experienced quilter and has taken several classes at the Folk School including Marilyn Wall's "Fabricating Faces" and Julie Sibley's "Design on Paper and Fabric," which she refers to as "life and career changing." She is currently creating the quilt to be displayed at the 2014 Swannanoa Gathering. We can't wait to see what see comes up with! Find out more about Stephanie on her website.

Taking inspiration from her home state, Marti McIntyre from Michigan created this lovely lakefront landscape. This class was Marti's 25th class! A Folk School regular, she and her husband come to the Folk School together, but have always taken different classes. For the first time ever, they will be taking a class together this spring: Recorder for Grown Ups with Patricia Petersen (April 6-11).

Sissel is visiting all the way from Norway.

Her project depicts the view from the porch of her cabin in Waynesville.

The instructor of "Quilted Landscapes" is Karen Tunnell. For more than 40 years she has been designing and fabricating art quilts and wall-hangings. She uses traditional quilting techniques, machine and hand applique to create landscapes in fabric. Each piece has additional embellishment such as drawing, painting and embroidery. She is also known for marbling her own fabric. Read more about Karen on her website.

View upcoming Quilting classes at the Folk School.