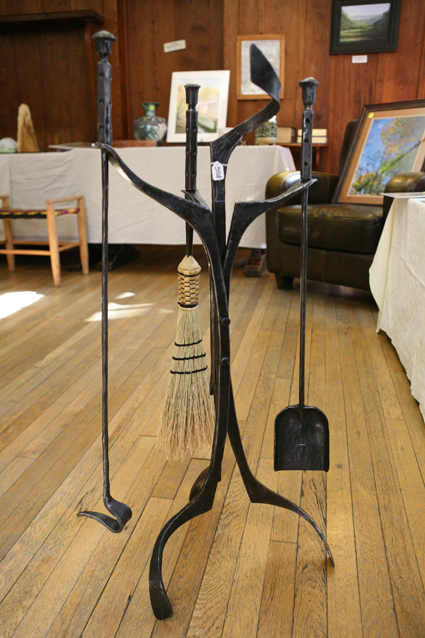 04 Nov

AACB Holds Hammer-In at the Folk School

On Friday night before the Blacksmith & Fine Craft Auction, blacksmiths from the Appalachian Area Chapter of Blacksmiths (AACB) met for their annual meeting at John C. Campbell Folk School.  The members worked into the wee hours of the morning together on many projects to put into the auction the following day. Some blacksmiths came together to create larger projects. Like a hotter, louder version of a quilting bee, an event like this is called a "Hammer-In"  where experienced blacksmiths come tougher to share ideas and collaborate on projects.

Seven of the blacksmiths including Folk School resident artist and instructor Paul Garrett and instructors Susan Hutchinson, Lynda Metcalfe, Julie Clark, Andy Phillips, Clint Busbee, and Ron Nichols worked together to create a Contemporary Free Form Fireplace Tool Set (seen above) which sold for $650 in the Saturday auction. Susan Hutchinson came up with the design for the tool hangers, Julie Clark created the handles, Lynda Metcalfe and Paul Garrett designed and created the stand, Clint Busbee tied the broom, and Paul Garrett created the shovel from a single piece of metal.  The overall concept for the piece was to create a contemporary free-form fireplace tool set with traditional joinery.

The members of the AACB collectively raised over $1000 with the projects they created that night. Next year, Paul hopes to expand the meeting to a larger event, where people who attend the Blacksmith & Fine Craft Auction can attend watch the projects actually being created at the Hammer-In.