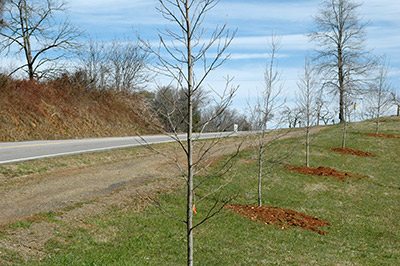 07 Mar

Landscape Development Brings Flow to Brasstown Rd.

Next time you visit the Folk School, be sure to notice the new trees along Brasstown Rd. The roadside additions are part of a greater plan to improve the Folk School campus through landscape design using signature native plants and trees. The Folk School has teamed up with Asheville based-landscape architect Amy Fahmy of Sitework Studios to study and improve the landscape of the Folk School. Amy has worked on the Biltmore Estate for many years as a horticulturalist and landscape designer. She specializes in native plants of Western North Carolina. We are thrilled to have her work with us! The trees (and invaluable planting advice) were supplied by longtime friend of the Folk School and former Board Member Johnny Strawn and his wife Pam at Hanging Dog Valley Nursery outside Murphy.

John Clarke, the Folk School Buildings and Grounds Manager explains that the concept behind the design is to create a continuous flow throughout the campus emphasizing the two entrances/exits. When design and installation work are complete, the Folk School campus will be visually connected through the intentional placement of trees on both sides of the road. These coordinated plantings will also announce to drivers that they have entered the Folk School campus. The landscape design team felt it was important to have a deliberate orientation as to where the Folk School begins and ends, so people will know when they are entering and exiting.

The design team has carefully selected the signature trees that will add a special touch to our lovely mountain setting. The front entrances are framed by Poplars followed by Black Gums and Dogwoods. The middle of the campus is lined with flowering Redbuds and Azaleas. Stewartias line the flower beds approaching Orchard House. Nut trees like Pecan and American Chestnuts are by the orchard in front of Orchard House. More Black Gum and Poplars are planned for the South Entrance. These trees have been chosen because they're native to the southern Appalachians and are some of the most beautiful of our native trees.

Stay tuned for more news and development of this exciting project!
A big "thank you" to the Fred A. Moss Charity Trust for funding this project.