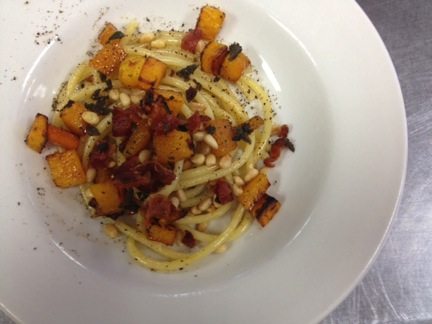 01 Mar

Recipes fo a Seasonal Dinner Party by Stephanie Burnette

A perk of a class named The Art of the Seasonal Dinner Party is the Wednesday night 4-course meal! Here are a few of the recipes from the evening and a picture of each course. What a wonderful group of 10! Students invited a guest and a merry feast was had by all on the evening of Feb 27, 2013. It was a magical night in the Cooking Studio.

Course 1: BUTTERNUT BACON BUCATINI WITH BROWN BUTTER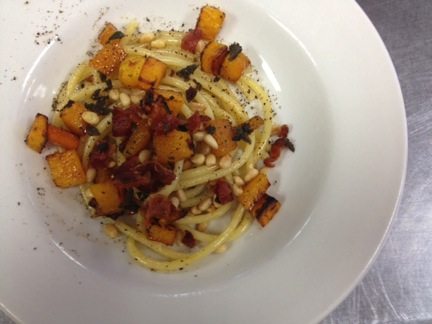 Butternut Bacon Bucatini with Brown Butter
1 Butternut squash
1 Package of bucatini pasta
1/3 Package of bacon, crumbled & reserve grease
2-3 T salted butter
2 T Maple syrup
6-10 Sage leaves or flat leaf parsley
¼ Cup of pine nuts, toasted
Olive oil
S&P to taste
Cook pasta according to package directions. Toss the cubed squash with 2 T of olive oil and 2 T of real maple syrup. Turn out onto a lightly greased cookie sheet and roast at 400 degrees for 10 minutes. Turn the oven onto a full broil and cook for 5 minutes. Turn the squash and cook for another 5 minutes or until sides are browning and the squash pieces are cooked through. Remove from oven.
Fry bacon. Remove from pan reserving 2-3 T of grease. Add butter to pan and melt over medium flame until beginning to brown. Add pine nuts and toast lightly (just a few minutes).
Toss pasta and squash together with a handful of chopped parsley then fold in the bacon grease, butter and pine nuts. Serve on a plate in the shape of a bird's nest. Top with crumbled bacon bits and a little lemon zest.
Course 2: OVEN BROILED GRASS-FED STRIPS WITH MAGIC SAUCE AND HOT SALAD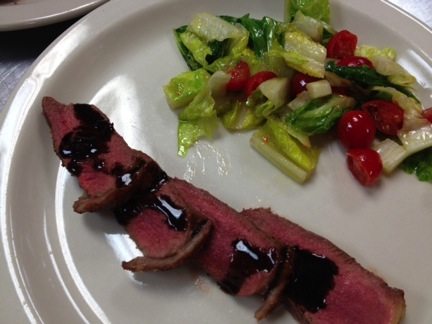 How to broil a steak in your oven (for medium-rare)…
Raise your top rack to 4-6 inches away from heat source. Heat your oven on high broil for 15 minutes. Place the steak directly on the hot rack. Put a jelly roll pan on the bottom rack to catch drippings. Cook for 6 minutes on the first side, flip and cook on the other side for 3 minutes. Remove the jelly roll pan from oven to a hot pad. Remove the steak with tong and place directly onto the hot sheet pan. Let it rest for 5 minutes. We cut our steak with an electric knife for efficient slicing.
Note: Let your steak come up to temperature for 3 hours on your counter. Salt and pepper just before placing in the oven.
Course 3: SALMON PANANG CURRY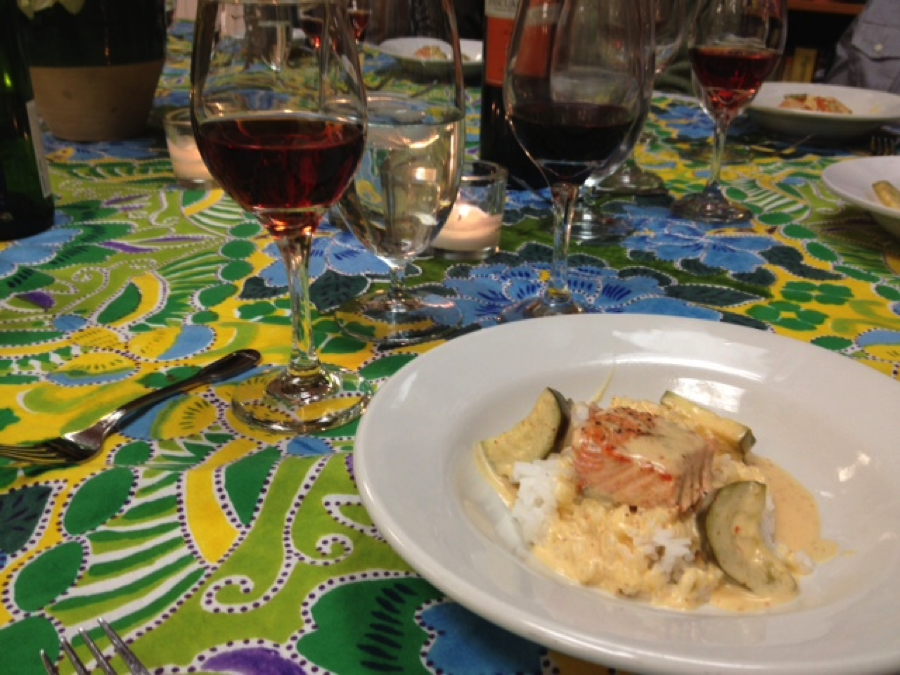 SALMON PANANG
1 Can coconut milk
1/3 Can of panang curry (find it in Asian markets)
4 Wild salmon filets
1 Teaspoon of lime juice
1 Teaspoon of fish sauce
Hot cooked jasmine rice
Broil salmon at High on a greased cookie sheet skin side down for 12 minutes. Remove and reserve until sauce is complete.
In a non-stick skillet add curry and toast slightly. Add coconut milk and stir to incorporate. Add fish sauce and lime juice. Bring up to a boil and then turn down to a simmer. Cover and let cook for 20 minutes. Add salmon filets and cook for 6 minutes to bring back up to temp.
Serve over hot cooked jasmine rice.
Note: you can add sliced zucchini to this dish if you want a vegetable. Also, cubed sweet potato is a great vegetarian substitute for salmon, especially paired with cubed firm tofu.
Course 4: CREPES (ONE BANANA AND ONE NUTELLA)