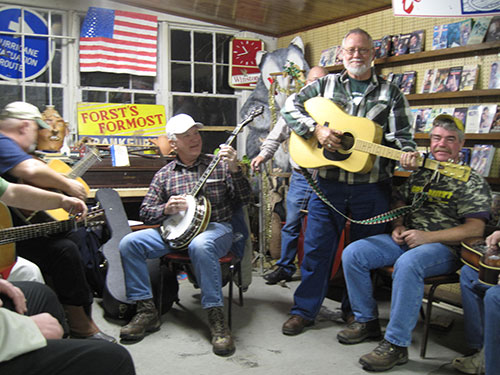 10 Jan

Digging Clay's Corner

Clay's Corner is an essential stop for many a Brasstown visitor. Sitting at the gateway to the Folk School, Clay's is a country store that sells gas, ice cream, treats, toiletries, possum merchandise, and more. Every nook and cranny is filled with interesting curios and artifacts. Gas customers pump the gas first and then pay, setting the tone for the attitude that prevails at Clay's: country hospitality, good faith, and community. Clay's provides an authentic slice of down-home country living. As much of a community hub as a store, it is home to many a porch-sit, get together, music jam, and of course, the famous Brasstown Possum Drop.

Clay's Corner has been in existence 23 years. Back in the 40s, the Caldwell family had a produce stand on the corner. In the 50s, they turned it into a service and convenience store. In the 1970s, the Caldwells sold it to Boyd Scroggs. Over the years, it passed through several hands until Clay saw that it was available. He went for it and struck a deal: Clay's Corner was born!

The Possum Drop has inducted Clay's Corner and Brasstown into the pantheon of incredible and offbeat community celebrations. The Possum Drop started in 1990 with just Clay, his family and some friends. Every year the numbers grew and soon it became a beloved community event promoting "good clean family fun." Clay explains that there's not much you can take you kids to on NYE because of the alcohol. The Possum Drop is a family affair – no alcohol allowed.

NY Times Reporter, Jeffrey Gettleman met Clay in 2003 and discovered the Possum Drop. On Dec. 31 2003, he wrote an article for the NY Times, "Keep Your Ball. We've Got the Possum." After such widespread coverage, how could anyone resist the temptation of the Possum Drop? Thousands started to flock to Brasstown every year for NYE. National attention brought popularity, but it also brought the attention of animal activist group PETA.

With ongoing legal battles, Clay Logan kept folks wondering whether or not a live possum would be dropped this year. I visited Clay's Corner the week before the 2013 Possum Drop and and the question on everyone's mind was "What's going on with the Possum Drop? Are you going to drop a possum this year?" I heard at least 3 customers ask this during the hour I hung out at Clay's corner on a Wednesday afternoon. I didn't even have to ask Clay directly, I just overheard his response, that he's "not quite sure."

Clay made a well-played move by dropping a box concealed by paintings of possums. It was impossible to tell what was in the box. Was there a possum in there? Who knows? Clay recited the famous line from Hamlet's soliloquy "To Be or Not To Be?"  We will never know what was in that box, but I think the point he made is that it doesn't matter what's in the box. What matters is that the community gets together and celebrates New Year's. Even if a real possum didn't drop, what you have left is a big family-friendly community party with great music and entertainment. The possum was the symbol that brought everyone together – a weird tradition – a reason, but the real gold of the Possum Drop is the gathering and the community.

I spotted Clay's black Chevy in the place where the possum drops and pulled over to ask Clay a few questions. We had a nice sit-down and he cooked up lunch for me and a few other folks. Here's what I found out…

Cory Marie: What happens on Friday Nights? There's a jam, right?
Clay Logan: Folks get together. They bring instruments, we've been doing it for years.

CM: Are spectators welcome?
CL: Sure! We start around 7:30 or 8pm. We got chairs too.

CM: Do you play any instruments?
CL: My most musical part is my nose! I can pick it or blow it!

CM: What's your favorite tune?
CL: "I Wonder How the Old Folks Are at Home" and "Sail Away Ladies"

CM: Have you ever taken a class at the Folk School?
CL: I've been involved in the Folk School my whole life. I milked cows at the Folk School and attended Little/Middle when I was young. When I was a teenager we would always go to the Friday night dances. I haven't taken a class as an adult.

CM: What would you take?
I'd take blacksmithing or wood turning – you know,  the "manly" classes. Photography sounds good too.

CM: How did you learn to dance?
CL: I'd dance every Friday at the Folk School from the time I was 16-18 before I went into the service. We'd show up with our shirttails out and Marguerite Bidstrup demands shirttails tucked in! Boy did she crack the whip. She called me out a lot of times, but she liked me.

CM: What are you thoughts on swinging your partner?
CL: When I dance, honey, I dance hard. You gotta learn to swing and get up on the balls of your feet. This is basic stuff!

CM: What is your most popular possum merchandise item?
CL: The Glow-in-the-Dark Possum Shirt.
——————————————————————————-
Be sure to stop by Clay's Corner next time you come to the Folk School where you too can pick up a cold refreshing Cheerwine, a scoop of delicious ice cream, your very own Glow-In-the-Dark-Possum Shirt, and most importantly a dose of Southern hospitality. Visit the Clay's Corner website for interesting Possum trivia, photos, and information.

Disclaimer: No live possums were hurt or traumatized in the acquisition of this article.