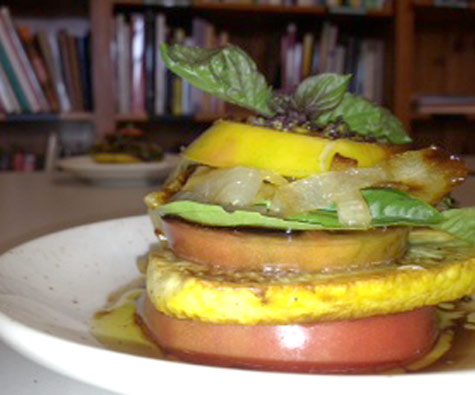 30 Aug

Delicious Fun In the Cooking Studio: Wheat-Free Cooking

Check out the Summer Tomato Stacks we created in my recent weekend class "Going against the Grain: Wheat-free Cooking!" We started with Heirloom Tomatoes straight from the Folk School vines and then layered them with grilled Summer Squash, Genovese Basil and Caramelized Onions. We drizzled them with olive oil and aged balsamic vinegar. A dusting of celery seed finished this hyper-local dish! Local foods are harvested from within 50 miles… our Tomato Stacks came from less than 100 feet.

Heirloom tomato appetizers have been all the rage at high-end eateries… most priced around $14. The class agreed that our tomato dish topped them all and cost pennies on the dollar. The secret to this recipe is to assemble it early and then let it sit at room temperature for at least 3 hours, marinating as it goes.

Recipes strive to reach layers of flavor and this one does not disappoint. Tomato offers fluid acidity. Buttery grilled squash hits a savory note. Caramelized onions present sweetness. Late summer basil is flavor-packed and pungent. All 5 flavor profiles are present- sour, salt, sweet, bitter.

The students quickly and easily assembled the tomato stacks and all commented that they will make it for friends in their home. For those seeking a restaurant worthy, wheat-free starter, look no further!

Stephanie Burnette is a southern food writer, cook and teacher. She is a champion of local seasonal foods and loves to share her passion for entertaining. Her next class at The Folk School begins the last week of September, "The Art of the Seasonal Dinner Party."

Folk School Summer Tomato Stack
6 Ripe Tomatoes (some red, some yellow)
6 Summer Squash
3 Medium Sweet Onions
1-2T of Brown or Raw Sugar
Olive Oil
Balsamic Vinegar
Sea Salt & Fresh Ground Pepper
Handful of Basil Leaves
Bit of Celery Seed

Core the tomatoes and cut into thick slices. Salt the tomatoes a bit more than usual. Slice the squash into thin slices and coat with olive oil. Slice the onions into ribbons.

I start cooking my onions down right away. To caramelize 3 medium onions it will take about 40 minutes, but they only need a stir once or twice. Start the onions on medium and when they start to look translucent, add 1-2 T of sugar, stir and sauté on low until they are completely caramelized.

Grill or pan fry the squash over medium heat until it's tender and has good marks. Immediately set aside on a plate and pepper.

In a pyrex dish pour a bit of Olive Oil in the bottom. Layer tomato, squash, tomato, onions, basil, tomato. Splash Balsamic Vinegar over each tomato and then top each one with Olive Oil. Cover with plastic wrap and let sit on your counter until dinner. Plate each stack and hit them with a bit of celery seed.

Enjoy!