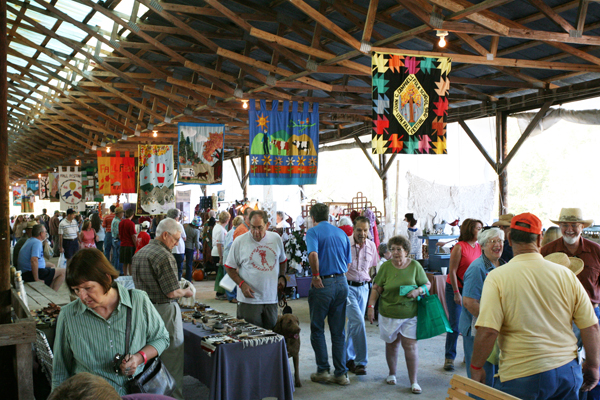 20 Sep

A Colorful Tradition: Fall Festival Banners

 Thirty-eight years ago, the very first Folk School Fall Festival was held by Open House beside the large fields. Gus and Maggie Masters, then directors of the Folk School, were enamellists who were used to selling their art at shows and festivals. So they simply brought to the Folk School and local artists a festival of our own!

Fabric, of course, was part of the act from the beginning, as a way to announce and decorate for the festivities. I got involved with this the year that Jan and Nanette moved back to Brasstown when Jan became the new director of the Folk School. In the fall of that year, 1992, I happened to be teaching a class in fabric design in lower Keith House, when Jan stopped by my class and asked if I would make a banner. He had just found out that it was part of the tradition of Fall Festival. So I'm guessing that I was one of the next people to find out! He even had a simple design plan that involved leaf cutouts on a blue background. So with his son, John Neil's help, I got it lettered and finished during class.

Since then I have created these Fall Festival banners with many different quilters at the Folk School, always incorporating some of the current history of this time and place into the images and patterns. Part of the very beginning traditions of this place has always been to use new technology along with the old, time honored and tested techniques. We use photo print, hand dyed and the latest fabrics from city stores. So you will see traditional piecing and appliqué along with my batiks, which are colored with polymer pigments. Prints from the leaves outside the Fiber Arts Studio, pictures of people, crafts, scenes, and even the shy garden bunny become part of the record of our times here together, year after year.
All banners are hung from the rafters of Festival Barn, with the newest taking its place in front of the barn entrance as an unveiling. It's there for the kickoff concert on Friday every year. This year's inspiration is from the sunflowers, which have held their faces to the sky for many summers in the Folk School garden. It's a symbol that feeds men and birds and speaks to our souls about brighter days ahead.