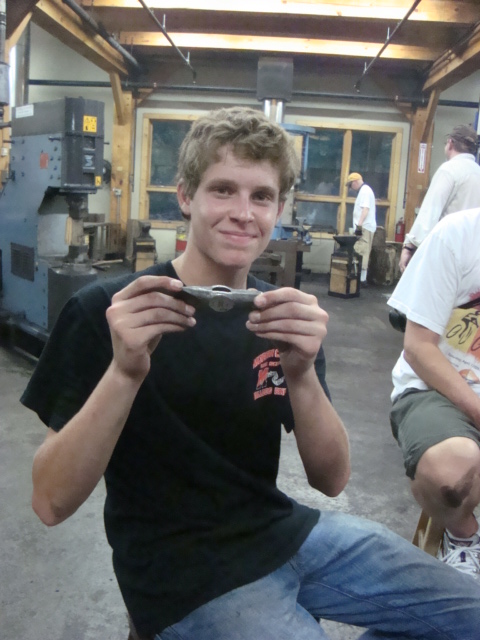 21 Jul

New Instructor in Blacksmithing

Last week we welcomed Bob Rupert of Pennsylvania, and his assistant Gary Cooper to the Spencer/Whitaker Blacksmith Shops for their first visit to Brasstown. They both quickly acclimated to the new Five Star facility, and found it easy to fall into the spirit of the Folk School during the week.

Bob went to a lot of effort to prepare a curriculum for the beginning to intermediate class. This included printed materials, and some high quality intructional media that he produced, and that the students watched in the air-conditioned comfort of the shop's classroom/resource library upstairs. While the DVDs played, Bob and Gary were busy preparing the forge, and cutting stock needed for the upcoming project. This efficiency led to a very productive week, with the students who were lucky enough to be in this full class finishing the week with some really nice items to take home.

Bob also orchestrated a really nice Thursday night demo for anyone at the school who wanted to attend. Usually, demos are just folks watching the instructor forge a few things and talking about the craft. Bob did that too, but in addition, at the same time, some of the students were working in teams to produce the components for a few collaborative projects that were assembled and donated to the November 5th annual Blacksmith's Auction.

The main project was a Freidrich's cross (named after the Swiss smith who developed this now widely emulated version). Here is a shot of Bob at the main forge addressing the large crowd.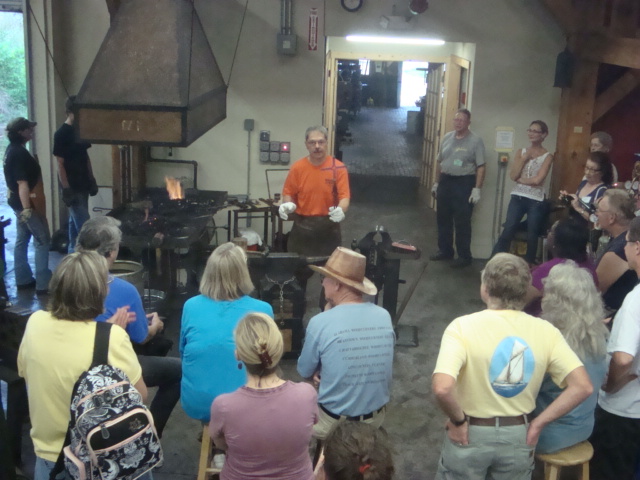 And here is Jordan and Bonnie Anderson working on the base for the cross sculpture.
Another collaborative sculpture done was started by Hannes Giger from Switzerland, and Kipp Coddington. They teamed up to hot cut and chisel a large piece of bar stock, and then twist sections of it in preparation for final forging under a power hammer.
Kipp had such a great week, and was so inspired by his experience here, that he pledged to support the blacksmithing program by committing to the Buy-a-Beam campaign where anyone can buy one of the more that 250 timber beams in the Spencer Blacksmith Shop. And Hannes offered to host myself and fellow Folk School Instructor, Matt Jenkins, at his house in Basel, Switzerland for a night as we travel through on our way to the World Forging Championships in Stia, Italy this September.
And finally, here is a photo of instructor Bob at the shop's big, new Say-Mak air hammer forging the twisted piece down into its final form for the donated piece.
It was a another great week  full of great people, and we look forward to having Bob and Gary back as soon as possible. Their experience here was hopefully the start of a long and mutually beneficial love affair with the Folk School.