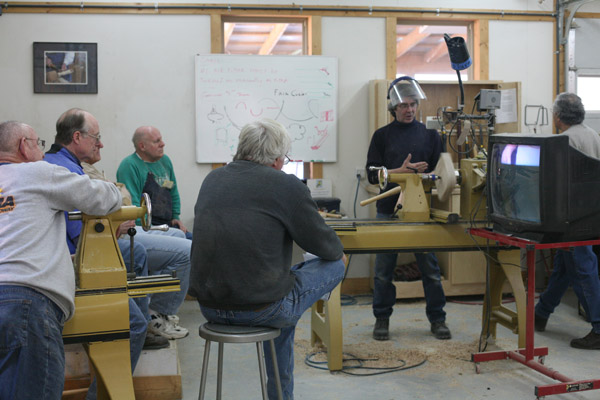 30 May

Pushing Your Limits at the Folk School by Alan Leland

Woodturning instructor, Alan Leland, tells us why he loves teaching at the Folk School:

One of my favorite things about teaching at the Folk School is watching the students grow and stretch their boundaries not just artistically but in all aspects of their lives. I will never forget the time one of our students managed to get my assistant, Melissa, up to join in the Contra dancing- something Melissa would never do on her own. It was such a surprise.

Then of course there is all the laughter that seems to follow me around when I am at the Folk School, some created by me, and some just because the students have loosened up and feel comfortable sharing their thoughts. To me, both as a student and an instructor, it is all about growing and stretching yourself, pushing your limits, and discovering the multitude of things that you can do with the proper guidance and freedom. Creativity is such an exhilarating and fulfilling thing and to see the students grow and the smiles on their exhausted faces is just overwhelming at times.

Many students who have never tried to do anything creative discover just how creative they can be and soon get swept up in the magic of it all. It never ceases to amaze me when "show and tell" comes around and we get to see and share the week's work. It all looks so professionally done and is such a wonder to see.

I must not forget that the Folk School experience is not just about learning a new craft, it is about getting to know each other, making new friends, and most of all, having an enjoyable, unforgettable, and sometimes life changing experience.