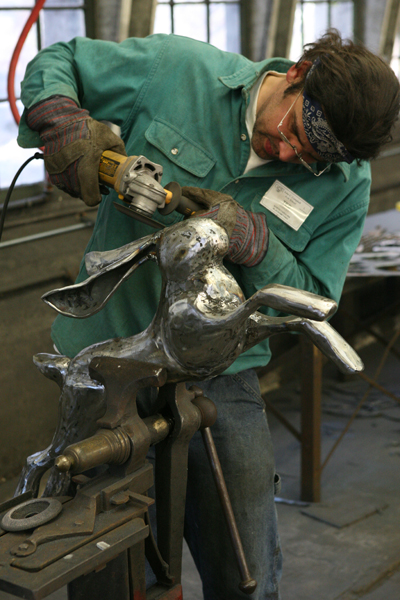 07 Feb

Sculpting Critters in Steel

We recently had local artist/blacksmith Joe Miller back to teach his popular "Critters" class in the blacksmith shop for one of January's advanced weeks. The class is a combination of forging and fabricating, and the students make a critter or two of their choice that might be some kind of a fish, a bird, spider of a animal of just about any species.

The students picked a project and then learned how to hammer the shape of it out of sheet metal in two halves which were then joined together, smoothed out and detailed with fins, feathers, or feet. They added gills, tails, ears, eyes, beaks, claws, feathers, scales and whatever else made them look realistic, all under the experienced tutelage of Joe.

Joe has created a niche for himself over the years by creating commissions like these both large and small for public and private spaces. The critters are made of metal, but are surprisingly realistic. They can be large or small, and more often than not, they can be displayed in realistic environments also made out of steel. A fish can be swimming through sunken logs or lily pads, a bird can be perched on a branch, or a otter sunning on a rock. Creating the display can be a fun and challenging as the subject itself.

This year some  projects included a jumping hare done by one of our resident artists, Ted Cooley. Shown here is a photograph of Ted in the finishing stages of the creation.

Another neat project was Caleb Givens'  koi fish swimming among lily pads. Caleb has been here for a whole month of intensive study, taking several classes and getting serious about his blacksmithing. He will certainly benefit from the wide range of classes that he took during his time here.

And pictured here is a Tyrannosaurus Rex in a menacing pose. It was done by Chris Carter. Chris was also here to take multiple classes, and has been here numerous times in recent years.

Joe will be back again in 2012, and offering the class tentatively in March. This is a great class for any blacksmiths or metal artists who want to expand their skills to three dimensional metal sculpting, or to just about anyone with some metalworking experience who would like to try it.