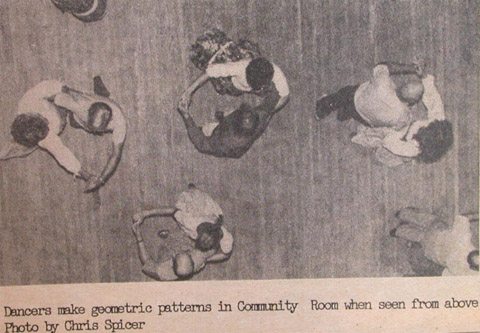 03 Feb

Through the Years: Julie Sibley Reflects on 25 Years at JCCFS

By Julie  Sibley,  Artist, Designer &  Celebrating 25 years  this year, of being a faculty member at the  John C. Campbell Folk School

Newly arrived to the mountains, in the Winter of 1977 as a Young Harris College art student, I hardly knew what to expect about anything.  The perfect friend for a shy, not overly confident girl was a high-spirited hall mate.  Nan had bright copper curls and freckles to match.  And she always knew how to have fun.  When she suggested that we go to the Student Center one evening to go Folk Dancing, I never questioned it, even though I'd never even heard of Folk Dancing.  Enter: three men from Brasstown with a record player.  Larry Smith, who was a caller, Danny Wilson, and some other guy who was willing to dance.  We laughed a lot that night and it's still that much fun on the dance floor! Danny is still often seen spinning on the floor too.

The thing I remember the most about going to the Folk School dances in those days was how everyone welcomed you.  They wanted you to feel at home there and just be yourself.  Not until recent years, when I would read Ellie (Danny's Mom) Wilson's book, My Journey to Appalachia did I understand the significance.  Ellie recounts how Olive Campbell held afternoon teas and the great importance she placed on offering hospitality to guests.  By the time I read her book and understood the full meaning of hospitality at Brasstown, I had grown into a bold, occasionally sassy, and always colorful person. The type of person Jan Davidson refers to at Morning Song when he says, "As you can see, we have had no problem in finding folks with lots of personality to teach here!"
After not so many visits back in the early 1980's, a dream began to form in my mind as I got to know some of my new friends in Brasstown.  Laura Sprung was the Hostess who lived at Keith House for years and had great parties upstairs in her quarters. Tom Ellis, enamelist, and Tom Beaman, metalsmith, were Resident Artists who had studios on campus that I got to visit.  I was encouraged to believe that I could teach there one day. I just didn't know enough about anything – yet.
I left the mountains for awhile to finish my college degree.  In the summers I would make lengthy visits to the mountains and to Brasstown.  Keith House even still smelled the same: wood, Murphy's Oil Soap, and happy people.  The rope, as big as my arm, which was coiled on the floor and attached to the wall by the upstairs window was no longer there.  Neither was the sign which read, "In Case of Fire – Use Rope."  The new fire escape had lovely landings for watching the mountains.  Equally delightful, for many years, was the part of Student Orientation where everyone living in the Keith House that particular week was instructed to go upstairs for Important Information. They got to see the room that had the outside doorway, which opened onto the fire escape. The best part was that this room had two beds in it, and the two occupants living in there that week were told, "if you wake up and people are running through your room, you get up and follow them!"  This was yet another example of the creative and entertainingly graceful way in which Folk School Staff adapted to changing times.
In the Spring of 1986, I was to teach my first class at the school, having been hired by Chris Spicer, Program Director, to lead a weekend Batik on Silk class.  We had the classes in the kitchen area of Orchard House, partly because I worked with non- toxic dyes. My roommate was Susan Leveille, a weaver who also still teaches at the Folk School. By this time, I already had six years of teaching experience.  My dream was fully formed and alive!

Now that I was a faculty member, I was part of the inner workings that created the magical sense of creative wonder about the place.  A large ingredient of this experience has to do with acceptance. I may not know anything about your craft form, or especially love it – however, I respect the time, energy, and effort you have invested in developing your skills.  We respect and admire the love, care and passion with which you go about creating a hand made life.  Students who see a highly skilled artisan form something on the wheel, or whatever their hands dream of creating, always 'see' how easy it is to do.  Until, that is, they try it themselves and realize the effortlessness is developed from years or even decades of practice. I like to tell my students, "the only difference between me and you is that I have been doing this for 30 years!"  So many times I have been privileged to witness a complete beginner light up with joy over newly acquired skills.  I've been around so long that some of my former Little/Middle Folk School students are now faculty members. Other painting students have become fine teachers in their own right.  Retired people find a source of never-ending fascination springing from their own inner depths.  It is with great satisfaction that I get to be part of a timelessness in traditions that lets folks bring new creations into the world.