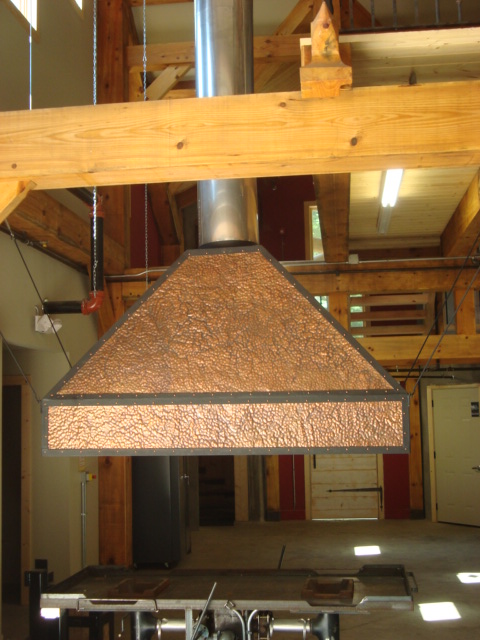 07 Jul

One Step Closer

A couple of weekends ago, we had a few blacksmiths over for a mini work weekend. Really just a continuation of our annual work week, it was a chance to get some more work done in the new forge building, now officially the Clay Spencer Blacksmith Shop.

Our small crew did a lot actually. We built some hand railing, assembled the coal forge blower piping, finished up on some fabricating on the new forges, anchored the post vice stands, and assembled the instructor's forge hood that was started a couple of months prior, placed anvil stands, and a dozen other projects as well.

The instructor's forge hood is a beautiful piece in itself. As with many blacksmith shops, the "Forge" is the center piece of the building, and here, I wanted to make a big splash with it, and design something more than just functional. Don Neuenschwander handled the cutting, texturing, and patination of the copper sheet, as well as the the fabrication of the steel frame with the help of Julie Clark at Work Week. This weekend, Steve Barringer and I scratched our heads to figure out how to set the 300 some copper rivets that hold the whole thing together and came up with an idea that would work quickly and look great. Using a hand held pneumatic hammer and a NASCAR race axle as a backup bar, and Rooney Floyd as the rivet master, we completed it in an evening and the next morning. The result is a focal point that will be the subject of talk and photographs for years to come.

Another fun project that got done was the last of the Crown Jewels for the grand entrance between the silos. You might have already seen the pictures of the big anvils that appear to support the mail posts of the entry timber frame, and this weekend, we installed the large fabricated hammer head that hangs from the oak king post in the center of the entry. John Campbell carved the hammer handle out with a mainly a chainsaw,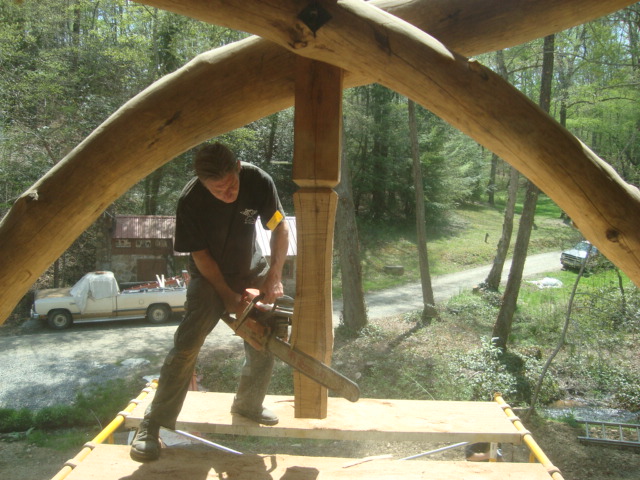 and Steve Barringer fabricated the head out plate stock. No question about the intended usage of this building.
We are close to opening, and plan to start moving in starting on July 11th. The first class is tentatively Intergenerational Week with Judy Berger on the 18th.