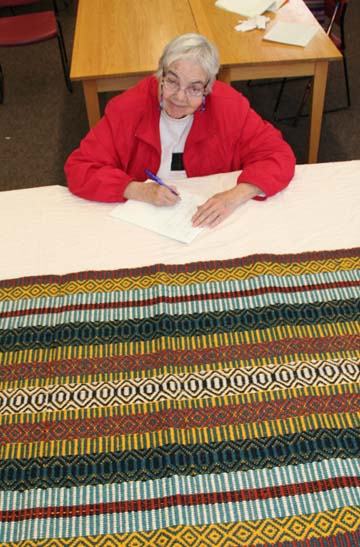 12 May

Weaving and History

by Pam Howard

Last week has been a wonderful exploration into weaving history for me!  My dear friend and "weaving Mom," Barbara Miller and I traveled to Berea College in Kentucky. We spent several long days looking through archives on early weaving programs at settlement schools in the Appalachian region.

Fireside Industries in Berea was one of the first settlement schools to start a thriving weaving program. In a 40-year period many strong-willed women associated with the settlement schools started weaving programs in the Appalachian Mountains. These "Fireside" programs helped the local women earn money during hard times.

Below are examples that came from the settlement school weavers at the John C. Campbell Folk School in Brasstown. Although Brasstown was mostly known for wood carvings, lovely cotton, linen, and wool runners and wall hangings were also produced and sold.

Barbara and I have been researching the nine settlements schools that were first accepted into the Southern Highlands Craft Guild. We are teaming up to teach a class July 11-17 at the Folk School about the schools that played a huge role in the economic development of the Appalachian region.   We will examine the history as we weave finger towels, wall hangings, table runners, and other items that were woven and sold by the schools.  It is going to be an exciting time in the studio!