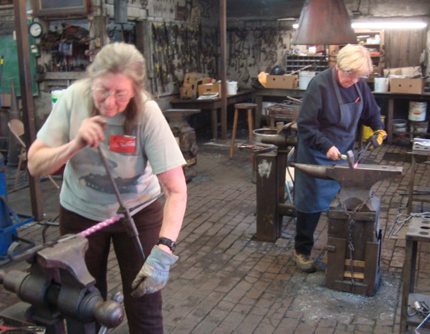 16 Dec

End of the Season.

Just like it was in my stock car driving days where the last race of the year marked not only the end of the season, and gave us a chance to breathe for a week or so, the last regular class of the year was last week here at the Folk School, and now I have a chance to relax a bit before the 2010 class schedule begins in the first week of January.

And like with NASCAR after the last race, where folks thought that we all took a couple of months off and just washed the car before we went to the racing the spring, life here at the School can be pretty hectic getting ready to go again after the holidays. Right now in the blacksmith shop, there are electricians upgrading wiring, and builders working hard on the new forge building to get it ready for classes in the spring. As for myself, I am taking care of repairs large and small, and making sure that everything if set to start the new season off with a bang. There is much to do, and a lot of organising and coordinating to make it all happen.

To back up a bit though, we finished up the year very strong in blacksmithing, and the last two classes were both a big hit. Lyle Wheeler taught a beginning blacksmithing weekend class that was full, and Allen Kress taught his Holiday Iron Trinkets class again where folks made all sorts of small gift type things that ranged from trivets, to hooks, to Christmas decorations, to small animal forms such as elephant faces, scotty dogs, and shrimp. It is a class that has something for everyone, with beginners welcome. A lot of people made Christmas gifts all week to take home, and in general had a great time.

Book your 2010 classes early, and have happy holidays everyone.  Come see us soon.