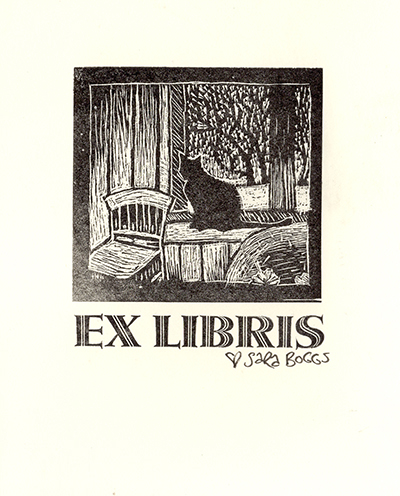 [caption id="attachment_12188" align="aligncenter" width="600"]

Painting by Sara Boggs[/caption] Every time I see Sara Boggs around campus, like a giddy child, I ask her: "
Can I see your sketchbook?
" She always says "
yes
." You see, Sara is one of those artists who constantly carries her handmade sketchbook around, capturing tiny moments of life here and there - taking the time to practice and develop her drawing ability everyday. It has been incredible to see her book grow with the faces, places, and the spirit of the Folk School during her host term this fall. She permitted me to scan in some pages from her book to share with you. We also sat down over cookies and tea to talk about her experience as host and artistic journaler. [caption id="attachment_12174" align="alignright" width="229"]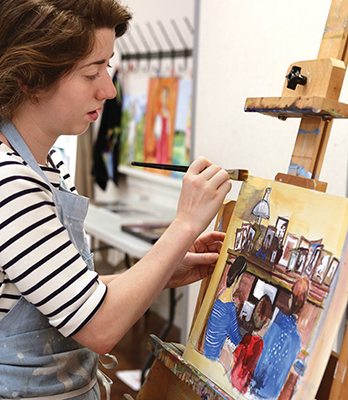 Sara in the Folk School Painting Studio[/caption]
CP:
You were recently a character in the night of
Holiday Revelry
hosted by David Vowell. Who did you play?
SB:
I got to play a couple of different characters: an all around reveler drinking wassail, the Little Pickle Boy in one of the tales about St. Nicholas, and Jack the Green in the mummer's play. Jack's character is traditionally full of mischief! In our play, Jack the Green saves the day in the story of St. George and the Dragon.
CP:
Very nice. So you are wrapping up your host term at the Folk School? What's been your favorite part of being host? 
SB: 
It's the people… it's for sure the people. Every week, I get to meet all of these wonderful people with amazing stories and wonderful things that they have done. They are all so sweet and encouraging – they make me feel like this world we have here that's not quite real life – this fairy tale world that's all fiddle music and blacksmith coal – is something that we can carry always. It's been really wonderful to meet them all.
CP:
Do you have any specific memories that resonate with you?
SB: 
There have been quite a few. Maybe it was because it was so early on in my time here, but one that sticks out is a magical cooking class dinner party. The class was a wood fired cooking class and they had their Thursday night dinner outside on picnic tables, with candle light torches. There was wine, and ukelele music, and a beautiful pink sunset overhead… little dogs came wandering through. It was slow and delicious. I wasn't even supposed to be there, I was just crashing, but they let me crash. It was a lovely evening and I felt like it was the right way to start off my foot here.
[caption id="attachment_12175" align="aligncenter" width="600"]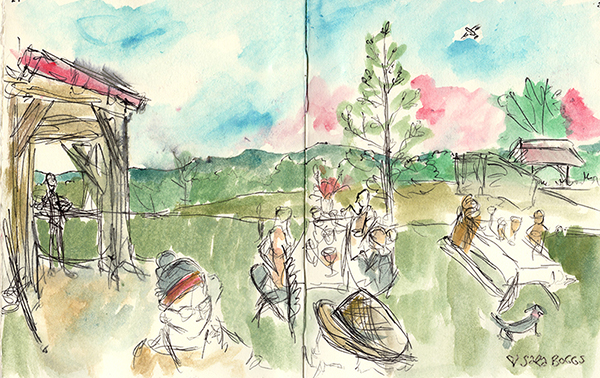 Page from Sara's sketchbook: Thursday night dinner party for the Cooking Class[/caption]