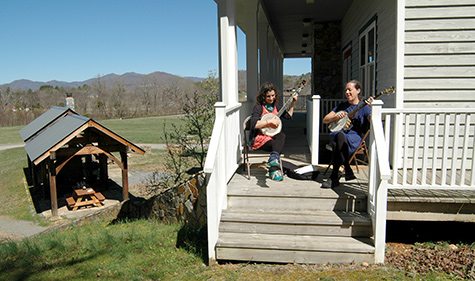 [caption id="attachment_10249" align="aligncenter" width="475"]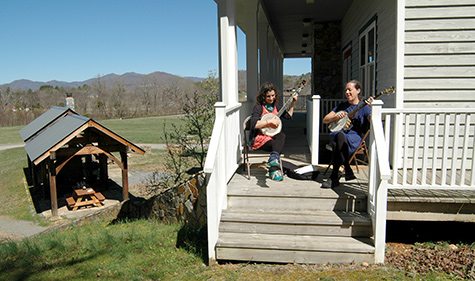 Leah and Aubrey Atwater play "Red Rocking Chair" on the Music Studio Porch.[/caption]
CP: Welcome back to the Folk School. What's it like to be back as a second-time host?
LD: It has been so incredible to be back in this community. It's a bit like coming back to folk-craft-musical-dance wonderland. Some of the cast of characters has changed, but the heart of the matter is the same. 
[caption id="attachment_10266" align="alignright" width="215"]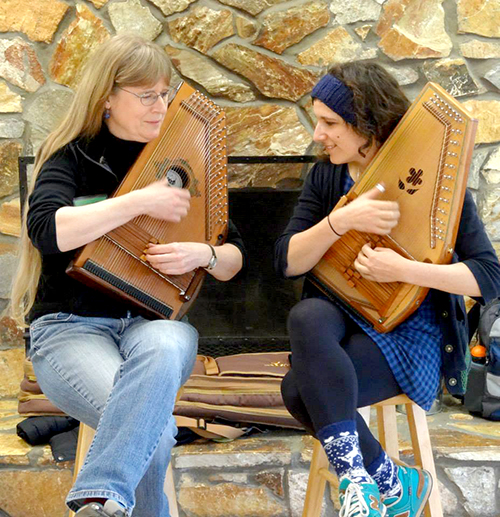 Karen Mueller and Leah Dolgoy[/caption]
CP: How is the Folk School different than your regular life?
LD: I think the best way to illustrate this is by telling you about what I've been up to between my last host term and my return to the Folk School. I finished my last host term in August 2011 and went back to school that September. Conventional school. Graduate school in Occupational Therapy. I remember the first day I went to get my ID card. I went to a computer and used a touch screen to print out a number. And then proceeded to wait in line for hours while cranky people all around me played on their iPhones. I remember thinking to myself, "when you register at the Folk School, a work study greets you, hands you a map, tells you how to find your housing through the woods, and directs you to the room with the freshly baked cookies." Having just finished conventional school, it is so nice to return to a Danish Folk School model of learning. 
I arrived at the Folk School for my current host term on Christmas Day. I walked into Keith House, and was just struck by the comforting familiarity of everything around me. The smell of the wood, the creaky floors, the feeling of the Jr. host room at the top of the stairs. Then Winter Dance Week started. Suddenly I was in a literal embrace with all of these dear lovely folks I hadn't seen in two years. I would run into friends in the contra dance line. I very quickly became re-acclimatized to the rhythm of how things are around here – morning song, ringing the bell, the exact time it takes to walk from any point on campus to the dining hall and not be late.