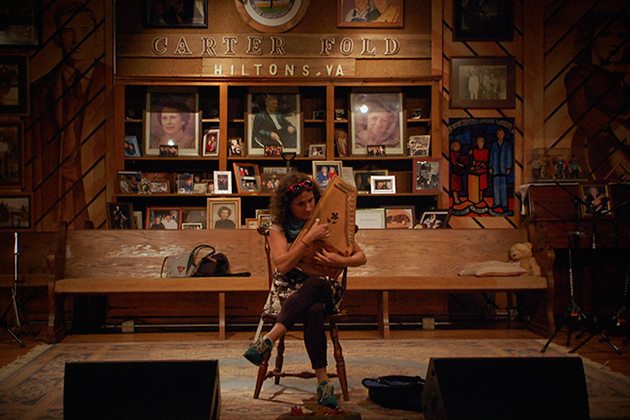 [caption id="attachment_14526" align="aligncenter" width="630"]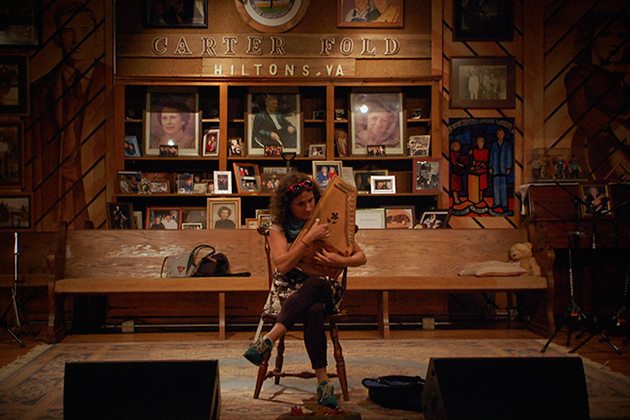 Leah Dolgoy on the stage of the Carter Fold.[/caption]
This May, the sweet-stringed sounds of Leah Dolgoy's autoharp will once again fill the Folk School campus with joy and magic. She returns to Brasstown to teach a music class focusing on the legacy of the Carter Family for continuing autoharpists. Leah is a two-term student host at the Folk School, she considers Appalachian old-time music to be her true love, and Brasstown a second home.
[caption id="attachment_14531" align="alignright" width="233"]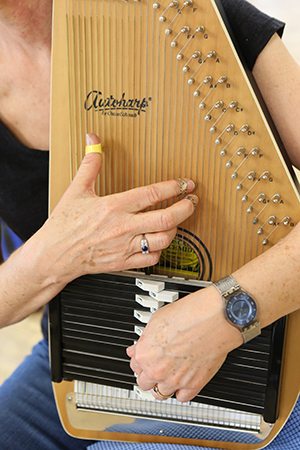 Picking on the autoharp in the Music Studio[/caption]
CP:
When did you first hear the autoharp and what drew you to it?
LD:
I first heard the autoharp when a Canadian singer songwriter named Basia Bulat played it. I was actually at home with a fever, recovering from mononucleosis, and listening to a live broadcast of Basia's concert on the CBC. I was immediately drawn to the instrument because of its unique sound. I remember listening  intently and trying to figure out what it was that she was playing. I was totally mesmerized.
CP:
Is the autoharp mostly a solo instrument or do you like to play with other people?
LD:
The autoharp can be either a solo instrument used to accompany yourself singing, or it works beautifully in an ensemble or a jam. I play it both ways but I certainly have a preference for playing with others.
CP:
You play autoharp in some indie folk bands, Corinna Rose and Heirloom. How do fans and show-goers respond to the autoharp?