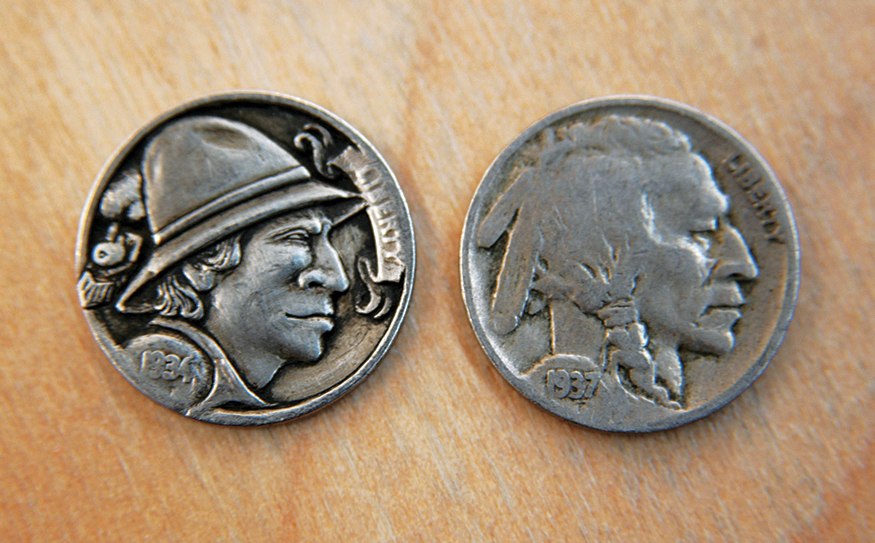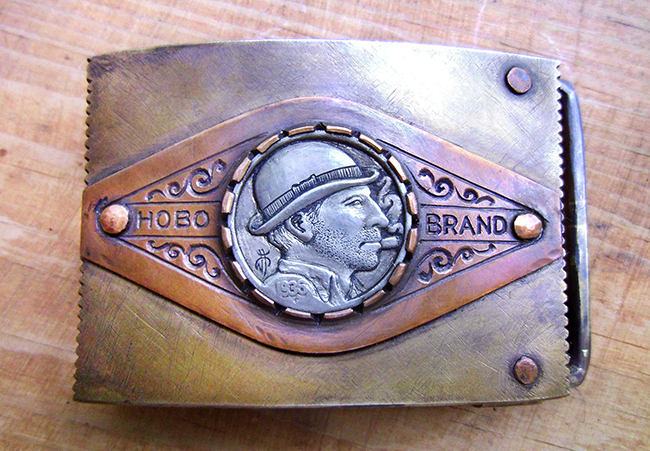 Tom Patterson has been a hand engraver and metalsmith for more than 50 years. Starting in his father's shop at age 14, he has been a lifelong student of metals and their manipulation. Currently, Tom continues his studies from his home studio in the mountains of western NC, where he fabricates artifacts of astonishing peculiarity. Unsure of what a hobo nickel is, I resisted the urge to google and decided to sit down with Tom and find out a bit more about the class. Enjoy our interview!
[caption id="attachment_16076" align="alignright" width="150"]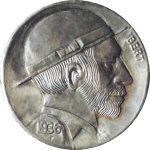 Hobo nickel by renowned original era carver Bertram "Bert" Wiegand[/caption]
CP:
What is a hobo nickel?
TP:
It's a modified Indian Head Buffalo nickel and the profile of the Indian or the buffalo on either side has been modified to be something else. It was commonly used by hobos during the Great Depression to increase the value of a nickel. They could trade it for a ride, buy a meal, or buy off a train cop. People started liking hobo nickels and then coin collectors start to collect hobo nickels. Some of nickels created by carvers during the Depression Era became so valuable that modern people, who had some engraving ability, began to buy nickels from coin dealers to copy and counterfeit these original hobos. The counterfeit artist would get the big bucks for their "collectable" nickel. They were discovered, and instead of being discredited, they were celebrated and collected for their own abilities. So today, even though it is definitely a niche, there are a lot of hobo nickel carvers. One of the famous carvers, he had this little kit, or box, of his handmade tools, and it went to auction a few years back and it sold for $9000. The old original nickels are worth thousands of dollars now and some of the new nickels are worth a lot of money too.