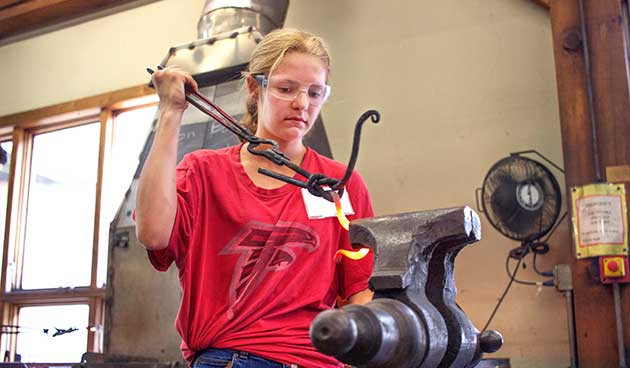 18 May

Little Middle 2022

Every summer the Folk School opens its doors to young folks ages 7-17 for Little Middle Folk School, an opportunity for youths to discover Appalachian culture and take part in hands-on programs in various arts and crafts. Participants are divided into two groups. "Littles" are rising second graders to rising sixth graders and "Middles" are rising seventh graders to rising twelfth graders.

Little Middle is scheduled for June 20-24, 2022.

Registration for Little Middle will open on Tuesday, March 22 at 9:00 a.m. on our SlideRoom page. Click here for the 2022 Little Middle Application.

Be sure to register early, as these are filled on a first-come, first-serve basis.

Click here for 2022 Little Middle class descriptions, or scroll to the bottom of the page. Littles will take four classes, and Middles will take two classes.

All scholarships for Little Middle 2022 have been awarded.

Please note that all Little Middle participants and volunteers must abide by the Folk School's Covid safety requirements, including vaccination and mask requirements. Click here to read our updated Covid-19 Safety Guidelines.

For families interested in coming to the Folk School as a group, there are opportunities for adults this week:

Volunteer for Little Middle
Click here for the 2022 Little Middle volunteer application. Please fill out this form and email the completed version to Tammy Godfrey, tammy@folkschool.org

Enjoy the Folk School
Bring your unfinished craft projects and gather with new friends to share ideas. Nestle in a rocking chair and read a book. Explore nature trails. There are many ways to relax and rejuvenate in these mountain surroundings.

—

Little Class Descriptions

Basketry: Fun with Baskets – Pattie Bagley
Let's make some baskets! Create 3 or 4 baskets with all different colors. We'll make some with wooden bases and some where you'll weave the base together. It's lots of fun for everyone!

Book Arts: Books, Boxes & Bags – Ida Palmer-Ball
Make unique, fun papers and fabrics with paste paper and potato printing, then use your creations to craft books and boxes! You'll also make your own bento bag and use it to take your work home.

Clay: Beginning Clay – Sienna Shute
Come make pots for the garden! We'll make windchimes, lanterns, toad houses, garden creatures and more by rolling coils and shaping flat slabs. Go home with beautiful piece for indoors or out.

Corn Shuck Creations – Mary Rutherford
Use your imagination to turn colorful corn shucks into a-MAIZE-ing characters. Anna, Elsa, Obi-Wan Kenobi, Blackbeard, Darth Vader, Snow White or even Baby Yoda are just a few of the possibilities!

Crochet: Rows and Rounds Crochet – Cristen Clonts
Learn the basic steps of crochet and how to read crochet patterns. With these simple stitches, you can make anything. Let's crochet away!

Jewelry: Making Jewelry – Shona Carr
Get ready for a week of wire wrapping, beading, and learning how to bend wire using tools. You'll leave with art you can wear and a kit of your own to keep making jewelry at home.

Mixed Media: There's a patch for that! – Sarah Scott
Add a personal touch to your clothes with drawing, painting, and patches. We'll talk about different things people have worn through history and learn how we can put on own update on those looks today.

Nature Studies: Nature Ninjas – Joel Zachry
Come learn all about nature – things that crawl, fly, and are gooey! We'll take walks around to witness nature on campus and keep a nature journal to sketch and paint the plants and animals we see.

Needle Felt: Mystical Forest Creations – Dedra Davis
Create your own tiny sculptures with needle felting. We'll use colorful wool roving and felting needles to create nature-inspired creations such as gnomes, forest animals, mushrooms, plants, and flowers.

Puppetry: Puppet Magic – Claire Ritzler
Learn to be a puppeteer! Make a hand puppet, rod puppet and a simple stage. You'll create your own character and participate in a puppet show.

Recycled Critters and More – Shari Shifrin
Learn how to turn everyday materials into mountain critters! Create a rainbow trout, hedgehogs, and even your very own totem pole using ordinary household items.

Surface Design: Dyeing Fabric – Linda Daughtry
Learn how to create fun designs on fabric with tie-dye, batik, sun printing, stamping, and block printmaking. Make your own journal out of fabric, tie-dye a shirt, and create a colorful wall hanging for your room.

Weaving: Weave on a Little Loom – Allie Dudley
Learn how to weave on a little loom you can make at home! Discover how to weave yarn over and under to create a bookmark, patch, or coaster. Leave with your own handwoven item and a loom to make more.

Middle Class Descriptions

Blacksmithing: Learn to Blacksmith – Caitlin Morris
Make a hook, a fire poker, a handle, and a keychain out of hot steel while gaining the skills to work on your own projects (as time allows).

Clay: Clay Play & Projects – Sam Andrews-Jarvis
If you want to have fun and meaningful connections with your classmates and your projects, this class is for you. We will be making hand building projects using pinch, coil and slab methods. We'll then use leaves collected on campus to press into the clay and create patterns. You will take home projects you'll be proud to show your friends and family.

Enameling: Enamel Magic – Kay Patterson
Learn how to put colorful glass on copper and fire in a hot kiln. Work with glass as it melts, flowing, and fusing onto copper. We will prepare copper sheets with some fun metal techniques making shapes for jewelry, dog tags, and small bowls. Fire for two minutes and be amazed.

Jewelry: Love Jewelry? Learn to Make It! – Terry Hale
Learn how to design and create your own unique jewelry! We'll use real jeweler's tools, copper, sterling silver, beads, stones and lots more to make one-of-a-kind pendants and earrings.

Marbling: Playing with Color and Design – Lynn Ann Miller
Learn to float colors of acrylic paint to make one-of-a-kind papers. Experiment with color and technique to make an exciting book to showcase one of your beautiful designs.

Music: Learn to Play the Dulcimer – Lorinda Jones
The dulcimer is a three-stringed instrument that sits on your lap making it easy to see and play. No prior music experience is needed just an interest in becoming a musician and playing with others. Make music and friends as you play this fun and traditional instrument.

Painting: Adventures in Painting – Bradley Wilson
Explore several subjects such as painting people, animals, landscapes and more. We'll use both traditional and nontraditional approaches with painting media. Join this fun creative adventure as we make art and come together as a class to discuss our work. This class is all about having fun while making art!

Quilting: Fun and Funky Quilts – Nancy Hinds
Stitch together fabrics to make a quilt with a funky twist. Choose from the fabrics provided or bring your own in prints and colors you love. End the week with your very own quilt.

Knitting: The Wonderful World of Fiber Arts – Emolyn Liden
Learn to crochet and knit using knitting needles and talk about how to make wearable pieces. Learn design techniques that you can use in future projects, while we explore rug hooking, needle felting, sculptural knitting, jumbo knitting, dyeing yarn, and how to spin yarn. By the end of the week, you'll have a kit to take home and enough direction to continue. Some projects will be self-driven, meaning you can choose your own design and others will be collaborative group projects.

Weaving: Let's Weave! – Connie Lippert
Explore several exciting weaving projects in a week. Build your own tiny loom out of chipboard and make a pouch! Dye yarn with Kool-aid and weave a basket! We will even get to try out weaving on a floor loom.

Woodburning: Basics of Woodburning – Terez Hjetland
Do you want to play with fire? Come and learn the basics of woodburning. Learn how to use a woodburning pen to create beautiful designs on wood, paper or even leather.

Woodcarving: Woodcarving for Beginners – Richard Carter
This class is designed to take an absolute beginner through the basics of woodcarving. Learn carving techniques and tool safety while you carve an owl, mushrooms and even a ball in a box.

Woodturning: The Magic of Wood – Steve Cook
Learn to turn a piece of wood into a work of art! We will make yoyo's, spinning tops, wands, jewelry, and other fun items. You will also learn how to make a rolling pin for family members and be able to decorate it with color and texture.

Woodworking: Make a Bedside Table – Brian Cunfer
Explore the craft of woodworking. First, learn basic tool safety including how to use a chopsaw, palm sander and a drill press. Use those skills to make a bedside table with a pull-out drawer. You will even have a chance to add color to your project.