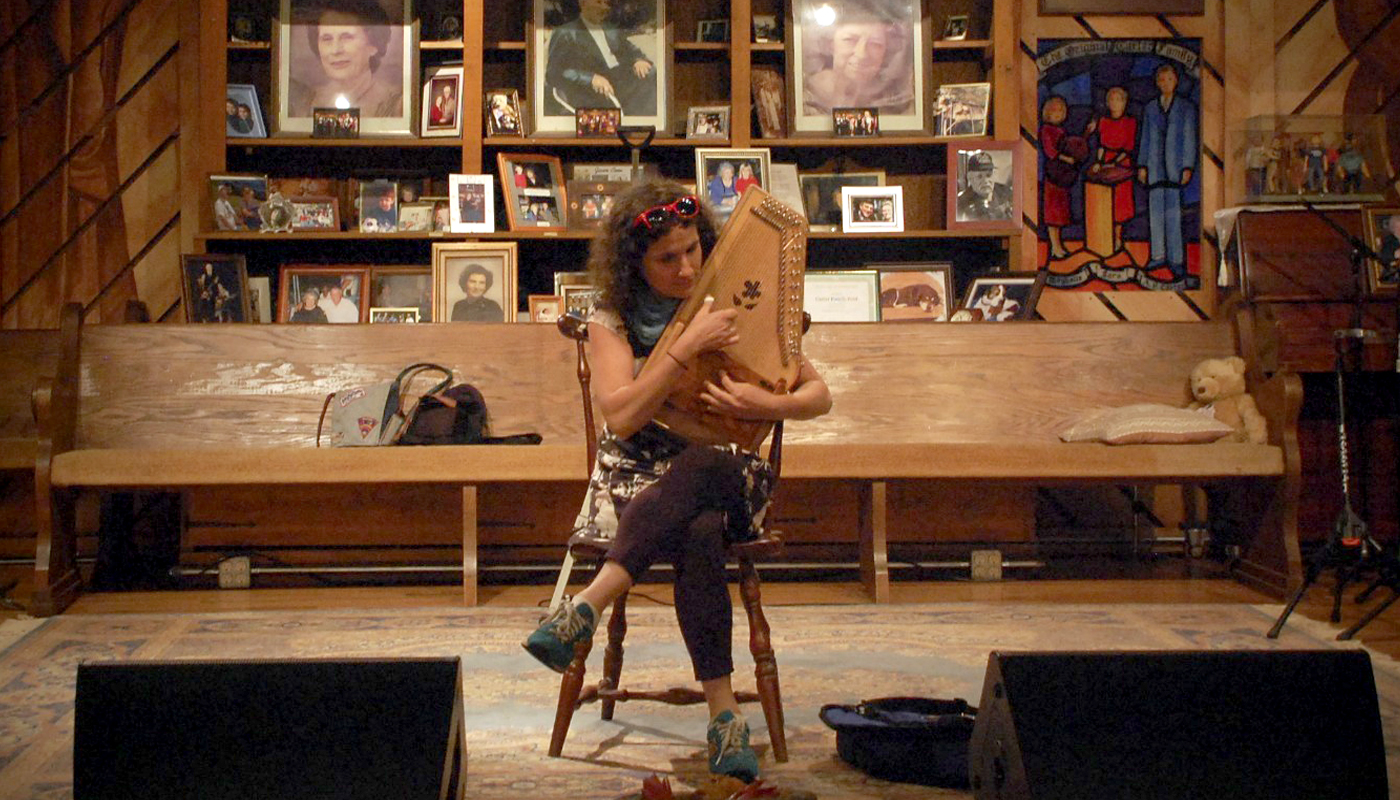 26 May

Autoharp Musings with Leah Dolgoy

The sweet-stringed sounds of Leah Dolgoy's autoharp virtually filled Folk School ears with joy and magic for our Facebook Live Morningsong. Leah treated us to songs, tunes, and a wonderful show and tell of things she made at the Folk School, broadcasting all the way from her home in Montreal. While she is most known for teaching and playing autoharp, she plays many stringed instruments, so there you will also hear mountain dulcimer and folk harp. Leah is a two-term student host and instructor at the Folk School, she considers Appalachian old-time music to be her true love, and Brasstown a second home.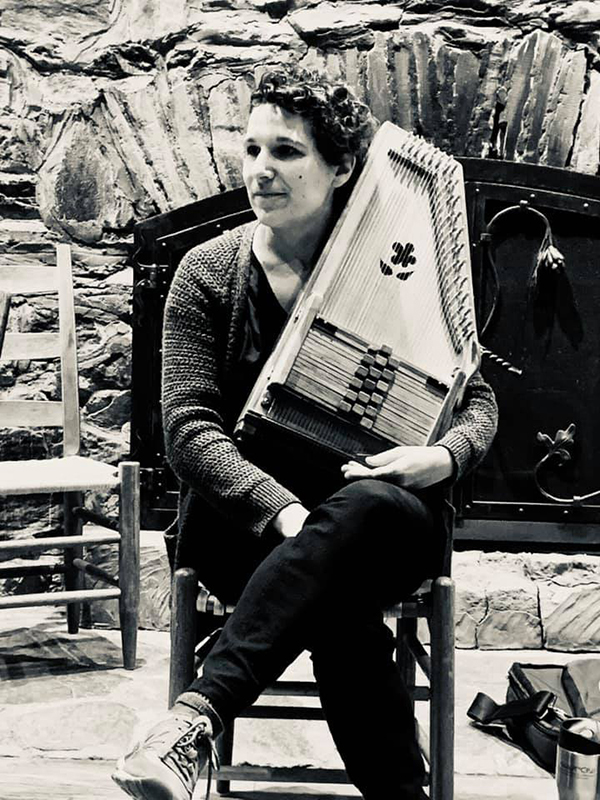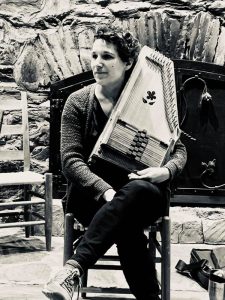 CP: Tell me about playing Morningsong and why it is special to you.

LD: Morningsong is my favorite social convention of Folk School reality. I love playing morning song for a few reasons. It permits me to invite other musicians who are around the school either as instructors, students, or friends in the local community to come play with me and gives us an excuse to hang out and practice. It makes me stretch myself musically because I don't like to do the same set each time. If I'm in a music class one week, I can integrate that new learning. Back in my regular life, I also play in two bands that rehearse and perform all the time. If I didn't have morning song I think I'd really miss that. And finally it's just a really special way to mark moments in time. Every week at the Folk School has a narrative arc to it for each person who is here. Student orientation feels a bit like groundhog day, but after that all bets are off and the week unfolds in a unique way for each person individually, and as a collective group.
CP: When did you first hear the autoharp and what drew you to it?
LD: I first heard the autoharp when a Canadian singer songwriter named Basia Bulat played it. I was actually at home with a fever, recovering from mononucleosis, and listening to a live broadcast of Basia's concert on the CBC. I was immediately drawn to the instrument because of its unique sound. I remember listening  intently and trying to figure out what it was that she was playing. I was totally mesmerized.
CP: Is the autoharp mostly a solo instrument or do you like to play with other people?
LD: The autoharp can be either a solo instrument used to accompany yourself singing, or it works beautifully in an ensemble or a jam. I play it both ways but I certainly have a preference for playing with others.
CP: You've played autoharp in indie folk bands such as Corinna Rose and Heirloom. How do fans and show-goers respond to the autoharp?
LD: The autoharp is quite a rarity in the Canadian folk scene and so I end up doing a lot of population education and public service announcements about the instrument (which I love). I often tell people at shows that they are welcome to come up and try it and ask questions after our set. I keep a set of guest picks in my case and show people the basics. It is very satisfying to watch peoples' faces light up when they realize how simple it is to get a beautiful sound out of the instrument. Of course to play it skillfully takes some time and practice but I know of no other instrument where you can make this kind of instant connection.
When you play something like the autoharp which is not very common, you can have a little fun with its mysterious qualities. I often see people in the audience looking at me in a puzzled way and wondering how the instrument works. My band has a weekly gig in Montreal at a sweet little pub. As a very popular segment of our set each week, the bartender gets up and gives an "autoharp lesson" where he takes questions from the audience and makes up all sorts of hilarious erroneous answers about the instrument. E.g. he'll say the autoharp only has one string that when stretched is the same distance as the route of the Appalachian Trail or that it was invented by punk rockers in the 1970s punk scene in Denver, Colorado.
CP: Autoharp first brought you to the Folk School. Can you talk about that and how your relationship with the Folk School has evolved over the years?
LD: I first came to the Folk School for an autoharp class in January 2010. In the last 6 years, I have spent about a cumulative year at the Folk School, and the school has had a profound affect on my life and musical career. Brasstown feels like a second home, and every time I come back I feel more and more connected to it. In 2016 I was absolutely delighted to teach my first Folk School class, "Continuing Autoharp: The Carter Family Legacy."
(Enjoy a video of Leah playing the Carter classic, "Bury Me Beneath The Willow")
CP: How are you inspired by the legacy of the Carter Family?
LD: I named my first autoharp June (after June Carter, of course). The Carter family is so important to the autoharp, that it is most peoples' best reference for the instrument. The autoharp: as in "Maybelle Carter" or as in "the instrument that Johnny Cash's wife June played." The autoharp is the Carter Family for most people.
The Carter Family repertoire is vast, rich with beautiful and tragic storytelling, and provides such a strong base of songs to learn, and stories to explore. Many Carter Family songs are so universal that we think of them as traditional. They are perfect to learn as standards to bring to a jam (e.g. "Worried Man Blues," "Will the Circle Be Unbroken"). Equally there are lesser known little gems to practice melody playing technique, find harmony, or better understand life in Appalachia: both the dark aspects and more lighthearted points. For example, Sara Carter used to sing a song called "Chewing Gum" that poked fun at the emerging middle class:
"I wouldn't marry a lawyer, I'll tell you the reason why,
Every time he opens his mouth, he tells a great big lie.
I wouldn't marry a doctor, I'll tell you the reason why,
He rides all over the country and makes the people die.
I took my girl to church last night, what do you think she done?
She walked right up to the preacher's face and chawed her chewing gum"
Finally, I also think that there has been an emphasis (thanks to incredible players like Karen Mueller, and the wonders of YouTube videos) on learning to pick out complicated fast fiddle tune melodies on the autoharp. I absolutely love playing fast fiddle tunes. However, I am excited to go back to basics and the roots of the instrument and spend a week focused on songs and building musicianship, really getting into the artistry that is the simplicity of the instrument.
CP: Do you have any advice for aspiring autoharp players?
LD: Keep your autoharp out in plain sight. Don't store it away in a closet or under your bed. You are more likely to play it if you can see it.
Play songs you love. Music should be joyful.
Find a friend who plays another instrument and get together with them regularly to play. The autoharp has a great range of tone and texture. Explore how it fits with a guitar, a banjo or a flute and what you can learn from others.
About Leah
I am a Montreal-based indie folk musician who plays, teaches, records, and writes/arranges music on the autoharp. (Psst. I play folk harp too).
How did I get into the autoharp? Great question. I picked up the autoharp when I was 25, after randomly hearing someone playing it on the radio, and thinking it sounded so beautiful. It was love at first strum. I didn't know at the time that the autoharp would turn from a crush to a long term relationship. Seven years later, I play in several bands and musical projects, have toured extensively across Canada and parts of the United States, and extol the virtues of the instrument whenever I take it out in public. Maybe it's because autoharp holding technique involves hugging the instrument? Who knows, but we're together forever.